People Person: Gillian Beasley, Chief Executive of Peterborough City Council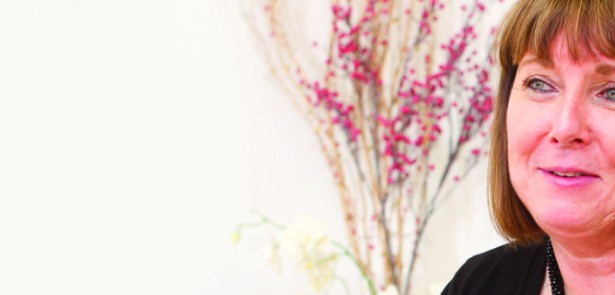 Gillian Beasley has been Chief Executive of Peterborough City Council for 12 years. During this time the cit has grown to economic prominence as it continues to expand and take advantage of its central location. Ben Vanheems met the remarkably upbeat woman at the helm to discuss her work at the council, the challenges austerity measures have brought and how putting people first will always be her priority
With Peterborough soaring high as a hotbed for enterprise and investment, and as one of the country's fastest growing cities, something's clearly going right somewhere. Much of the city's success can be attributed to its strategic location, sitting as it does at a crossroads between the regions of East Anglia and the Southeast, the Midlands and, just up the A1, the North.
Its progressive council may also have something to do with it. Established as a unitary authority as recently as 1998, the independent spirit of Peterborough City Council (PCC) has enabled it to take bold decisions, fostering a can-do attitude that's seen the city stand up and demand to be counted. The council has the equivalent powers of a county and district council combined, meaning it's responsible for everything from refuse collection and social care, to roads maintenance and education.
While this level of responsibility is no doubt daunting, it has enabled the council to think more strategically – even business-like – to take far-reaching decisions that are starting to pay off. Sitting at the heart of the council is its Chief Executive, Gillian Beasley, a remarkably unassuming lady whose genuine desire is to see the city and its residents thrive. Driven by a strong sense of duty, a meeting with this endlessly positive woman leaves you pepped up and inspired. Gillian Beasley is a solicitor by profession who quickly moved from the private to the public sector after qualifying in 1983.
Following a stint at Walsall Council she moved to Cambridgeshire to work at the county council and it was here that Gillian's free-thinking spirit was nurtured. 'What marked my 10 years at Cambridgeshire County Council was a council prepared to let me get on and do things I was really interested in,' she explains. 'My legal specialism is children's law. During my time there I worked with Government to write parts of the Children's Act and I worked for organisations such as the National Council for Disabled Children. So alongside my job they left me free to do lots of other things.'
HOW DO YOU MANAGE YOUR OWN POLITICAL BELIEFS AS CHIEF EXECUTIVE?
"I don't get involved in politics. What I'm interested in is the community, so in a sense it doesn't become a political job. Everybody has values and mine are that I think everybody deserves a chance and the best education to have opportunities."
DAWN OF A NEW ERA
The move to Peterborough came with the reorganisation of local government within Cambridgeshire and the announcement that Peterborough would become a unitary authority. 'Many of us saw opportunities in the new council. As a unitary council Peterborough carved itself out as a complete, all-purpose entity. I put together all of the constitution and set up the legal side.' Starting up a new council like that must have been incredibly intimidating and at the same time exciting. 'It was,' admits Gillian. 'I wasn't a constitutional lawyer by profession. The reason I think I got the job was because they were taking on big services – children's services and education and adult social care, and I had a lot of experience in those areas.'
The constitutional side was more of a challenge but, as a sharp-thinking legal professional, Gillian was happy to take on the equally sharp learning curve. 'That's one of my strengths I suppose, I can just pick something up.' Not that the transfer went without its share of heart-stopping moments. 'At six o'clock on the eve of the transfer someone asked 'have we insured the school?'. We had to double check. So we spent a couple of hours making sure everything on our massive checklist was ticked off. It meant going through every document, everything!' The school was insured and in the end the transfer went smoothly.
'It was a big challenge but I loved it. There was a lot of excitement about becoming masters of your own destiny, and that's pretty much what it felt like at that time.'
In 2000 Gillian took on the additional responsibilities of the retiring Director of Environmental Services. Suddenly areas as diverse as bridges, planning and transport came under her remit and the steep learning curve resumed. Then in 2002 the role of Chief Executive came up and Gillian applied. Twelve years on and she's still at the helm and still very much brimming with ideas and energy.
HAVE YOU GOT ANY SAGE WORDS OF ADVICE YOU'D LIKE TO SHARE?
"When I was doing my child protection work I worked too many hours and got very tired. I learnt that you have got to be able to look after yourself. That means sleeping properly, eating properly and taking some time out. If you are rested you can give your best."
BUSINESS BRAINED
How, then, does she keep track of all the different departments within the council? 'Like any good business you have performance management, reporting and budget management systems to keep a track of it. We've essentially got hundreds of separate businesses within the council and each one has its own business plan and systems. What's different in local government is that all of that structure is publically accountable. Everything we do goes through the public domain and is accountable.'
Like any business leader Gillian makes an early start to the day to catch up on emails before meetings start from 8 am. No day is the same and as Chief Executive she must mix office-based work and meetings with wooing potential investors thinking of choosing Peterborough… [cont]
Leave a Reply