Pboro City Council COVID-19 updates 17-23 May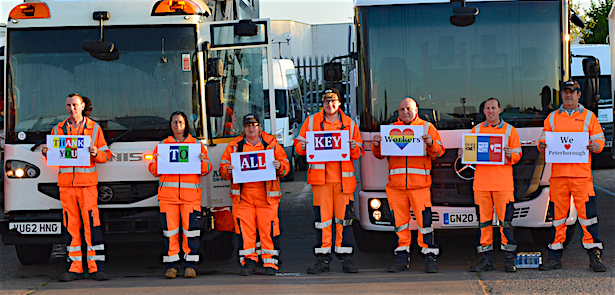 UPDATES: 17-23 May 2020
Preparations underway for enhanced pedestrian and cycle options in Cambridgeshire and Peterborough – As the nation gets ready for a return to a 'new normal' due to Covid-19, the Government has advised members of the public to walk and cycle wherever possible, rather than relying on cars and public transport.
Since the Government announcement easing the nation's lockdown restrictions, working closely with the Cambridgeshire and Peterborough Combined Authority, both Cambridgeshire County Council and Peterborough City Council have spent time preparing for both permanent and temporary measures – some of which could be put in place within the next two weeks.
These measures aim to make walking and cycling a default option, by making it as easy as possible to make short trips. Both councils have been working with organisations such as Camcycle and Sustrans.
As well as lessening the chances of spreading and catching Covid-19, walking and cycling also improves health and is better for the environment – two key factors which will help improve your chances of surviving the virus, should you get it.
In Cambridgeshire there will be three waves of improvements planned as follows, including:
Next two weeks
· Shelford Road to the Waitrose junction – removal of bus lane and widening of cycle lanes
· Chesterton Road – removal of centre line and addition of a cycle lane
· Milton High Street – removal of centre line and addition of a cycle lane
· Girton Road – removal of centre line and addition of a cycle lane
· Kings Hedges Road – removal of a centre line and addition of a cycle lane
By early June
· Trumpington Road – on carriageway cycle lane and removal of bus lane and parking
· Trumpington Street to Kings Parade – potential on carriageway cycle lane
By mid June
· One-way system in place on Mill Road.
In addition, the council is working with the Greater Cambridge Partnership to see if it can move ahead with the temporary closure of Luard Road and Grange Road in Cambridge.
In Peterborough, the city's transport team has been planning to improve and enhance the city's Green Wheel, a 45-mile circular route of traffic-free paths, quiet roads and urban cycle lanes. The Green Wheel connects attractions such as Ferry Meadows Country Park and Peterborough Cathedral with various routes into the city centre. Walking and cycling charity
Sustrans has been commissioned to do a Green Wheel survey report which will identify areas for improvement, but it is likely this will include enhanced surfacing.
Other areas being considered, subject to Department for Transport funding, include:
· Pedestrian crossings – Trialling the replacement of the existing 'push' buttons with touch-free options and reducing waiting times for pedestrians at busy crossings in the city centre.
· School street closures – Introducing temporary closures or vehicle restrictions (with the exception of residents or delivery drivers) on roads outside schools in the city.
· Vegetation clearing – Working with Aragon Direct Services to ensure that cycle paths and footpaths are clear overhanging vegetation and more inviting for people to use them.
· Additional cycle parking across Peterborough
· Cycle repairs, training and maintenance facilities
· Cycle lane refreshes
· Temporary social distancing information placed on footpaths and cycle lanes to encourage social distancing
· Monitoring walking and cycling levels across the city on a regular basis
· Increasing Bikeability at schools in the city (school cycle proficiency training)
· Working with businesses to encourage sustainable travel
· Further longer-term development of the city's Walking and Cycling Infrastructure Plan
· Investigating any other temporary cycling/pedestrian improvement suggestions from residents, businesses and organisations throughout the city.
Councillor Peter Hiller, cabinet member for strategic planning, commercial strategy and investment at Peterborough City Council, said: "Following on from the council's first ever Climate Action Day earlier this year, our transport team has been working extensively to think of improvements that we can make to our city that would encourage walking and cycling to be the default method of transport for short distances.
"We are building on this work to help us to navigate the next stage of our Covid-19 response, which will help the city to adjust to the new normal, while adhering to social distancing guidelines."
Councillor Ian Bates, chair of highways and transport at Cambridgeshire County Council, said: "Our transport team has been carefully considering this for some time, as we know from looking at other countries that walking and cycling is key in getting our county moving again during Covid-19.
"We've been working closely with partners including Camcycle to identify temporary changes we can make quickly to our existing network which will help residents to rely less on cars and public transport and instead, walk and cycle over the coming months."
---
Leader's Vlogs – Councillor Steve Count, leader of Cambridgeshire County Council and Councillor John Holdich, leader of Peterborough City Council have recorded separate vlogs for residents across Cambridgeshire and Peterborough.
Councillor John Holdich talks about the coordination hub, schools going back on 1 June, the sad news that Perkins Greyhound track is closing and news on the city's environmental credentials. Watch his vlog.
Councillor Steve Count talks about the forthcoming improved pedestrian and cycling improvements that are coming in Cambridgeshire due to Covid-19. Watch his vlog.
---
Council leaders plea to check open spaces before visiting – Residents are being urged to check whether open spaces and visitor attractions are open over the forthcoming Bank Holiday weekend – which also includes the Muslim holiday of Eid-Ul-Fitr – before travelling.
Even though lockdown restrictions are starting to ease, the Government guidelines are still to stay alert and keep safe.
At present, local authority owned open spaces generally remain open, but play areas, car parks and toilets are closed. National Trust sites remain closed, while Nene Park in Peterborough is having a phased re-opening of its car parks.
Cemeteries in Peterborough will be open during Eid-Ul-Fitr, with visitors who wish to visit the graves of loved ones to pay their respects urged to follow national safety measures.
Cllr John Holdich, leader of Peterborough City Council, said: "Social distancing should still be observed at all times when visiting a cemetery and no more than two people from different households should meet together. We would further stress that if anyone is showing coronavirus symptoms or if they or any member of their household are self-isolating they should stay at home."
But there are a number of open spaces which remain closed to the public, such as Grafham Water near Huntingdon, which has reported an increase in visitors since the lockdown restrictions were eased.
Cllr Steve Count, leader of Cambridgeshire County Council, said: "Of course I recognise that after a number of weeks at home people are keen to exercise in different surroundings – particularly with the forthcoming holiday. But in common with a number of other popular attractions, Anglian Water has closed Grafham Water to protect its staff, volunteers and the public and we have been advised that it will remain that way for the foreseeable future.
"The best thing to do is check before you visit and observe social distancing measures when out and about."
Jake Williams, Head of Parks and Conservation for Anglian Water, said: "We know our leisure attractions are loved by many and protecting the health and safety of our colleagues and visitors is our top priority.
"Balancing the needs and wishes of all our active communities is always a challenge and all are keen as each other to get back to some sense of normality. We must be certain that when we re-open, we can do so safely, meeting all the guidance on social distancing.
"We don't want our colleagues to face abuse as has sadly been the case recently. If you were hoping to visit soon, please postpone as we will not be open and all tracks and car parks are closed. For those of you who have been supportive throughout, thank you so much. It means everything to our teams."
---
New £5m Communities Capital Fund to help community-led projects awards first grants across the county – A £5m fund aimed at creating opportunities and improving lives and skills across Cambridgeshire was launched by Cambridgeshire County Council at the start of April 2020 and today announces the first recipients.
The Communities Capital Fund was launched to support projects that will make positive changes in the community, bringing people together and meeting the priorities that matter most to local people.
The five initial recipients awarded grants are:
· Sawtry skatepark £18,000 – This project has been running for six years by Sawtry Youth Project and has already raised over £18,000. It has strong community support, especially from young people who previously have had to travel several miles to nearby towns to access a skate park.
· Somersham outdoor play equipment £32,560 – This is a project instigated by the Parish Council and looks to provide three types of play equipment for both younger and older children. The parish council has match funding of £26,855 already in place.
· Overcoate £25,597 – This application will enhance the riverfront and open space within Over by providing a new slipway, gravel beach, paths, parking areas and roadway enhancements. These improvements will open up the area to greater community use for sport and leisure. Match funding of £72,159 is already in place.
· Estover Park, March £35,000 – This is run by a community interest company which has taken over the lease of the playing field. This project will enhance the pavilion and sports facilities onsite with new fencing, pathways, patio, café and kitchen. Match funding of £6,000 has already been raised.
· Tower Hall, Friday Bridge £36,000 – This is to upgrade facilities at this venue which are outdated and have deterred bookings in the past. The hall is in a very small community with limited services in the village and therefore is relied on as a place to bring the community together. Match funding of up to £6,000 is in place.
Councillor Steve Criswell, Chairman of Cambridgeshire County Council's Communities and Partnerships Committee, said "These projects are firmly cemented into the heart of their local communities and are an essential part of ensuring these areas thrive. This fund helps to create and enhance a good quality of life for all. Now more than ever in these unusual times this is vital and we are delighted these projects have received funding. I urge you to consider putting your own projects forward for consideration."
The next round of funding applications is now open and applications are being considered on a first come, first served basis. The fund has received high demand from applicants and we therefore cannot guarantee that funding will remain for future applications. Subject to demand, grants of up to £500,000 are available to support community-led projects which improve the health, wellbeing, social and economic opportunities and outcomes in communities.
Projects will need to show how they will:
· Bring people together and involve them in the design and implementation
· Improve local places and spaces that are important to communities
· Help to address local priorities e.g. increasing skills, reducing loneliness, improving physical and mental health
· Improve access to new or existing services or activities e.g. sports, leisure, education
· Demonstrate match funding – this include in kind contributions, land transfer etc
· Minimise any potential impact on carbon emissions.
The fund is open to any voluntary, community organisation or social enterprise alongside public bodies such as district, parish and town councils, schools or any other organisation that can demonstrate how their project will benefit Cambridgeshire residents. Applications can relate to buildings, land, vehicles, equipment or any other capital related item
The Communities Capital Fund was announced by Cambridgeshire County Council Leader Councillor Steve Count as part of the 20/21 Budget in February and its rollout will be overseen by the council's Communities and Partnership Committee.
Community organisations that wish to submit an application must do so through their county councillor or community champion to ensure that projects meet with the strategic aims of the council and will add real value to local communities.
"We want to encourage bids for projects which will help to fill gaps in provision or service, and where the community wants some support to help them take the lead in meeting local need. For example, we want this fund to help more rural communities to have the same opportunities to engage with services or activities that more urban places already enjoy," added Cllr Steve Criswell.
---
Peterborough care home worker helps resident in final moments – A care home worker has described the poignant moment she read a last goodbye letter from a family to their dying grandmother who they were unable to visit due to lockdown restrictions.
Former City College Peterborough student Laura Dunn-Green read a letter to the 86-year-old woman at her bedside at the Philia Lodge Rest Home, shortly before she passed away last month.
Footage of Laura reading the letter was broadcast on the ITV national and local news and she described the experience as "an honour" and "very emotional".
Laura, who has been working at Philia Lodge for 18 months after completing a course at the college, has been playing a vital role there during the covid-19 pandemic. She has supported residents along with their families, helping people that have been separated for months to communicate with each other.
Becoming a carer was not an easy process for Laura – she was hesitant and anxious about starting her studies at the Health and Care Sector Work Academy at City College Peterborough, describing herself as somebody who "lacked confidence and found it a struggle to interact with new people".
However, since completing her qualification she has made rapid progress. Laura received the 'Learner of the Year' award at City College Peterborough's annual Celebration of Learning event as well as being shortlisted for a Great British Care Award in the 'Newcomer to Care' category.
Pat Carrington, executive principal for City College Peterborough, said: "Our Health and Care Sector Work Academy learners have developed a range of valuable skills over the past two years, gaining employment and promotions whilst delivering vital services in our hospitals and communities.
"Laura has accomplished so much since she joined one of our very first courses and we are immensely proud of all she has achieved."
Councillor Wayne Fitzgerald, cabinet member for adult social services, said: "There are some amazing people working in the care service who are going above and beyond during these difficult times.
"It is fantastic to hear stories of young people like Laura who have benefited from excellent teaching courses and are putting their vital skills into practice."
Mayor James Palmer said: "This was a profoundly moving story which highlights the immense debt of gratitude we owe to brave, dedicated care professionals like Laura who are working on the frontline of this terrible virus.
"I'm pleased the exceptional care Laura has provided, and continues to provide, for some of the most vulnerable in our society has been brought to the nation's attention in this way.
"Laura's example also shows the power of the Health and Care Sector Academy, established by the Combined Authority, to change lives. The Academy is giving people like Laura the skills they need to secure good jobs in our care sector, offering fulfilling careers in which people find their potential."
The Health & Care Sector Work Academy is a Department for Work and Pensions Innovation Pilot developed by Cambridgeshire and Peterborough Combined Authority and delivered by City College Peterborough. The programme is currently the only one of its kind in the UK.
For more information visit https://www.citycollegepeterborough.ac.uk/
---
Council leaders working with schools for pupils to return 'when it is safe to do so' – Education leads at Cambridgeshire County Council and Peterborough City Council are working with schools, Academy Trusts and the Diocese from across the region to look at bespoke plans for the safe return of pupils – based on Government scientific advice which is expected to be released on May 28th.
While the final decision on when and how to open individual schools rests with their head teachers and the governing bodies who run them, the Government has encouraged schools to consider beginning to re-open education provision from 1 June. This will mean additional Primary provision for Reception, Year 1 and Year 6 pupils and Secondary schools working with pupils from Year 10 and Year 12 to ensure they are supported for important exams next year. Special schools will also begin to welcome more pupils. In Cambridgeshire and Peterborough council leaders have confirmed, 'the safety of our children, their families and school staff is always our number one priority and we are supporting schools to make decisions based on their individual circumstances'.
Schools have said it will be difficult to maintain the two-metre social distance guidelines at all times, particularly very young children, leading to problems with the number of children allowed on-site. There are also concerns about staff and children who fall into the very vulnerable 'shielded' groups.
Clear in the knowledge that there is no 'one size fits all solution', council education leads have been working with schools to create bespoke plans specific to each one and their circumstance, which include revised cleaning regimes, sourcing appropriate PPE, and allowing for phased re-openings.
As part of the plans, schools which have remained continuously open since February for vulnerable children and children of key workers, may close to all pupils for next week's half term holiday – which includes bank holiday Monday. This is to allow staff more time to plan for a phased return, including adapting their buildings to accommodate returning pupils.
Jonathan Lewis, Service Director for Education at Cambridgeshire County Council and Peterborough City Council, said: "While there is no denying myself and all the Headteachers I speak to want to see our pupils back and learning in our schools, we will only encourage pupils to return when the scientific evidence is clear that is safe to do so'.
"Our Headteachers have been working tirelessly to consider different models of phased re-opening long before the government made any announcements. Some will be able to take pupils from 1 June, but some will not. I can't ask them all to stick to the same timeline – it simply isn't feasible nor safe.
"Our parents have been doing an incredible job educating their children at home, and I cannot thank them enough. I know this is a concerning and uncertain time, but I want to reassure them that our schools are putting pupils first and doing the right thing. They will update parents directly on their plans."
The council has confirmed that – in line with government guidance – no penalty fines will be issued to any parent or carer who doesn't send their child to school between now and the start of the next school year. Clarification is also being sought from Government about the extension of free school meals for eligible children whether in or out of school.
Cllr Simon Bywater, Cambridgeshire County Council Chairman of the Children and Young People's Committee, said: "Education is critical to the development of our children and young adults, to help them learn, thrive and do well in later life, but we will not cut corners and ask anyone to return to school where is not safe to do so. As a parent myself, I appreciate how much debate and confusion the situation is causing, but I have full confidence in how this is being managed at a local level by my education and school colleagues."
Cllr Lynne Ayres, Peterborough City Council cabinet member for children's services, added: "Our parents have been incredible during this time, and I would ask for their continued support as we put our plans in place to ensure children can return to learning in a considered, well-structured, and ultimately safe manner."
Nursery and early years settings are also being encouraged to re-open from June 1, and have been asked to prioritise places for three and four year olds – along with vulnerable children and those of key workers.
---
Mental health helpline offers support to people in Cambridgeshire and Peterborough throughout coronavirus outbreak – A mental health helpline offering support to people in Cambridgeshire and Peterborough has expanded its service to help more people during the coronavirus outbreak.
The Lifeline helpline, a free mental health support service, has been running for 21 years and was set up by local mental health charity Lifecraft. Due to the demand for support during the coronavirus outbreak, Lifecraft has joined forces with the local Mind charity – Cambridgeshire, Peterborough and South Lincolnshire (CPSL) Mind – and Cambridgeshire & Peterborough Foundation Trust (CPFT) to offer increased availability and longer access hours.
The service is now available for all adults in Cambridgeshire and Peterborough between 9am and 11pm Monday to Friday and 2pm to 11pm weekends and Bank Holidays. A trained call handler will offer support on the phone and can also link callers directly to other organisations specialising in areas such as bereavement, financial concerns, employment, drugs & alcohol issues and more.
You can access the helpline by calling freephone 0808 808 2121.
CEO of CPSL Mind, Aly Anderson, said: "We know the service on offer is incredibly important right now and we're getting more callers every week.
"Most of us have been experiencing strong emotions during this pandemic, which may include worry, fear, frustration, sadness, loneliness or anger. These feelings are an entirely normal response to an extraordinary situation but it's important that we talk about them. If we lock away these feelings, they can build up and that can really impact on our mental health.
"The Lifeline helpline offers instant support – you can call and talk to one of our call handlers and they will listen and support you in the moment. Plus, if you require specialist support we can link you directly with a wide range of other charities and organisations across the county."
Charities such as Cruse, Change Grow Live, Citizens Advice Bureau, Richmond Fellowship and Caring Together are among numerous organisations supporting this initiative.
Aly added: "It's been really inspiring to see charities and statutory organisations from across the county come together to provide this support to our community. This pandemic has raised many different issues and concerns for people and that can be incredibly stressful. Talking about this and the impact it is having on our mental wellbeing is more important than ever."
CEO of Lifecraft, Gemma Barron, said: "Lifecraft has long been an essential service for many who are in need of mental health support, but lockdown means the helpline may need to be accessed by people who have not experienced mental health problems before. For that reason, we decided to increase our availability and access hours and I'd like to thank all our partners and other mental health charities who have helped to make that possible.
"I'd also like to thank and recognise all the hard work of our staff and trained volunteers who are working incredibly hard to make a difference to people's lives."
This week is Mental Health Awareness Week and this year the theme is all about kindness. The annual campaign is taking place between 18 – 24 May this year and just so happens to coincides with the 21st anniversary since Lifeline was set up. The purpose of the campaign is to get people talking about mental health and encourage action to promote good mental health for everyone.
The Now We're Talking campaign has been launched by Local Authorities (including Cambridgeshire County Council and Peterborough City Council), NHS and charities and community organisations to get people talking and beat loneliness while self-isolating during the coronavirus outbreak.
The campaign directs people to other services such as Qwell, an online wellbeing support and Keep Your Head, a website which bring together all mental health support available across the country.
For more information on 'Now We're Talking' visit Peterborough website here and Cambridgeshire website here.
---
First-ever website for those shielding launched – A new interactive website, believed to be the first of its kind in the country, has launched across Cambridgeshire and Peterborough for people who are shielding to help them combat loneliness during lockdown.
The new website launched by the Countywide Coordination Hub this week is a collaboration between Cambridgeshire Skills, City College Peterborough and Cambridgeshire Library Service.
The idea for the website was borne out of the fact that one of the challenges for people who are self-isolating is being able to keep busy in their own home.
The website will offer a set of leisure, pleasure and learning opportunities for shielded people to take part in. Additionally there are skills and courses within the site that will help users improve their skill set in their own professional environment.
This will include aligning the food deliveries from the hub to a healthy eating class, either online or via recipe cards for those that don't have digital access. The food delivery from the hub will include all the ingredients needed to cook the meal that will be taught online or via the recipe card.
In addition, there will be sewing classes taught through instruction cards for those that have no internet access, which would include a delivery of materials and instruction to learn how to sew alongside the food deliveries.
This could take the form of, for example, learning to sew 'scrub' bags that can be donated to the NHS for their staff to use.
Pat Carrington, who is leading the project and passionately believes this will become an essential resource for those shielding, said: "The Open New Doors website has been designed specifically to the meet the needs of our shielded community.
"Practical activities teaching you to do things for yourself are key throughout the site, such as cooking and sewing sessions. A lot of attention has been given to teaching people new skills through enjoyment.
"In order to help with self-esteem and encourage new skills, we are giving people the tools and learning, through the site, to make a contribution at this time. For example, people will be able to make scrub bags in our craft section which will then be donated to the NHS.
"Additional to our own tailor made content are a host of external links to allow people to enhance their experience. One minute you can be navigating through the Natural History Museum and the next participating in live story telling for children."
There is a section of the website which supports families of pre-school children to help their children prepare to start school in September. Activities are aimed at creating quality family time as well as ensuring children have a good skill set ready to start school.
For those people who do not have access to a computer, information that is on the website will be sent through the post.
The councils have also made a bid for funding to set up a scheme where people can loan laptops or to supply those without digital access with tablets.
This will allow people to not only access the website, but engage with friends and family online and therefore limit feelings of loneliness with face to face contact.
Adrian Chapman, Service Director for Communities and Partnerships at Cambridgeshire County Council and Peterborough City Council, said: "We currently have more than 16,000 people on the shielded list, with around a third needing our help and support, and this is growing all the time. As well as providing deliveries of food and medication and offering a befriending service and meeting many other needs, we know that many people who are shielding need help and support to keep busy at home at this very difficult time.
"This new website will allow everyone who is shielding, regardless of whether they have told us they need help or not, to take part in a whole range of activities and sessions, whether it's cooking, learning a new skill or supporting our NHS by sewing masks and other items."
---
Ramadan – Gillian Beasley, the Chief Executive of Peterborough City Council and Cambridgeshire County Council took part in Iftar (breaking of the fast) along with local Muslim leaders after a day's fasting as part of the council's solidarity with people celebrating Ramadan. Taking part with her were some senior figures from local public services – Director of Public Health Dr Liz Robin, Steve Cox, Executive Director of Place and Economy, Adrian Chapman, Service Director: Communities and Partnerships, Pete Carpenter, interim Director of Finance at Peterborough City Council, Jonathan Lewis, Director of Education and Superintendent Andy Gipp from Cambridgeshire Constabulary.
See a video of the zoom meeting where the fast is broken following a recitation of the Holy Koran, and people taking part give their reflections of taking part in the fast before. It starts from 12mins 45s.
---
Dr Liz Robin vlog – Dr Liz Robin, Director of Public Health for Cambridgeshire County Council and Peterborough City Council, explains the new symptom associated with having caught the coronavirus infection and breaks down what the other two main indicators are, plus what to do if you have any of these three symptoms.
(If you have any of these three symptoms you should use the online NHS 111 coronavirus service or call NHS 111 if you cannot get help online. NHS 111 will tell you what to do.)
Click here to watch the video blog. Dr Liz Robin is available for down the line interviews about the current COVID-19 situation or the contents of today's Vlog. Please contact the newsdesk to check availability.
---
You can keep up-to-date with any changes to our services on our websites:
Our advice and latest information on Coronavirus can be found on both websites – www.peterborough.gov.uk/coronavirus and www.cambridgeshire.gov.uk/coronavirus
---
Coronavirus: what you need to do
Stay alert
Control the virus
Save lives
Socially distance – stay 2 metres (6ft) away from other people
Wash your hands
Anyone can spread the virus!
Full guidance on staying alert and safe can be found here.
Leave a Reply