Pboro City Council COVID-19 update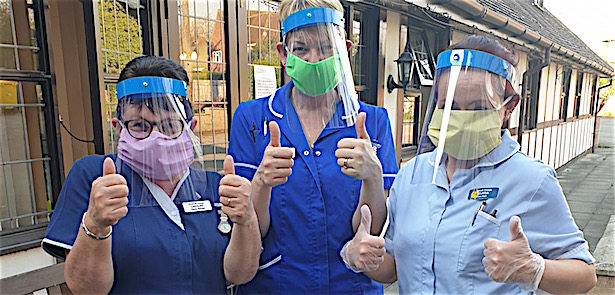 Cambridgeshire County Council and Peterborough City Council communications team will be providing a daily media update with a round-up of any changes to council services arising from the Coronavirus. Please note – all information is correct at the time of publishing.
UPDATE: Monday, 4 May 2020
County Council work quickly with social care partner Lifeways, to create emergency accommodation and relieve pressure on the NHS – Council and care provider have repurposed a building in Chatteris to create a rapid response unit for vulnerable adults, after government lockdown put a on the building opening as independent living apartments.
The pressure to increase the rate of appropriate hospital discharge and free up NHS beds is ever present, and something that has only been heightened by the coronavirus crisis.
Lifeways, one of the UK's market leaders in support services for adults with diverse and complex needs, were due to open Barber Gardens in Chatteris, earlier this year. But the opening of the 15 apartments and 3 bungalows, to support adults with learning disabilities and autism to live independently, had been temporarily put on hold due to the government lockdown.
Keen to do everything it could to help alleviate pressure on the system, Cambridgeshire County Council worked directly with Lifeways, and owners Triple Point and Inclusion Housing CIC, to repurpose the building as a rapid response accommodation space to safely house vulnerable adults during the crisis.
The flexible accommodation offers a lifeline for vulnerable people who otherwise might have remained in hospital occupying urgently needed hospital beds, or for anyone requiring support and currently living with their parents who are in a high risk category and need to be shielded. The individual apartments will also benefit those with a need to self-isolate.
The council has taken full responsibility for the service for an initial three-month period, to help during the peak of the pandemic, with Lifeways providing all the support, operational staff and resources for those moving in.
The first person, a young man with autism, moved in on Monday 20 April. Lifeways and the Council are working closely with social workers and NHS discharge teams to move more people in imminently.
Councillor Anna Bailey, Chair of Cambridgeshire County Council's Adults Committee, said: "Everyone involved in this has been magnificent, and I want to thank County Council officers, and representatives from Lifeways, Inclusion CIC and Triple Point for thinking on their feet and pulling out the stops to make this happen. We have only been able to do this through meaningful and clear partnership working and a shared understanding. By acting quickly and collaboratively, we have created a facility that will support vulnerable adults and free up NHS beds at a times when they are most in need."
Will Oborne, Community Engagement and Development Manager for Lifeways, said: "We realised that we had a fantastic facility lying idle and we wanted to take the opportunity to help where we could in the fight against COVID-19. It is remarkable that through strong partnership working between Cambridgeshire County Council and Lifeways, we have managed to create such an important facility in such a short space of time. We are very proud of our Operations Team who have done the work on the ground to make this happen."
Justin Tydeman, CEO of Lifeways, added: "This is a great example of how partnership working can bring about positive change in times of need. I'm incredibly proud of all our teams who have pulled together and made this resource available so quickly. We are proud to help support and shield the most vulnerable in society while helping to ease the current pressure on the NHS."
Note to editors:
Lifeways is one of UK's market leaders in support services for adults with diverse and complex needs. They help people live ordinary, independent and happy lives through extraordinary support. Since 1995 they have been supporting people to live the life they choose and currently support 4800 individuals in supported living and residential services. More information can be found on their website at: https://www.lifeways.co.uk/
Barber Gardens is a brand new development of 15 apartments and three bungalows in Chatteris, Cambridgeshire. The accommodation is bright and spacious, with assistive technology built in and modern rise and fall kitchens with white goods and integrated appliances. The service is suitable for people with learning disabilities, mental health needs, physical disabilities, acquired brain injury and complex needs. The bungalows are wheelchair accessible throughout, with wide door openings and wet rooms.
---
Safer Off the Streets partnership working night and day to help rough sleepers during Covid-19 – Peterborough City Council and the Light Project Peterborough, supported by the city's Safer Off the Streets partnership has delivered around-the-clock services to rough sleepers while they are housed during the Covid-19 outbreak.
In March, the Government issued advice to councils that all rough sleepers should be given temporary accommodation as they are a vulnerable group, with many suffering from ill health due to their lives on the streets.
Within 24 hours, Peterborough City Council and the Light Project Peterborough had housed a total of 25 rough sleepers and then mobilised partners who are essential for supporting them, including drug and alcohol services, mental health support, medical and prescription services.
Volunteer groups from the Safer Off the Streets partnership and the wider community have supported the city council and the Light Project Peterborough to ensure all are given three meals a day, clothes are laundered and other essential supplies.
An army of over 60 volunteers have kicked into force, to help the former rough sleepers settle into their new temporary homes and self-isolate to protect themselves from the Covid-19 virus. This includes liaising with multiple food outlets and donors to co-ordinate over 1,500 meals per week for 80 former rough sleepers who are now housed.
Update meetings are held seven days a week with key partners to coordinate this effort.
Steven Pettican, chief executive officer at the Light Project Peterborough, said: "We have been humbled by the number of volunteers, both within the Light Project Peterborough and in partner organisations who have gone out of their way to provide food, support and a listening ear to the former rough sleepers.
"Providing three meals a day has been a military operation – particularly for charities like ours who rely on volunteers and have effectively had their fundraising dry up during Covid-19. We've also been providing a listening service, encouraging them to reflect on their current situation and to ask themselves if they really want to return to the streets once they press 'play' on their lives again. The feedback we've received from individuals who genuinely want to turn their lives around has made this worth it."
Councillor Steve Allen, cabinet member for housing at Peterborough City Council, said: "The support that has been received from the Light Project Peterborough and the wider Safer Off the Streets partnership has been nothing short of amazing. Especially as many of the partners are volunteers working for charities whose funding has been severely affected by the Covid-19 outbreak.
"For many of the former rough sleepers, the experience of being in a hotel room and eating three hot meals a day has been a positive one. We have found that the vast majority are grateful and appreciative of the support they are receiving and are viewing this as the impetus they needed to turn their lives around and are now engaging with the council, ourselves and other partners to work through the issues that led them to a life on the streets.
"We will be doing all we can and call on the local housing associations to work with us – to find accommodation for those who decide to stay off the streets for good, once the Government's social distancing restrictions are over."
Peterborough Soup Kitchen, Salvation Army and The 3 Pillars have also been active in supporting this to provide breakfasts and lunches, and when needed the Peterborough Foodbank has helped with supplies. Aspire has been able to engage with adults with substance misuse issues to provide drug and alcohol support.
The Garden House, run by Light Project Peterborough, continues to operate emergency service for anyone finding themselves homeless 10am-2pm Monday to Friday. Citizens Advice Peterborough and the Homelessness Prevention Team continue to provide advice and assistance to clients threatened with homelessness remotely.
Christine Graham, chair of the Safer off the Street's partnership said: "A total of 80 rough sleepers have been provided with safe accommodation in the city – ensuring some of the most vulnerable people can stay safe during the pandemic. This is a remarkable achievement for all those who volunteers have played their part."
· Make a donation to the Safer Off the Streets partnership online.
· Make a donation to the Light Project Peterborough's Coronavirus Emergency Appeal online.
The Safer Off the Streets partnership is closely following the Government's guidance in order to provide up-to-date advice to suit the needs of those affected by Covid-19.
Homelessness in Cambridgeshire is also handled by Cambridge City Council, East Cambridgeshire District Council, South Cambridgeshire District Council, Fenland District Council and Huntingdonshire District Council. Please contact them for their details.
---
National help: Take part in COVID-19 research – University College London is running a study into the psychological and social effects of Covid-19 in the UK.
The results are being used to understand the effects of the virus and social distancing measures on mental health and loneliness in the UK and to inform government advice and decisions.
They are looking for adults in UK who are happy to take part and spread the word about the study. Participation involves answering a 10-minute online survey now and then answering a shorter follow-up survey once a week whilst social isolation measures are in place.
To take part, visit https://redcap.idhs.ucl.ac.uk/surveys/?s=TTXKND8JMK
---
You can keep up-to-date with any changes to our services on our websites:
Our advice and latest information on Coronavirus can be found on both websites – www.peterborough.gov.uk/coronavirus and www.cambridgeshire.gov.uk/coronavirus
---
Coronavirus: what you need to do
Stay at home
Only go outside for food, health reasons or work (where this absolutely cannot be done from home)
Stay 2 metres (6ft) away from other people
Wash your hands as soon as you get home
Anyone can spread the virus!
Full guidance on staying at home and away from others can be found here.
Leave a Reply