Pboro City Council COVID-19 update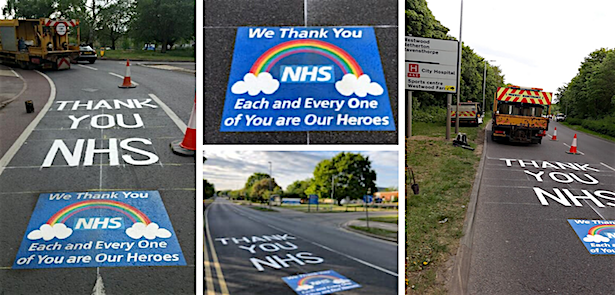 Cambridgeshire County Council and Peterborough City Council communications team will be providing a daily media update with a round-up of any changes to council services arising from the Coronavirus. Please note – all information is correct at the time of publishing.
UPDATE: Tuesday, 28 April 2020
Council road markings thank the NHS (see pics) – Cambridgeshire and Peterborough highways team and its contractor have painted an extra special message on the roads.
All Cambridgeshire and Peterborough health key workers battling the spread of the coronavirus will see a colourful 'Thank you NHS' on the roads approaching each of the county's four hospitals.
Yesterday (Monday), roads near Addenbrooke's, Papworth, Hinchingbrooke and Peterborough City Hospitals were painted by our contractor, Skanska.
Chairman of the Highways and Infrastructure Committee at Cambridgeshire County Council, Cllr Mathew Shuter, said: "This is just one small way in which we can say thank you to our brilliant NHS workers for everything they're doing at this challenging time.
"We wanted to show our gratitude for all who work at the county's hospitals as they travel to and from work – from doctors and nurses, to cleaners and catering staff – this message is for all of them."
Councillor Peter Hiller, cabinet member for Peterborough City Council, said: "It's only right that we show our NHS workers just how vital they are and how much we all appreciate everything they have done since the Covid-19 outbreak. They are literally putting themselves on the frontline to care for us all.
"Our intention by placing these road markings is to lift their spirits – even just a bit – every time they arrive and leave the hospital from a long shift. It's a simple gesture to show just how much gratitude we all have for them."
John Birkenhead, Business Director at Skanska said: "We're doing all we can to keep roads safe for essential travel and key workers and we're proud to be able to support the region to help celebrate and thank our amazing NHS staff in this unprecedented time."
The blue and white NHS logo has also been drawn onto a colourful rainbow – the symbol of hope and gratitude adopted by many throughout the COVID-19 crisis.
Crews across Cambridgeshire and Peterborough continue to carry out safety critical work and essential highways maintenance, any on-going work is being carried out in accordance with government health and safety measures, with workforces practising social distancing. Since the coronavirus outbreak, more than 8,000 potholes have been repaired in Cambridgeshire and Peterborough crews have been called out more than 460 times.
Both councils are assessing the situation and given the current low volumes of traffic, will review and work with our contractors to see if any projects can start again whilst adhering to the government guidelines.
---
Cambridgeshire Day Centre proves lockdown is no barrier to supporting those in need – While the government lockdown is undoubtedly a challenging time for all us of, it can prove to be particularly difficult for those with learning disabilities and complex needs.
Unable to attend services they rely on day to day, and with no indication as to when the lockdown will end, this period could become a time of increased isolation and anxiety.
Thankfully, care providers across the region have been thinking on their feet, and making sure the people who use their services remain central to their plans.
Not wanting to let social distancing get in the way of having meaningful interactions, Victoria Lodge in Wisbech, a Cambridgeshire County Council run day service for older people and adults with learning disabilities, have turned to Facebook to run daily activities, helping them keep in touch with the people they would usually see face to face each day.
Their eight week plan of activities, which includes things like fitness, baking, singing and crafts, has been designed by the users of the service, with each activity taking place online so no-one misses out.
Regular visitors to the centre recently received sunflower seeds in the post, to give them a head start on their gardening activities.
Centre Manager, Hayley Bradshaw, said: "The people that use our service are always at the heart of the support we provide, and we want to do everything we can to keep them involved so they can continue feeling part of our family. Delivering the activities online takes a bit of work, but they are fun and we are getting amazing feedback already. It's so important to me that we are doing things that the users of our service enjoy, that's what this is all about and it's why we asked them to shape our plans – even if it now means I have to dig out my legwarmers and somehow perform a fitness class!"
Find out more about what they are doing here, or visit their Facebook page to learn more about the service, and their tadpoles!
---
Dr Liz Robin vlog – Dr Liz Robin, Director of Public Health for Cambridgeshire County Council and Peterborough City Council, talks about the new mental health campaign called 'Now We're Talking' with the NHS, local charities and community organisations and the importance of following the government instructions to stay at home.
Click here to watch today's video blog. Dr Liz Robin is available for down the line interviews about the current COVID-19 situation or the contents of today's Vlog. Please contact the newsdesk to check availability.
---
Cambridgeshire School encourages our region's children to share their 'Lockdown View' – Just how does your lockdown look? As we now enter our fifth week of social restrictions, most of us are becoming all too familiar with the view outside our windows. Keen to capture the scene from his own bedroom, Year 11 student Sam from Abbey College in Ramsey, used his iPad to create a digital interpretation as part of his home learning school work, capturing the subtle differences between morning and evening.
Andy Christoforou, Headteacher at Abbey College, said: "It's good to see our students continuing to produce such great work at home. I was really struck by the images Sam has created, and think they really encapsulate the mood as we shift from day into night. Luckily we had some great weather last week, and I think he has done a great job of capturing the warm evening sky. Sam's work got me thinking – each of us has our own unique 'lockdown view' at the minute, and I'd love to see our children across the region sharing theirs by taking photos or drawing a picture, and sharing it using the hashtag #MyLockdownView."
---
You can keep up-to-date with any changes to our services on our websites:
Our advice and latest information on Coronavirus can be found on both websites – www.peterborough.gov.uk/coronavirus and www.cambridgeshire.gov.uk/coronavirus
---
Coronavirus: what you need to do
Stay at home
Only go outside for food, health reasons or work (where this absolutely cannot be done from home)
Stay 2 metres (6ft) away from other people
Wash your hands as soon as you get home
Anyone can spread the virus!
Full guidance on staying at home and away from others can be found here.
Leave a Reply