Pboro City Council COVID-19 update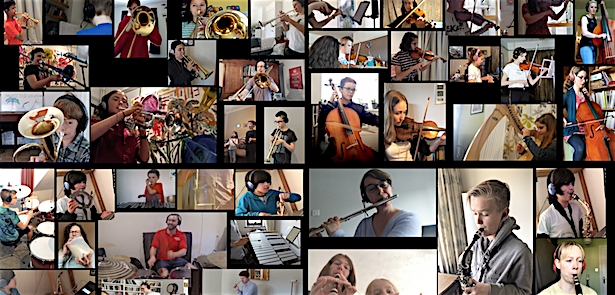 Cambridgeshire County Council and Peterborough City Council communications team will be providing a daily media update with a round-up of any changes to council services arising from the Coronavirus. Please note – all information is correct at the time of publishing.
UPDATE: Wednesday, 29 April 2020
Aloha! A big wave of enthusiasm for Cambridgeshire Music's first Virtual Orchestra (pic attached) – Cambridgeshire Music, the county council's music and arts hub has been inundated with rhythmic additions to its Virtual Orchestra since it launched this opportunity on 17 April.
Over 50 musicians have sent across video and audio files of themselves playing along to the theme tune of the hit US TV classic, Hawaii Five-0, which has now been turned into a musical montage online.
Keen to bring some sunshine into people's lives and give budding musicians their chance to shine, Cambridgeshire Music put resources and guidance online encouraging people to take part.
One participant was a former Cambridgeshire Music student getting in touch all the way from Los Angeles to play his part. Instruments ranged from saxophones and flutes to cellos and drum kits – as well as some interesting implements from a kitchen cupboard. Plans are now in place to do it again and the team is already thinking about which musical piece to cover next.
Cambridgeshire Music's Mark Aldous, who arranged the piece, said: "Our first Online Orchestra was a bit of an experiment and a means to keep our musicians engaged and active during these strange times. It was such a joy to receive so many contributions and I had a lot of fun piecing them together. It was great being able to (virtually) see so many musicians from different abilities and backgrounds. I want to say a huge thank you to everyone who got involved and brought their own energy and enthusiasm. We can't wait to get started on our next piece'
Councillor Simon Bywater, Chair of the Council's Children and Young Peoples Committee, said, 'What an excellent all-round effort by everyone involved. I'm really pleased that this seed of an idea has caught people's attention and has given our budding musicians a productive outlet. Mark has done a fantastic job in sewing together all the intricate parts, but we couldn't have done if without the time and efforts of all those who contributed, so thank you. I'm really keen now to see what happens next'.
Add some sunshine to your day by watching the performance online.
Mark Aldous, head of instruments at Cambridgeshire Music who arranged the Hawaii Five-O piece is available for interview, alongside Matthew Gunn, head of service for Cambridgeshire County Council.
---
The Library Presents … in your house (pic attached) – The Library Presents is now online for residents to enjoy!
The Library Presents sadly had to postpone the planned spring programme due to COVID-19, but Cambridgeshire County Council has now launched The Library Presents… in your house to allow residents to join in online events.
There is something for all ages across a range of art forms including; Music, Storytelling, Theatre, Radio Drama, Visual Art, Magic, Animation, Poetry and Craft. Over the coming weeks there will be a mixture of live streamed performances, live workshops, videos, downloads for families and a collaborative activity where everyone can participate.
Councillor Steve Criswell, Chairman of the Communities & Partnership Committee said "It's wonderful to that our Library Presents programme is supporting our residents and creative industries through this difficult time.
"While we are all at home and trying to find activities and events to keep us busy, keep a look out for the exciting, fun and interesting arts that can be enjoyed from home in our new digital programme."
The programme is not only for the technology savvy! Some of the activity will be using radio and postal deliveries; a number of events are inclusive and are signed or subtitled these are clearly marked on the website.
Some examples of what is coming up in the next few weeks:
· Discover Florence Nightingale through song-writing with musician and songwriter Louise Jordan
· Travel back in time and celebrate VE day with 'Greyhounds Audio Drama'
· Enjoy a fun and interactive magic workshop where Scoop Magic teaches simple magic tricks using everyday object around the home
· Inclusive sensory storytelling for young children and those with complex needs with Collar and Cuffs
Jo Gray, Head of The Library Presents team and Partnerships, Projects and Funding Manager explained: "Artists are struggling, like many others, as their usual work is postponed or cancelled, and the digital programme meant we could offer the opportunity for paid work. Artists have said to us that the opportunity to do something creative for an audience at the moment is really valuable. We were amazed by the number of artists who put forward fantastic offers for this programme.
"We look forward to being able to visit libraries and host events there again in the future and hope to keep a version of this new digital offer for audiences to enjoy too."
Hedley Swain, Area Director, South East, Arts Council England, said: "I'm really pleased to see that the Library Presents has launched 'In your house'. As well as providing people with an essential opportunity to access arts and culture from their homes, it also offers incredibly important paid opportunities for artists that have been deeply affected by these challenging times."
To find out more about The Library Presents… in your house programme, visit the council's website or Facebook @TheLibraryPresents.
The timetable will be updated weekly with events from the digital programme.
---
Villagers start innovative campaign to help vulnerable people in Ashton and Bainton, near Peterborough – Villagers in Ashton and Bainton near Peterborough have started an innovative campaign to help vulnerable people in need of essential items.
In conjunction with Peterborough City Council's on-going efforts to support communities since the coronavirus outbreak, Bainton & Ashton Parish Council recently launched the Bright Ribbon campaign.
Residents of the two villages donate non-perishable food items by placing them on their doorsteps in shopping bags tied with brightly-coloured ribbon. Within the first week of donations, 170kg of items were collected.
This was then delivered to the Peterborough food bank where it could be passed on to those in need. Donations are currently being directed towards parent-carer families who have been affected by the current crisis. Local suppliers, Plants Eggs, have offered a sizable donation of fresh eggs towards the scheme.
Councillor Irene Walsh, Peterborough City Council's cabinet member who helped set up the campaign, said: "We've had a fantastic response from residents in the villages who are keen to help those in need. And full credit to the parish council who supported the scheme from the outset.
"We have been getting in touch with other parish councils, some of whom are already running schemes of their own and some who are keen to set up their own Bright Ribbon campaign. In Glinton the Good Neighbours Scheme is promoting the food donation point at the NISA store on the High Street. An impressive volunteering scheme is also running in the village, supporting local residents in a variety of ways. All in all, a fantastic contribution from Peterborough's rural areas."
Susie Lucas, chair of Bainton and Ashton Parish Council said: "The immediate response was so generous that we didn't expect the same volume every week, but anything that people can spare is welcome. It's been a fantastic effort so far and residents can feel justifiably proud of the help they are providing – they are all stars!"
Ian Plant, from Plants Eggs, added: "This is a great campaign and when we heard about it, we wanted to get involved. It's brilliant to see the local community pulling together."
---
You can keep up-to-date with any changes to our services on our websites:
Our advice and latest information on Coronavirus can be found on both websites – www.peterborough.gov.uk/coronavirus and www.cambridgeshire.gov.uk/coronavirus
---
Coronavirus: what you need to do
Stay at home
Only go outside for food, health reasons or work (where this absolutely cannot be done from home)
Stay 2 metres (6ft) away from other people
Wash your hands as soon as you get home
Anyone can spread the virus!
Full guidance on staying at home and away from others can be found here.
Leave a Reply