New residents in Peterborough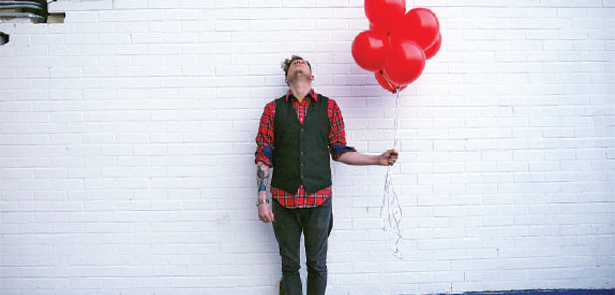 Each year arts organisation Metal hosts artists (musicians, visual artists, dancers, actors etc) from across the UK and internationally at Chauffeurs Cottage, their base in Peterborough
Each of these artists has the beginnings of an idea which they wish to explore and develop into a performance, exhibition or event that often then goes on to tour across the country. However, most importantly, each of these artists chooses to develop their ideas in Peterborough, meeting residents, professionals and other artists who can help shape and influence their ideas. They may stay for an intensive period of a week or visit regularly over a year, meeting different people, running workshops and sharing their work to get feedback before moving on to the next stage of its development.
The artists can often support or initiate something much bigger and long term within the community. It's an exciting process to be a part of. For example, last year: ● Peterborough's first Pride festival took place following a residency with Scottee; ● Drama practitioner Sue Mayo and film maker Chuck Blue Lowry led workshops with the Iqra Academy and Women's Institute to create a film around Decorum and etiquette in the 21st century; ● Kate Genever and Katie Smith invited women from across the city to help them make two banners celebrating the centenary of the women's vote. The women then took them to London in June as part of a national Processsion.
Some artists come to Peterborough to work directly with local and regional artists.
Poet and Spoken Word artist Byron Vincent will be devising a new spoken word show. The piece is to be an exploration of thought, truth and our collective anxiety. He's aiming for a witty, lyrical and unique spoken word comedy show that turns a satirical eye to both his personal and our collective existential crises. It's about fake news, climate change (and it's denial), that bloke from Home Alone Two in the White house, celebrities dropping like MySpace shares, trout pouting narcissists, unexpected items in the bagging area, the threat of thermonuclear war and fidget spinners.
Byron will draw on Peterborough's growing network of poets and spoken word performers, to get feedback on his work in progress.
Musician Brant Tilds will be in residence with Beshuar and Mohammad Hassan; recently arrived Kurdish refugees from Mosul. The Trio met on a Music in Detention project. When they first sat down to play together the music that Beshuar played from the Kurdish people of Iraq was immediately accessible to Brant because of his own background in Jewish music and Jazz. The Trio are developing new work and hope to use this residency to explore their collaboration.
Ever since being diagnosed with breast cancer, and deciding not to have reconstructive surgery following her mastectomy, writer and artist Claire Collison has been asking: 'Why are the thousands of women like me so hidden?' Claire will be out and about during her residency, meeting and chatting to people who have had mastectomies. This research will help her create a local version of her participatory walk: 'An Intimate Tour of Breasts'. She will also be developing her single-breasted life modelling monologue, Truth Is Beauty, to perform at Metal, and exhibit the resulting drawings. Claire is Artist in Residence at the Women's Art Library (WAL), and is shortlisted for the inaugural Women Poets' Prize.
Dance artist Phil Sanger's practice is eclectic and has included Contemporary, Ballet, Martial Arts, Vaudaville, Tango, Butoh, spoken word and song to tell stories that are moving and entertaining, often with a political slant to raise awareness of topics such as LGBTQ visibilty, male suicides and diversity. Whist in residence with Metal he will work in collaboration with artist Kate Genever embarking on a phenomenological study which combines Dance, Theatre Making, Drawing, Mark Making, Design, Farming, Life Coaching, Psychotherapy and Anthropology.
Tom Cassani is a performance artist….. and liar. Tom's practice of deception has developed and transformed over the past four years, resulting in written text and performance – often simultaneously. He is interested in how he can use elements of deception, misdirection and lying in his artistic practice. Whilst in Peterborough, he will be exploring the art of 'miracles, for example making his palms bleed spontaneously, having wounds heal on stage and making a block of ice appear'. Tom is a member of the Magic Circle, He has trained in sleight of hand, misdirection and prestidigitation and now uses these skills of deceit as an artistic framework to explore truth, honesty, manipulation and fabrication.
Rachel Mars makes performance and theatre. Her work often interrogates how political environments and cultural idiosyncrasies affect how we communicate. Whilst in residence at Metal Rachel will be researching and developing her new performance – FORGE. FORGE is a series of work interrogating the politics of memorial, human behaviour at sites with difficult histories, trauma tourism and how we can represent troublesome pasts onstage. With FORGE Rachel wants to explore what and who memorials are for, what should happen to places where traumatic events have taken place and who decides. Rachel is interested to meet female fabricators and metal workers. She is also keen to meet people who act as these candle bearers of their family history and those who are thinking about memorials.
Visual artist, Jane Hoodless is inspired by the criminal, the cultural and the curious. The thread that runs through her practice is the desire to know why people do what they do. Or did what they did. Her work exists in an almost timeless space; where centuries of hopes and fears are probed, plundered and repackaged to challenge, provoke thought and inspire. While in residence, Jane plans to further research and develop her project CHANGING ROOM. It will be a new body of work (a touring exhibition, talks, and workshops) that explores the history and hysteria of the menopause. This project aims to challenge some of the associated negative connotations, shed new light on this complex subject, and encourage interaction and debate.
If any of these residencies connect with you and you wish to meet or help the artists during their residencies then contact Metal on 01733 893 077. Emailvar username = "chauffeurscottage"; var hostname = "metalculture.com";document.write("" + username + "@" + hostname + "<\/a>")"> or keep an eye out on the metal website or facebook for workshop dates: www.metalculture.com, f: MetalPeterborough  
Leave a Reply