New life for the Whitworths Mill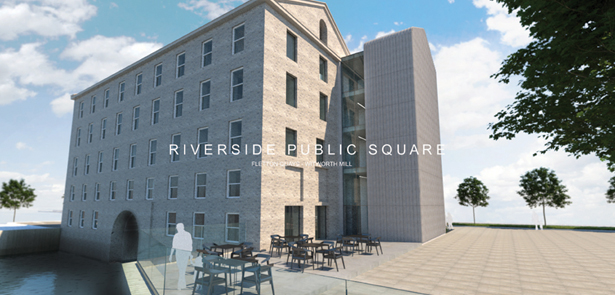 For centuries, cities have been built on and around the life of their rivers. Once a bustling place for industry more often than not they are now the focus of residential and leisure activity
Fletton Quays on the south bank of the River Nene was once a thriving industrial base in Peterborough but for a long time has remained abandoned with redundant buildings. There have been numerous ambitions for redevelopment. Now, once again it is a skyline of cranes and construction activities and Peterborough is, like many other vibrant cities, starting to make the most of its river. Peterborough City Council recently purchased the old Whitworths Mill as part of the redevelopment of Fletton Quays. Their ambitious plan is to convert the Mill into a cultural hub incorporating artists' studios and rehearsal space due to open in 2019.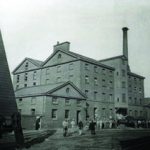 This fits with the city's cultural strategy which recognises the potential economic impact of cultural development and the lack of dedicated workspace for artists, musicians and performers. The Council are in the process of raising the funds to convert the building and are working with arts organisation Metal to draw up plans for the building and its artistic programme. Metal focuses on building the capacity and number of quality artists working and creating projects in the city. Key to this is the artists residency programme supporting artists locally as well as attracting new talent to the city from the UK and beyond. In 2016/17 Metal hosted 34 artists' residencies in the city.
Artists are supported in engaging with the diverse communities in Peterborough through participation, growing a shared city identity and a cultural habit for attending arts events. Over the years, these residencies have resulted in events such as the Lantern Parade in 2013, the Harvest Festival in 2015, major exhibitions at City Gallery and Planet B festival in 2017. Transforming unused buildings is familiar territory for Metal which also has bases in two other cities. In Liverpool they have transformed old waiting rooms at Edgehill station into artists' studios and rehearsal space. In Southend, their base at Chalkwell Hall in Chalkwell Park provides accommodation for visiting artists and work space.
Over the last four years, Metal Peterborough has been based at Chauffeurs Cottage. The building provides a welcoming, stimulating, and comfortable space for artists to create, show and make work in partnership with the wider communities of Peterborough. However, Metal, and the cluster of hosted organisations (Eastern Angles Theatre Company, PHACE Children and Young Peoples' Cultural Partnership, The Green Backyard, Paper Rhino Film Productions) have now outgrown this facility, with demand both from artists, community and other city based cultural organisations exceeding the space available.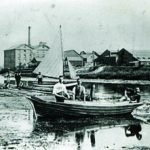 The new building will provide space for the growing number of artists and creative organisations working in the city. This could be studios for artists, offices for graphic designers, rehearsal studios, space for hot-desking, facilities such as kilns, print-making, sound and film editing etc.
There will also be accommodation for Metal's artists in residence but also affordable accommodation for artists visiting the city working with other cultural organisations. Metal describes the place as a 'creation house' rather than an arts centre. It will be a place where ideas and work are created not replicating the spaces offered at Key Theatre, The Cresset, City Gallery etc.
ABOUT WHITWORTHS MILL
The former flour mill was one of three mills and warehouses constructed in approximately 1850 by Earl Fitzwilliam. It is listed in the ''Buildings of Local Interest". It was leased by Cadge and Colman from 1850 and then acquired by the Wellingborough-based baking products manufacturer Whitworths in 1936. It functioned as a working flour Mill until the late 1900's when Whitworths moved to a new Mill in Dogsthorpe, Peterborough. They continued to use the old Mill simply as a store until approx. 2010.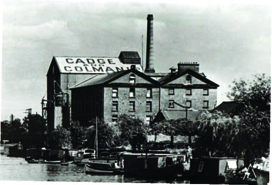 According to the Tebbs book 'Peterborough' Colemans were noted as being 'enlightened' employers and we are keen to understand why and how this impacted on the employees. It is said that Colemans were one of the first companies nationally to offer holiday and sick pay to employees. Metal is keen to capture the history and stories about the Mill and to work with Vivacity Culture and Leisure to record this in the city archives. Wherever possible, this history will be reflected back in the conversion of the Mill.
If you have knowledge of the Mill, have family members that worked there then Metal would like to hear from you. You can share this by emailing or drop any written notes or images into their base at Chauffeurs Cottage, St Peters Rd (behind the Town Hall).
Are you are interested in renting office or studio space?
Or accessing to the building's facilities then Metal is keen to hear from you. We are in the early stages of development and the thoughts and needs of creatives in the city are important to shaping the facilities available in the building. You can complete an online 'needs questionnaire' by visiting www.metalculture.com/projects/the-mill which also gives you the opportunity to join focus groups.
Leave a Reply