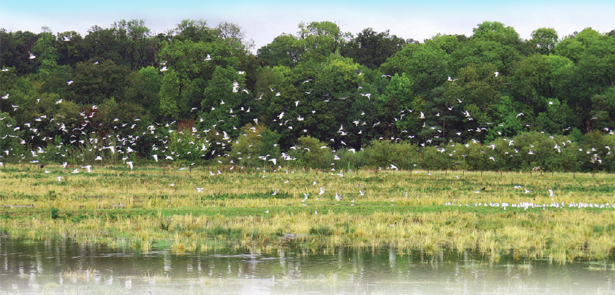 Nene Park forms the green lungs of Peterborough. Home to Ferry Meadows and other stretches of meadow, lakes and woodland running alongside the River Nene, this is the perfect place to get outside and discover the nature that's on our doorstep. Project Development Officer Chris Park shares some of his highlights and the essential role volunteers have to play in maintaining this special place for all to enjoy
There's so much to do at Nene Park! What are your personal highlights, Chris?
One of the achievements I'm particularly pleased with is our Bringing Nature Closer project, which was financed by the National Lottery Heritage Fund through the Nenescape Landscape Partnership Scheme. The project involved creating lots of shallow pools and scrapes on Heron and Goldie Meadows so that they hold onto water for longer. The purpose of this is to attract wading and wintering birds. Well, the wildlife has responded very quickly with lots of species such as mallard, teal, snipe and common and green sandpipers already increasing in number. Lucky birdwatchers have also seen a cattle egret, the first record of this species for the park, and whereas a few years ago you may have seen perhaps 20 or 30 widgeon on Lynch Lake, last year we saw 40 to 50 on a regular basis and this winter that number's gone up to more than 100. The autumn was very wet and the river flooded, bringing water onto the fields. It also sat there for longer, which is why we have seen such a benefit this winter. Breeding birds would be the icing on the cake, so it will be interesting to see how birds respond to the habitat changes over the next few years.
That's an incredible response. What other wildlife highlights are there for visitors to enjoy at Nene Park?
The park is incredibly well used, with over a million visits a year. Anyone can walk around the park and spot wildlife – there's always something to see. This includes otters, which have been another area of real improvement. We used to see one or two a year, but otter sightings have become an almost weekly occurrence. One of our volunteers sees one almost every time he's out litter picking. It goes to show that if you walk around with your eyes open you're likely to see some remarkable wildlife.
It's not just wildlife. You've overseen the creation of new trails for visitors to explore too, including Heritage Trails on the rural areas of the park. What can people expect to discover on these?
The trails are to get people out and about exploring different areas of the park and to make them aware of what else is there. For example, people walking over the land between Castor and Ailsworth probably won't realise that hidden beneath them is the site of a huge Roman industrial site! It's absolutely amazing what is hidden under the ground. But you can still stand there and see Ermine Street, this Roman Road coming through the valley. When you look at aerial photography that line is still clearly there, 2,000 years after the Romans left. New trails on the rural areas of the park are currently being developed and will be ready for visitors to explore later this year.
And there are plenty of nature trails too, like your native tree trail. Apparently every native tree species can be found in the park?
Most of them are fairly young trees, less than 40 years old. One of our past rangers was passionate about trees and planted a lot of the species you see within the park. Then we had the Moments with Trees project where, as part of the project, missing tree species were planted – and now they are all labelled for people to appreciate. We have all 32 species of native tree plus plenty of nonnative species. They all add to the scenery of the park, especially in the autumn with their magnificent leaf colour.
Tell us about your latest project, the Station Master's Garden over at Castor.
We started something in this area of the park some years ago but never got to make the most of it due to a lack of time and money. But we wanted to knowmore about this area – it's always nice to know the history of these places. So a couple of our volunteers are undertaking a little historical research and it looks like there's a lot more to it than we first thought. All sorts of stories are coming out aboutaWWII V-1 or possibly V-2 rocket that hit the site. We can't substantiate that – it could have happened or it might be a local rumour. And apparently there was an old lady who lived in a railway carriage there too. It's got some old fruit trees in there, so volunteers will be helping us to clear the overgrown vegetation there and replant it with more fruit trees and wildflowers to attract wildlife. It will be a lovely area for quiet contemplation.
Quite a lot of the conservation work within Nene Park relies on volunteers. How important are volunteers to the running of the park and can you give us a couple of examples of other projects they have been involved with?
We wouldn't be able to achieve nearly as much as we do without them. When the Nene Park Trust started taking on volunteers it created opportunities – not just for the volunteers but also for improving the whole ethos of the park. They make an incredible difference because they are as passionate about the place as we are. And their efforts are really starting to show. Volunteers helped us to build the new 750m-long boardwalk along the Nene through Bluebell Woods, allowing visitors easier access to the riverbank. They helped build a second sand martin box that we have just put in. And then there's the Made for Love project, where volunteers are turning deadwood and offcuts from management work into beautiful products we can sell. There's so much knowledge and so many skills among our volunteers and it's great they are able to use that to such positive effect. Our role as rangers is really just to enable that.
How can readers find out more about volunteering?
Head to our website for more details and to express an interest and our volunteer coordinator will get in touch. And volunteering isn't just about being outside, doing physical stuff. We have people coming in to help with admin, to help in the Visitor Centre and with events – there are many ways to help.
Volunteers also help the education team to deliver their various activities and Forest School sessions too don't they?
There are all sorts of education programmes going on all the time. Again it's something the Trust didn't do in its early years, but it is so important to get the message across to these youngsters. Here's the park, here's what you can do, here's how you can enjoy it. After all they are our business for the future and if they have a positive experience visiting the park, they'll hopefully come back as adults and cherish the place like a lot of today's visitors do.
On the trail
Discover more of Nene Park on one of the fantastic trails, including these ones. • Native Tree Trail: In Ferry Meadows, by Roman Point and beyond, you will find a collection of native trees with wooden markers and name plaques to help visitors identify them. Grab an accompanying booklet from the Visitor Centre to find out more about the trees. The tree cards can be cut out so families can play Tree Top Trumps. • Tree Detectives Trail: Head round Overton Lake and through to Coney and Oak Meadows. Families hunt for the trees from the clues on the trail leaflet then answer questions to find out interesting tree facts. Record your answers on the leaflet and return to the Visitor Centre to collect a prize. • Sheep Wash Walk: Explore a once-hidden tree avenue, recently uncovered by volunteers in Bluebell Wood. The black pine, Douglas fir, larch, box and yew along the avenue are approximately 170 years old. Follow the new route and see these impressive trees from a different perspective.
Access for all
New for 2020 is Nene Park Trust's allterrain wheelchairs, available to help visitors with access needs explore Ferry Meadows. The revolutionary wheelchairs, as seen on BBC's Countryfile, offer users the freedom to travel off the beaten track with friends and family. Ferry Meadows will be the first venue in the area to offer Mountain Trikes for public use. Visitors will be able to choose between the Mountain Trike, a lever drive all-terrain wheelchair for independent use, and the MT Push allterrain attendant wheelchair, which has a push handle located behind the rider for steering and braking to be undertaken by a companion. This is suited to riders who aren't able to selfpropel but still want to get outside. The all-terrain wheelchairs will be provided alongside the popular mobility scooter loan service already offered. For more details visit the Nene Park website, speak to a member of the Visitor Centre team or call 01733 234193.
Discover Nene Park
• Get out there and explore all that Nene Park has to offer. Plan your visit or find out more about volunteering at www.nenepark.org.uk or call 01733 234193. • For more details on the projects undertaken by the Nenescape Landscape Partnership Scheme head to www.nenescape.org
Leave a Reply