"More than just a music lesson"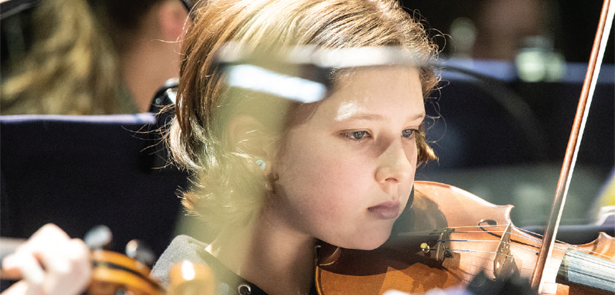 As a parent, you may have heard of Peterborough Music Hub's Saturday music classes at Peterborough Centre for Young Musicians (PCYM) and wondered: 'OK, but what will my kids actually get out of it?' To answer that, we talked to Joanna Cadman, a parent of two children who have both attended the classes – and found out that it's about much more than just learning an instrument...
How did you first get involved with PCYM's Saturday music classes?
My son Edward is ten and he started with the Music Hub on the Saturday mornings at PCYM just over two years ago now. We saw an advert for it on the back of the Oundle Festival brochure, and at the time he had just started playing the clarinet through school, and we wanted something else for him to expand into. And so we contacted PCYM. That was our first experience – and it was such a good one that we decided to continue with them. Now our daughter Olivia, who is six, has started taking violin lessons with them as well, having already done Music Starts Here with them. She came home from school one day and said she either wanted to play the violin or piano. I kind of put that to one side for a little bit but once she'd mentioned it four or five times we thought maybe there was something in it! At the same time, we'd had an email from Music Hub asking if anybody Olivia's age range who had done the first year of the Music Starts Here, was interested in learning the piano, the recorder or the violin. So we thought we'd strike while the iron was hot!
Was that first session also the first time she'd actually got her hands on a violin?
Yes! She is quite small for her age as well, so for that lesson they had to organise quite a small violin – she's on an eighth size violin. So, you know they have really gone out of their way for her, but they're brilliant like that. She came away absolutely loving everything she'd done, and couldn't wait to get home and get it out and show everybody – show her dad, show her brother, tell all her friends about it at school. And the teacher that she's got, Leon, was just great with her as well. He really instilled in her that she has to do a little bit of practice, but also understands the need to have fun. So, she absolutely loved it. And she's still like that. She still comes away bouncing. She skips in and she skips out!
It's a large group of new people – was that daunting for either of them?
No, not at all – and it's interesting because they both take something else from it, certainly our youngest, Olivia. Both of her sessions are actually next door to each other, so she comes out of one and she goes straight into the next one. The teacher stands there and points them in the right direction, but once it's been a couple of weeks they know what they're doing, and they're doing it for themselves. They make friends really quickly as well. The teachers are great for that, doing little games at the beginning so they get to know each other. Edward, who is now 10 going on 11, loves it, because we just drop him off and he does his own thing, and that's his first bit of independence. He's got to go from room to room, he's got to pick up all his stuff. That's exactly what he's going to get next year when he goes up to secondary school, but he loves the fact that he's doing all that a year early. We hung around for the first couple of months, just to make sure he went to the right place at the right time. Then he started saying to us 'You don't need to stay, you know – just drop me off and come back later….' So, you know, I think he was ready for those independence skills.
Have they made friends through those sessions?
Yes, both of them have – in fact, Olivia has now made a couple of friends in her sessions who she sees outside of PCYM. Edward's made friends there, too – and across the age ranges as well, because it's not just nine and ten-year-olds that he hangs out with. They are in mixed groups according to their ability for their instruments, rather than age, so he's actually made friends across the board. And it's lovely to see because he goes in and he'd be hanging out with some slightly older girls and some slightly younger boys, and they're all talking about the same thing. It's a fabulous leveller, it really is. My husband noticed recently Edward was with two slightly older teenage girls, one of whom had him in a friendly headlock! He was laughing, and you often don't get those kinds of interactions with teenage girls happening in school, so there are definitely firm friendships being formed.
Does it also introduce a little bit of healthy competition, having mixed ages?
When Edward started he had very little experience – he'd been playing the clarinet for only about three months. Now he's like an old hand! But there was somebody that came into his particular group recently who, although they were a lower grade than him, they had a different skill. They had always played in groups, where there was a lot of counting involved and they were actually a lot better than him at that. And it really took him back a little bit, you know – he came away saying 'Wow, I've really got to work on this…' It's done in a really nice way, but it does give them something to think about. They like to work towards things as well, such as when they do performances. Edward was involved in the Peterborough Cathedral performance for the Moon exhibition, and when there's a performance coming up he often comes away saying 'I want to do my best… Can I do a bit of extra practice?' That really gives them an insight into other areas and other opportunities.
How did he respond to performing in Peterborough Cathedral? That must be a bit scary!
That was a lightbulb moment for him. He came away from that with such a buzz. He was nervous going into it, no doubt about it – that was the first time he'd actually played in an orchestra with everybody around him – but just sitting up there with everybody else in the group, with all of your friends, makes it less scary in the first place, because everybody is in it together. And afterwards he said: 'I get it… I really understand why people enjoy performing.' He said it was just one of the best things he'd ever done. He's never looked back from then. It has given him a degree of confidence that's palpable. You know, you can really see him growing, and it's so great to see that.
Would you say it's changed him in ways beyond just his musical ability?
Yes, we've definitely noticed a level of confidence in Edward that he didn't have before. And also wider knowledge because they do those three elements, you know – the singing, the music theory and the ensemble group playing. We've actually found his knowledge across the board has improved so much that he's more confident taking things on outside of PCYM. At school he's just done a reading in front of everyone, which two years ago I'd never have thought he could have done. It gives him that level of confidence more than anything. Plus he's got a whole set of friends who are outside of school, which makes him realize that his music is something that can be long-term and not just something that's going to happen until 18 and then stop.
What's the next step for him?
We're hoping that our next step is going to be for him to take part in Peterborough Youth Orchestra. I think their youngest is nine, but they go all the way up to the 18-year-olds. He seems to relate to children across all the ages, and I guess it just comes back to music being something they all have in common and that they are all passionate about.
And has it changed you as parents in any way – or are you both already musical?
We're not musical at all! My husband and I are both more sporty. You know, we were the ones at school who picked up an instrument and played it for a couple years, took a grade one or grade two and that was about it. And it's great because we feel that we've learned as parents as well. And we've learned because they provided us with expertise that we can also access. So we've grown in many respects. I've found I want to go down on the next English National Opera trip as well…
Has it tempted you to pick up an instrument…?
Funny you mention that… When I was at school I used to play the viola. I played it for quite a few years and put it down, but with Olivia playing the violin little bits and pieces are coming back and I'm thinking 'Maybe I could do this again…'
What would you say to parents who are considering it?
We're constantly trying to sell it to people because we just completely believe in it. We just try and tell them how wonderful they are, how accommodating they are, about the level of expertise they bring in as well – not only with their own teachers but the musicians they have coming up from the Guildhall. The students coming from there, you know… they aspire! You don't get that in school or other places. They really do bring in some expertise that wouldn't be accessible in any other way. And going down to the opera in London recently, as well, that provides them with more than just a music lesson. They're actually giving them such a wide breadth of different experiences. We're just keen to stress that for us as a family it's been absolutely amazing. You know, they're supportive, they're friendly, they're helpful, it's pitched at the right level… Olivia just thinks everybody should go along to PCYM because you get so much out of it. The whole thing is done in such a fun way, I don't think they actually realise that they are learning!
About the Saturday sessions…
● PCYM's half-day Saturday classes are open to all, regardless of ability
● The 3hrs 15 minute sessions include a one-toone instrumental lesson, music theory class, playing in an ensemble and a short performance
● Ensembles include string groups, percussion and a jazz ensemble
● The music played crosses all genres and styles and is taught by professional, performing musicians
● All children get the chance to play in ensembles, go on amazing musical trips and perform live in some extraordinary venues
● PCYM also hosts regular visits by musicians from the Guildhall, London's most prestigious music school
● FREE instrument loan available
● The first trial session is also completely FREE, and financial assistance is available for those unable to pay
To find out more, visit pcym.org.uk
Leave a Reply