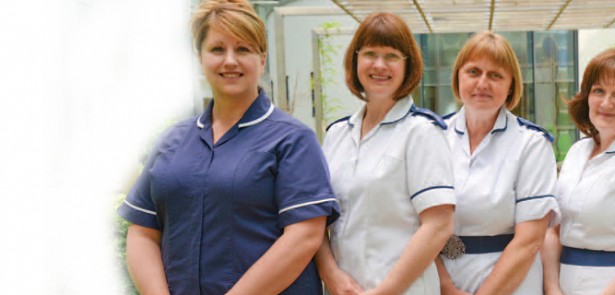 Peterborough and Stamford Hospitals NHS Foundation Trust have always offered a homebirth service, but recent research has shown that not only is homebirth safe for women with straightforward pregnancies – particularly second-time mothers – it offers considerable benefits for mothers and babies as well. The newly launched Homebirth Team – who now offer workshops at Calmababy, on Oundle Road – has been set up to offer pregnant women who have low risk, straightforward pregnancies the option of giving birth at home. Toby Venables talked to Serena McLean, Midwifery Team Leader at Peterborough & Stamford Hospitals NHS Foundation Trust, about homebirth and what makes midwives special
FOR A WHILE IT HAS BEEN CONSIDERED THE NORM FOR BABIES TO BE BORN IN HOSPITAL, BUT WE'VE SEEN THAT CHANGE IN RECENT YEARS. WHY IS THAT?
Prior to the 70s it was very much the norm to be born at home, but various things changed – the NHS grew, district hospitals were built, and the focus shifted to people thinking births should be in hospital. More recently it's shifted again, and although the majority of women opt to give birth in hospital, we now have a lot of research evidence to show that home birth is, for some women, even safer than hospital. The Birthplace study, undertaken in 2011, looked at 64,000 pregnant women in England, all of whom were low-risk, with no complications anticipated, and who gave birth in three different settings. A third delivered in the hospital delivery suite, a third in the midwifeled unit, and third delivered at home. What they found was that those in the delivery suite were more likely to end up with interventions, with instrumental deliveries such as forceps or venteuse. The best outcomes were for the women who delivered in the midwife-led unit or at home, and certainly for women having a second or subsequent baby, home was deemed to be the safest option. It had more benefits to them as well, in terms of keeping them relaxed, staying with their family and having who they wanted around them during labour. There are massive benefits, really, to being at home.
IS THE KEY TO THIS SIMPLY BEING MORE RELAXED – BEING COMFORTABLE, BOTH PHYSICALLY AND PSYCHOLOGICALLY?
Our team has a strong belief in continuity of carer. Evidence shows that when women are cared for by either their main midwife or a small group of midwives this helps build a relationship with the woman who has chosen homebirth, so they know the person caring for them. That gives them a lot of confidence and helps them to be more relaxed. But being relaxed is the key, yes, because if you are tense and anxious it affects your hormone balance, and birth is very driven by hormones. You need the right balance of things like oxytocin, stress hormones and endorphins and that balance can be upset if you're feeling stressed about being in hospital. If you stay at home, everything is under control and your own midwife is there with you, you're in your own familiar environment and women tend to feel more confident in their ability to give birth. And what could be better than to get into your own bed afterwards with your family around you? Being relaxed helps labour progress well and leads to positive birth experiences.
CAN ANYBODY CHOOSE HOMEBIRTH?
We certainly don't advocate homebirth for women who are high risk or who have medical conditions that need to be monitored in hospital. We actively encourage those women to be in hospital, where there are specialist teams on hand for any intervention that needs to happen. Some women who are not low risk do still opt for homebirth, and for them we make sure they thoroughly understand the risk factors, and also make specific birth plans with them, explaining what we can cover and what we can't at home – but also the reasons why we would need to transfer into hospital, so they are completely clear beforehand. There is a lot of discussion before the woman decides what she feels is right for her – it's not a decision that is taken lightly. And there will always be some women who transfer into hospital in labour for unforseeable reasons.
HOW DID YOU BECOME A MIDWIFE – WHAT WAS THE PATH AND WHAT WAS THE MOTIVATION?
I was a nurse before I became a midwife. I loved nursing – that's just my personality, I love that kind of work. I had two children, and at my second birth the midwife was very special. I had a long, difficult labour, and she was so kind in the way she cared for me. She did things I wouldn't have expected. She massaged my legs and feet with aromatherapy oils, and was really with me and coached me through it, and it made me think how much having somebody like that made the experience better, especially when it was difficult. And from there I just decided that was what I wanted to do. So after my nurse training I worked in Gynaecology and then applied for midwifery, and loved it. I still love it! I particularly love working in the Homebirth Team, because you get to build up relationships with people and get to know them. It really is so rewarding.
DO TV PROGRAMMES LIKE CALL THE MIDWIFE SHAPE PEOPLE'S ATTITUDES TOWARD MIDWIFERY?
I think they raise the profile of midwifery and show other aspects of our role. Programmes such as Call the Midwife and One Born Every Minute do show how labour and birth can be, but they only give snapshots and sometimes can be overdramatic. Call the Midwife does give you the essence of midwifery, though – I actually love that programme!
DO PEOPLE EVER HAVE UNUSUAL REQUESTS WHEN IT COMES TO HOMEBIRTHS?
Sometimes – but we're not judgemental about that. If someone wants it and it's safe, that's fine! Most people have music on, often at quite a low level – we usually keep the lights low, too. But some people don't want that, and I can think of births that have had lots of family members there, people in and out of the room… I've had homebirths in pools where they've had all their children there, with their eyes peering over the edge of the birth pool! It is amazing, and can be such a joyful experience with their families.
SO, BUILDING THAT RELATIONSHIP BETWEEN MIDWIFE AND EXPECTANT MOTHER – AND ALL HER FAMILY – REALLY IS CENTRAL?
One of the most important factors in the way our team provides care is continuity of carer. We work in partnership with the community midwives, where most of our referrals come from, and some referrals directly from the women themselves. We try to plan our holidays a year in advance when I allocate the referrals to the named midwife, to facilitate being with our own women when they give birth, if possible, and so we can do all their antenatal and postnatal care. We are a team of five, and every month we have a Meet the Midwives session, where we invite all of the women so they can get to meet all of us, and that means that they will have someone who they know with them during labour. That makes a big difference. I'm not saying that women who give birth in hospital don't build up a relationship with the midwife there, because they do – it's a very intense time, often lasting many hours – but if you look at the research, it shows that women like to build up that relationship over time, if possible, and find it really beneficial. So, we keep that as part of our ethos. Women and their partner put a lot of trust in a midwife. And you know when the care is genuine and unhurried – it can be very tangible, I think. The feedback we're getting is really positive, so I think we're on the right track with it all!
AND PEOPLE CAN ALSO GET TO MEET THE TEAM AT ONE OF YOUR WORKSHOPS?
Absolutely – our Homebirthing workshops take place on the fourth Saturday of every month at Calmababy on Oundle Road, and last two hours. They give a good introduction to homebirth and how it works and offer the opportunity to ask questions. These workshops are at Calmababy and the maternity services also use this venue for antenatal and relaxation classes in general – it's a place lots of pregnant women and families access anyway, so it's mutually beneficial to hold our workshops there. There's more information about the classes and how to book on the website at www.peterboroughandstamford.nhs. uk. There's also a booklet that I have put together in collaboration with the hospital called 'Deciding where to have your baby'. We give that out to all newly pregnant women, but you can also download it from the website. There's also a Homebirth blog that we started when we launched in September, featuring lots of positive homebirth stories, and that can be accessed via that page as well.
Homebirth workshops
Homebirth workshops take place on the fourth Saturday of every month at: Calmababy Unit 8 Botolph Bridge Industrial Estate, Oundle Road, Peterborough PE2 9QP To book, please phone 01733 707808 or email In your email please include: your name, contact details, whether you are coming on your own or bringing a partner and the date your baby is due.
For more information on these and other services, go to www.peterboroughandstamford.nhs.uk and select 'Our Services', then 'Maternity Services'. 
About the Homebirth Team
The Peterborough and Stamford Hospitals Homebirth Team team currently consists of five midwives. One of the main aims of this new model of care is to provide as much continuity of carer as far possible, with most women having all of their care provided by their named midwife or a midwife she knows. This helps to build a strong, supportive and trusting relationship between the pregnant woman and the midwife. All women will receive information at their first appointment regarding the choices of place of birth available which are appropriate for them. They can attend a Homebirth workshop, (details on the hospital website) where they will learn more about homebirth, how it works, what to expect and the practicalities. If they decide to book for a homebirth they will be referred to the homebirth team who will contact them and arrange to continue with their care.
If you would like any further information about having a homebirth or would like to self-refer, please email Serena McLean, Homebirth Team Leader, at the Homebirth Team:
Leave a Reply