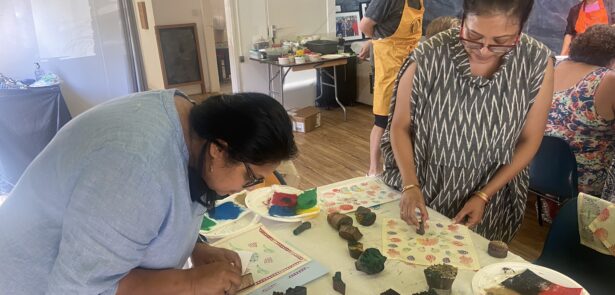 In 2022 we celebrated our 20th birthday across our three locations in Peterborough, Southend and Liverpool. As we move further into 2023, we took some time to reflect on the projects and events that took place in Peterborough.
Last year saw us reach out to diverse communities, building new relationships to spark ideas and develop programmes of activity together with participants. From artist residencies, talks
and community workshops, artist networking and more. We've worked with over 50 artists, hosted 80 workshops and saw over 1,380 people participate.
Highlights included an internship for a young creative in the city to be an artist in residence, creative networking via experimental life drawing with The New Drawing Club, international exchange and collaboration with Polish dancers to create a dance film, as well as publishing a book, In Other Words 2. Here's just a few of our highlights and what we're looking forward to in 2023.
We started the year continuing the Wonder Women programme in partnership with Peterborough Council for Voluntary Services. Working with artist Sa'adiah Khan, we hosted creative workshops at Paston Farm Community Centre, Alama Iqbal Centre and Millfield Community Association, as well as joining community activities across the city including International Women's Day and Peterborough Presents – Millfield Festival. The aim: to support women to overcome the ongoing effects of Covid, build confidence, grow self-esteem, and discuss what's needed for women in the city. All artworks created by participants fed into a collaborative piece – a set of postcards including statements and prompts from the women involved. This was shared via an interactive touring pop-up exhibition, to continue the conversation with women across Peterborough.
The spring saw the start of a collaborative project with Peterborough Asylum and Refugee Community Association (PARCA), running a series of workshops with artist Madhu Manipatruni as part of their weekly Breakfast Club. Over 8 weeks, participants explored different textile techniques and mark making. Learning about traditional Indian block printing and Kantha stitching (a form of traditional embroidery) to create tablecloths and decorations for PARCA's events and dinners.
We were excited to join the first Peterborough Celebrates festival with H2 Dance and residency artist Molly Chambers. Molly hosted a family-friendly workshop creating origami decorations, using collage to create designs that celebrated Peterborough and members of its community. Whilst H2 Dance (as part Fest en Fest – YOUTH) invited young people from Peterborough College to come together and think about what a festival of the future might look like. Young people curated a marquee as part of Peterborough Celebrates, commissioning local artists to respond to the themes of wellbeing and nature. People enjoyed activities such as plant pot painting, wellness embroidery, musical and poetry performances, and a pop-up art exhibition of the students' work.
Towards the end of the year, we hosted a week of activities as part of a series of national events with Pluto Press around Sustainable Fashion. Working with artists Amanda Rigby, Ramona Zadissa, Victoria Kelly-Gobuiwang, Linda Genever, Sa'adiah Khan and Sarah Ponsonby, the week aimed to create discussions and build new skills to proactively move towards a more sustainablefuture. Weenjoyedactivitiessuchas clothes swaps, natural dye workshops, book clubs, make and mend cafés, as well as a sustainable customisation workshop to revamp old clothes.
It was a year full of creative exploration! We're looking forward to continuing this in 2023, building on these projects further. Throughout the year we will be supporting new artists in residence, hosting creative networking for artists (Future Network) and developing an artist publication In Other Words 3. We are also looking forward to building on local partnerships, joining local festivals and initiatives. As well as inviting more people to our Reading Room, providing artists opportunities through programmes such as the Metal New Artist Network (MNAN) and setting up projects and events for and with the community and artists in Peterborough.
To see what's coming up or to find out more visit Metalculture.com, follow us @MetalPeterborough or email
Leave a Reply