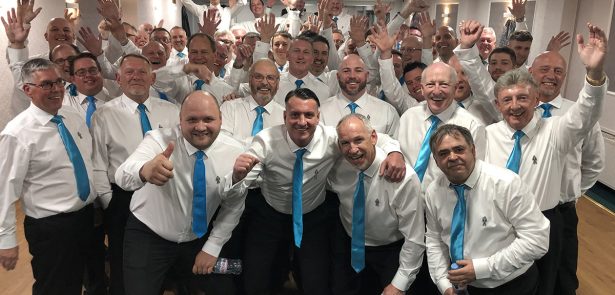 Last year's Men United in Song was such a big hit that the popular pop-up singing project is back again only six months later!
Launching in March 2022 and once again supporting long-term charity partner Prostate Cancer UK, Men United in Song aims to give another 40-plus local men the opportunity to get involved, try something new and give something back to the community… and YOU could be one of them!
Working over nine weeks towards a fantastic live charity event at Peterborough Cathedral in May, you'll learn to sing, meet new people, challenge yourself, perform live on stage AND raise money for a much-loved and very important charity – what's not to like?
No previous experience is necessary, just a willingness to step outside your comfort zone, get stuck in and give it a go… everyone's in the same boat, and it's all about the journey!
After 18 months of lockdowns, restrictions and worry last year's project was an overwhelmingly positive experience for the 70 or so men who took part, with comments including:
'A really great experience, at the start it was daunting, but we all came good!'
'A great bunch of men, and you got the best out of us… brilliant!'
'The hard work paid off! Thanks for finding something in us that most didn't know we had! '
'Amazing, I never thought in a million years I would ever sing in front of hundreds of people!'
Stuart from Bourne says 'The whole experience was extremely rewarding and exciting. You get to see what your voice is really capable of and to share a few pints with a great bunch of guys from all walks of life, who you might not normally meet. The sense of achievement when you finally get to perform in front of an audience in the concert is amazing. I couldn't recommend it highly enough.'
Men United in Song kicks off with introduction sessions on Thursday 3 March (7-10pm) and Friday 4 March (7-10pm) when you can meet the team and some of the other men who'll be taking part. This is NOT an audition and there's no big red buzzer, just an opportunity to find out more and get involved — contact us TODAY to book your time slot!
So… if you're looking for a fresh challenge and you'd like to know more, get in touch NOW and start YOUR Men United in Song journey!
Men United in Song introductory sessions will be at the John Mansfield Campus PE1 4HX on Thursday 3 March and Friday 4 March (7-10pm), please register first for your timeslot.
Men United in Song rehearsals will be at the John Mansfield Campus PE 4HX from 7.45pm on Thursday evenings, starting on Thursday 10 March.
The Men United in Song 2022 charity event will be at Peterborough Cathedral at 7.30pm on Saturday 7 May.
For further information or to register for one of our introduction sessions visit peterboroughsings.org.uk, email or call 01733 425194
Leave a Reply