"Little things can make a difference"
"Little things can make a difference" 1 2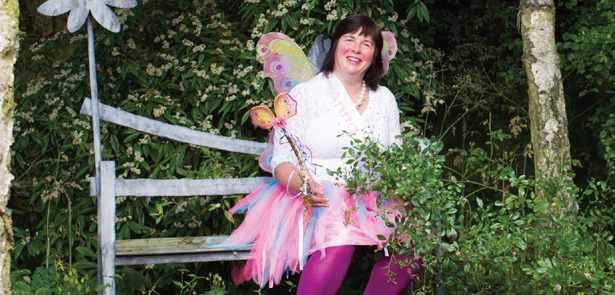 When Carole and Rob Hughes' daughter Anna was diagnosed with a brain tumour in 2005, it seemed like their world was ending. Their response was to establish the charity Anna's Hope. Now, they are helping children just like Anna right across the region, and in 2013, the charity was chosen by Perkins employees to be their charity partner, with Carole being chosen by Good Housekeeping as their Woman of the Year. Toby Venables talked to them
Anna's Hope has been chosen as Perkins charity partner and the PGER Fun Run has also been renamed the Anna's Hope Fun Run this year. How did all that come about?
Carole: I've been involved with Perkins and the Council on the run side of things for several years. Usually they support national charities, but I'd been wanting for six years to get in with Perkins and all of a sudden it just happened. It was great! We actually found out we'd been chosen by them on the anniversary of the day Anna passed away, so that was really special for us. We're very passionate about the run, and very passionate about things going on in Peterborough. We are also very proud that the PGER Fun Run has been renamed the Anna's Hope Fun Run. This was mainly through us working with the Council and Perkins to promote the Perkins Great Eastern Run and the Junior challenge for the last seven years – aimed at getting more children in the run and to get fit and have fun.
What is Anna's story?
Carole: Anna was a gift that we didn't know we were going to have. I was told after having Sara, who was 13 years older than Anna, that I probably wouldn't have any more children. Then, at the grand age of 40, I discovered that I had twelve weeks to go before I gave birth… It was a miracle! She was born, and she was beautiful – perfectly normal – and for the first year of her life I kept looking at her thinking 'Are you really mine?' After the first year, I started to relax. Then, when she was two and a half, she was diagnosed with a brain tumour. I went five times to the doctors, and realised that they weren't taking much notice of me, so one of the things Anna's Hope – and Anna's mum – is doing is standing on a soap-box, making sure everyone knows that brain tumours are now the biggest cancer killer of children and young people in this country.
How did you first become aware that Anna was ill?
Carole: It was the school who said there was something not right. I thought she had a middle ear infection, so I took her to the doctor. She said she was dizzy. I was told by my GP that a two-year-old didn't know what dizzy was. She was holding her urine, from 6 o'clock at night until 1 o'clock the next day, then filling the nappy and covering the floor. She looked as if she was drunk when she walked, and was slightly slurring her words. She was feeling very sick, as well. But, of course, when she went to the doctor she was feeling fine. I ended up going five times.
Rob: We went to the doctor in the afternoon, and the symptoms were worse in the morning. But eventually we decided to cut out the middle man and went straight to the old Peterborough Hospital. And we saw them getting text books out. But once they knew, they did a scan.
"One of the things we've discovered in this journey is that, nobody, no matter what cancer they have, should take any notice of what the doctors say about percentage chances of survival. You need to be positive"
Carole: Then they said: 'She hasn't got an ear infection, but she has got a brain abnormality. Did you know?' When we said we didn't, they said: 'We need to blue-light you to Addenbrookes…' We got there – and had to wait, because they had no beds – then next day got onto the ward in a state of panic, to be told by a student nurse: 'Every child here's got cancer,' to which I replied: 'Well, we're on the wrong ward, aren't we?' We were there all weekend, in a state of turmoil. Eventually someone came to see us and said: 'We need to do an MRI scan'. They told us she had a brain tumour, and her chances of survival at that point were 5%. But you can't live like that. You have to live in hope. One of the things we've discovered in this journey is that, nobody, no matter what cancer they have, should take any notice of what the doctors say about percentage chances of survival. You need to be positive.
How did the charity begin to emerge out of this?
Carole: Anna was in hospital over 15 months, and we decided then that whether she lived or died, we wanted to do something to help other children and parents. When we arrived at Addenbrooke's there was very limited support for children with brain tumours. There was a specialist nurse, whose job was to go out into the community to facilitate various things, but she was looking after over 300 children in this region, which was just impossible. So, we decided we would fund a second specialist nurse, for three years but we told the NHS we would only do it if they took her on at the end. And she is funded by the NHS now.
Did you set targets for yourselves?
Rob: Our first goal was to fund the Anna's Hope specialist nurse, but we didn't give ourselves a timescale, we just thought we'd do it. Basically, charities are journeys. We sat down with Anna's godparents who became the trustees, and I gave them a challenge – to help kids with brain tumours, and to help them now, giving support and rehabilitation. They were nervous about what we could do, because we weren't hedge fund traders or multi-millionnaires. We'd plucked the figure of £20,000 from the air, and we struggled to think how we could do it. Then, in the first year, we raised £90,000. The second year, we raised £160,000.
Carole: Our longer-term goal was to set up a therapy team specially for children with… [cont]
"Little things can make a difference" 1 2
Leave a Reply