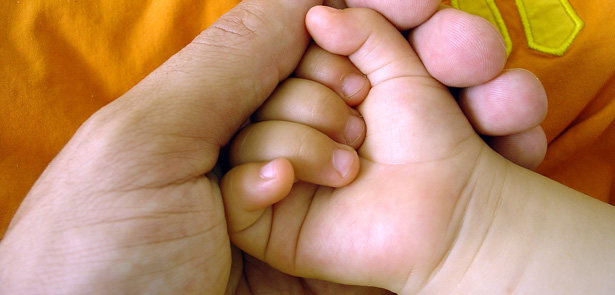 Michelle King's little boy, Oliver, was born with Down's Syndrome with no walls or valves in his heart and no oesophagus. He was not expected to live longer than a year, but has now celebrated his eighth birthday, and – despite having to be supported by various life supporting equipment and being fed through a tube 24 hours a day – is a happy, fun-loving little boy. Along the way, this little miracle also helped give birth to another: a Peterborough-based charity that provides facilities, advice and support for children with disabilities and their families across the region – now a Charity Partner of Perkins Engines Company Limited. The Moment talked to Michelle about her experiences  
HOW DID LITTLE MIRACLES FIRST COME ABOUT? 
When Oliver was born, he needed constant care. We had great support for the first 15 months, when he was in hospital, but once we came home with him there was nothing in place. That was very hard. The thing is, you think it's going to be about all the special care they need, but often it was accessing the everyday things that was most difficult. At mother and baby groups, for example, other parents were pulling their children away from him. And I remember one day bringing him back from the hospital and a bus driver refusing to let us on the bus, because he had an oxygen cylinder, which he needed to breathe. The driver thought it might be dangerous. I literally sat in the aisle of the bus and cried. There was another lady on the bus, who had an eight-year-old with Down's Syndrome, and she took me for coffee. She was the first person who ever told me that things were going to be OK. 
THAT WAS TESSA CAPON, YOUR CO-FOUNDER?
Yes. The next week, we went for coffee again, and more mums joined us with their children, and by week three we couldn't fit around the table in the coffee shop, so we started hiring a space for the children, running a weekly drop in session at the Honeyhill Children's and Community Centre in Paston, Peterborough every Monday. And it was amazing – every week, more and more mums would turn up. That was 2010, and by the summer we'd set up a soft play centre. Initially, we charged parents a small amount to cover costs, but we stopped charging because we had families asking if they could pay £1 in instalments. That was the last time we charged – now we don't charge for anything.
HOW DID IT GROW FROM THERE? 
We diversified. People started telling us they were struggling to have holidays, so we started holiday clubs. And after we'd been going a year, we had about 100 people attending every week, and we couldn't hire anywhere big enough, so we also started looking at buildings we could take on ourselves. That worked really well until about March 2013. At that stage we had three industrial units knocked into one space – less than perfect, but it was a space that was ours and where the children felt safe. But still more people were turning up than we could support in that environment. At that time, the council was closing children's centres, and there was one that nobody wanted to take on because it was such a liability – it was an old scout hut, built using asbestos, the roof was falling in, and it had suffered from vandalism. But we had the idea that if we could take it off the council's hands, we could then launch a ten-year campaign to build a purpose-built centre.
AND THAT TEN-YEAR PLAN HAD A SUDDEN, UNEXPECTED BOOST IN 2013…
Yes! In June that year, we applied to DIY SOS, and spent the whole summer being followed by camera crews, who visited families houses and talked to everyone. We were supporting about 2,500 children at that stage. And they decided they were going to do it for the Children in Need DIY SOS special! Over 600 volunteers and local companies came together to create the purpose-built centre. They were originally going to renovate the existing centre, but then decided it wasn't viable, so instead knocked it down and built a new one in just nine days, during September 2013. And we then had a purpose-built centre that could support 5,000 people in Peterborough.
AND THIS THEN LED TO OTHER CENTRES?
There were families coming by minibus from other parts of Cambridgeshire and beyond. One family was travelling 54 miles – 108 miles round trip – and no family should have to do that. As a result of that, we set up another support location at Soham on the Cambridgeshire-Suffolk border, providing coverage for the Cambridge, Ely and Newmarket areas – and we are presently working towards extending further into other areas. Our newest is in Ramsey, in Huntingdonshire, where we now provide support for an existing group to meet regularly.
HOW CAN PEOPLE WHO SIMPLY WISH TO HELP GET INVOLVED?
Most of our staff members are volunteers, and all of our trustees and management committee members are parents or carers to children with additional needs, disabilities or life limiting conditions. As a result we're always looking for help. There are many ways that you can help us from donating, volunteering, doing a sponsored event or even just telling other people about us. Please do get in contact for a chat about how we can help each other.
About Little Miracles
Little Miracles is a parent-led support group and charity for families that have children with additional needs, disabilities and life-limiting conditions. It started in March 2010 running a weekly drop in session at the Honeyhill Children's and Community Centre in Paston, Peterborough. This was a place for children and their parents to meet and engage in meaningful, fun activities in a safe and secure environment, and soon developed into a peer-to-peer mentoring project to providing holiday activities and emotional support. Working out of two main centres in Peterborough and Ely with additional branches in St Neots, Spalding, Holbeach, Kettering and Bourne, Little Miracles now also offers a number of other services including day trips and activities, bereavement support, benefits advice, counselling and referrals to other organisations, many of whom regularly hold sessions in conjunction with us to offer advice around specific topics.
Little Miracles ■ The Spinney, Hartwell Way, Peterborough PE3 7LE 01733 262226 ■ Ely Community Centre, High Barns, Ely, CB7 4SB 01353 664644 ■ General Enquiries: ■ Event Enquiries:  www.littlemiraclescharity.org.uk
Leave a Reply