Peterborough Playgoers: Life and Beth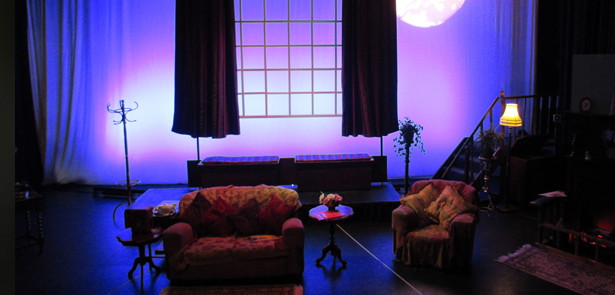 Alan Ayckbourn has written more than seventy full-length plays. Relatively Speaking, Absurd Person Singular, The Norman Conquests and A Chorus of Disapproval are some of the well-known ones – but Peterborough Playgoers have chosen a lesser known play, Life and Beth, as their spring production, presented at the Key Theatre Studio (23-26 May)
The play is set at Christmas, but Christmas is incidental to the story about a family coming to terms with the loss of a husband, father and brother. They rally round the new widow, Beth, but each has their own issues, which only serve to create more problems for her. However, it is the visit of the local vicar which really has consequences that Beth does not welcome but is forced to deal with…
Peterborough Playgoers is the second oldest amateur theatre group in the city, having been formed in 1935. Their first production was Lady Windermere's Fan, and their repertoire has included modern plays, thrillers comedies, farces, and even a small musical from time to time. Since 1990 they have become known for their Christmas Revues at the John Clare Theatre and many a loyal patron has been heard to comment 'my Christmas doesn't start until I've seen Playgoers show!'.
Many of their early performances were staged at The Elwes Hall but Playgoers moved to the Key Theatre in 1976 when the production that year was an Unexpected Guest by Agatha Christie. Michael Cross, the former artistic director at the Key Theatre, first appeared on the stage of that theatre with Playgoers in their production of Who Killed Santa Claus in 1979 and appeared with them again the following year in Fringe Benefits. The society has also been directed by David Turner, who for many years was involved in producing The Mousetrap in London. He directed their 50th Anniversary production of On Golden Pond at the Key and followed it with productions of Murder on the Nile, Abigail's Party, and The Heiress.
In 1995, Playgoers decided that it was no longer financially viable to continue to perform at the Key Theatre which in those days only had the main house, and until 2014 Playgoers produced their plays at The John Clare Theatre. Their last play there was an adapted production of The Importance of Being Earnest by Oscar Wilde, directed by Sandra Samwell and adapted to take into account that the cast members were a little older than they should be for the parts! Sandra also directed the first two plays in the Key Studio when Playgoers moved there in 2015: The Ghost Train, by Arnold Ridley and Terence Rattigan's Flare Path.
The society was devastated when, later that year, they lost Sandra very suddenly to leukaemia. She had been a real guiding light and as a result, in recent years, Playgoers have resumed using professional directors. Michael Cross returned to the society in 2017 to direct Ladies Day in the Key Studio, challenging the actors by setting the play in the traverse. This year, Paul Collings, who, together with his wife Lisa runs Kindred Drama, is directing Life and Beth.
Jennie Dighton, who is playing the role of Beth in this latest production and who was one of the factory workers in Ladies Day last year said: 'It is a real pleasure having professionals work with us. They know what they want from the production and know how to bring it out of the actors. Michael, last year, and Paul this year have very different styles, but it has been a real learning experience working with both.'
The society hopes to go from strength to strength in the future, and with that in mind, is always looking for new members. They have a Facebook page and a website and anyone who might be interested in joining can contact them. And don't think you have to be able to sing or act. They always need people to help backstage; so, if you can sew or could build scenery, or want to learn how to do stage lighting or sound, or even if you could just help move scenery, do get in touch.
To find out more, visit: www.peterboroughplaygoerssociety.com
T: 01733222329
Leave a Reply