Kindred – from page to stage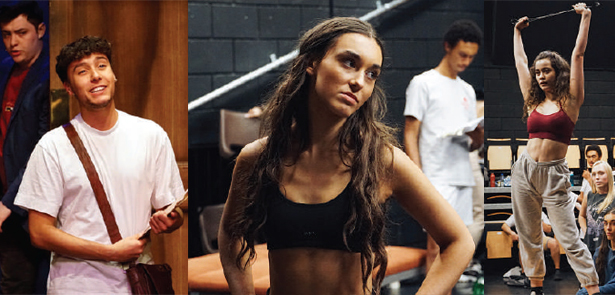 As the curtain comes down on another hectic Summer for Kindred Drama at the Vivacity Key Theatre, Director Paul Collings gives us the inside track on the work that goes into producing shows containing over 300 young people in such a short space of time
The whole Summer is an absolute labour of love for the entire Kindred team. It is without doubt the highlight of our year. What is the secret of our success? Preparation. Every year, as soon as Summer School and our Summer Musical are finished, we start planning the next one and 2019 was no different. Summer School has now run for 28 years at the Key and every year the team work with over 250 children over two weeks, to produce 4 fantastic shows, which this year were, 'Mulan', 'Our Day Out', '9 to 5' and 'Jesus Christ Superstar' and the feedback from parents and also the children that attended was overwhelmingly positive.
We had secured the rights to perform 'Legally Blonde' some 18 months before the production was actually staged and throughout that time there was a vast amount of work to do around sets, costumes, props and everything else that goes into making our productions what they are and that's before we even start the casting process. Auditions this time were held in February and from these we assembled our company of almost 50 talented young people, all of whom love being on stage and give their all to make the best show possible.
The process continued with music rehearsals throughout June and July, to get ready for the week's rehearsal in August, when the fun really begins. We at Kindred love to work quickly and with a show the size of Legally Blonde, there was no choice but to do that as it is a huge undertaking and this is the time when the creative team and company really come into their own. The question that is very often asked about is how quickly we work and why we do it.
Because we believe that this short and intensive rehearsal period focuses the minds of those involved and ensures that the company keep the show real and fresh during the performances. They are still discovering the show along with the audience and this is something we find very exciting and we believe that this way of working teaches the young people so much and also prepares them so well for the profession. We know from many of our young people that have gone into professional training and the industry, that the time spent with us has given them such a solid foundation that they are commended for their work ethic and approach to rehearsals. The end result of what we do in the Summer is always a fantastic production and 'Legally Blonde' proved to be another roaring sell-out success for the Kindred team and 2020's preparations are well underway.
Almost half of the places for Summer School have already been reserved and the plans for 'Cats' are already in full swing!!
For information about Kindred's Summer School at the Key Theatre, please email ● 'Cats' will be performed at the Vivacity Key Theatre from 19 – 22 August 2020
Leave a Reply