KIDS – caring for young carers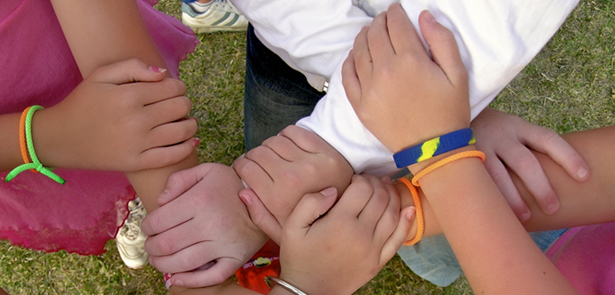 It's emotionally and physically demanding taking care of someone with a mental or physical disability, helping them to remember to take medicine, to eat, keep clean, even to stay cheerful when pain and illness feel like too much to bear. But imagine trying to do this while fitting it round going to school and completing homework, keeping up with friends, developing hobbies and getting enough sleep – and when the person you're looking after is the very person who is supposed to look after you: your parent or guardian.
No one really understands what it is like to have parents who take drugs, here is the only place I can talk about it with confidence and know I have friends and support when I need it
Young carer, aged 15
KIDS is a children's charity which has hubs in different parts of the country, including Peterborough, and which supports children coping with just these kinds of circumstances. The Moment magazine online chatted to James Huddlestone from KIDS, Peterborough, about how the charity gets involved with young carers in the area, and improves their lives for the better…
'We help and support young carers from as young as five all the way up to 18,' explains James, revealing the sobering fact that, sometimes, a child looking after a sick sibling or parent might be a little one who has probably only just learnt to tie their shoes. 'It's any children who provide emotional or physical support, or both, to someone in their home. The project involves around 180 young carers who get referred on to us by social services, schools, and some self-refer.
'They will usually be caring for someone in their home, Mum, Dad, brothers or sisters. Sometimes it's very physical care and they might be doing this anywhere from five hours a week all the way up to 30-plus hours a week. This can have quite a profound impact on their social development and also their schoolwork. What we try and do is support them, help to develop their social and emotional wellbeing, do one-to-one support work. We've also been going into schools, doing training with them, helping them to identify young carers and explaining how to support them. And although we do get some funding, we are a charity and we raise a lot of our income ourselves.'
Coming to young carers has made me a more confident person
Young carer, aged 12
Young people who cope with what many would consider demanding adult duties and responsibilities often do not think they are doing anything special, and don't realise that they might need a bit of a helping hand. James continues: 'We need to raise awareness with the public as one of the big problems we have is identifying young carers: they don't 'self-identify', don't think of themselves as carers and their families may not realise either – it's just what they do, part of their lives. So, if we get a referral and go into a school to see a particular child and ask them to tell us a bit about what's going on with their situation, they may well say: "going on with what?"'
KIDS aims to make sure that young carers in Peterborough and the region realise that they don't have to shoulder the burden of care for a loved one alone. No-one will try and stop them doing the best for the people they love, but the fact is these brave and hard-working children rarely get to put themselves first: it may be difficult for them to find time to make friends or complete schoolwork, or even get a decent night's sleep. 'We want to spread the word that there is a young carer service in Peterborough. We are here for them,' says James. 'They can self-refer to us, or they can just ring up for a chat, get some information to see if it's for them.'
James is keen to emphasise that people can help by getting involved, whatever time they have to spare each month, using whatever skills they might possess. 'People who want to volunteer to help the children will always be welcome,' he says. 'Someone who wants to volunteer would come and meet up, initially, and see the kind of thing we offer the children. It might be running a football session, it might be sitting and talking one-to-one; really it's a case of looking at what we've got going on and getting involved. We'll look at how often they want to volunteer, what skills they have to share, then we can talk about getting them CRB-checked. Obviously there is full training, so volunteers are aware of our policies, that kind of thing. It normally takes about two to three weeks from someone offering to volunteer before they're ready to start working with the children. We're open to ideas, too! We have the freedom to do whatever we like as long as it benefits the young people; tomorrow we're doing some stuff on horticulture with a group, we have an allotment and we take them down there and what we grow and dig up we take home! We have football sessions, outings such as horse-riding sessions, we go to see Peterborough United play – we're one of their charities of the year. You don't need any special skills: if you just wanted to be one of the responsible adults helping on a day out, that's great!'
Can volunteering for KIDS be helpful for people to looking to get paid employment in the future working with children, people who perhaps want a career in teaching or childcare? James nods, enthusiastically. 'Definitely! We have a couple of girls who volunteer for us at the moment, and we met them at a careers fair. They have both graduated from college after studying childcare, and they both want to go on to university to study it further, either to remain in childcare or to go into teaching. For them, it's a fantastic experience, and also it allows them to get experience whilst remaining flexible: if they do get a job that's fine, until then it's a fantastic way to get your foot on the employment ladder.'
Thank you for all the work you do for [our young carer]. We really appreciate the support over summer and with trips and she loves coming out with you
Parents of a young carer, aged 13
For further information, either to get help and support or to offer it, telephone James on 01733 237479 or visit www.kids.org.uk
Leave a Reply