Kev Lawrence: The People's Voice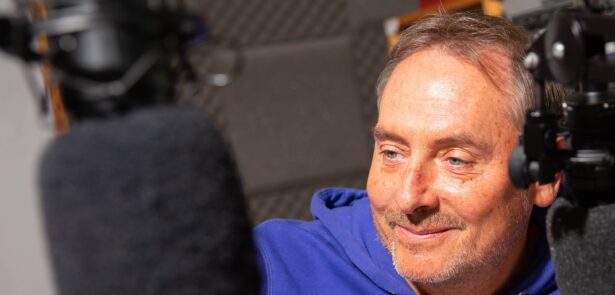 Peterborough has many voices, but few are more familiar than that of Kev Lawrence. He has presented breakfast radio shows in the city since 1997 on Hereward FM, Lite FM, Heart and BBC Radio Cambridgeshire, as well as hosting key live events such as the city's fireworks display and the Christmas lights switch on. He currently presents the breakfast show on Peterborough City Radio (PCR FM) and a variety of shows on BBC Radio Cambridgeshire, including the Saturday breakfast show. But what role does local commercial radio still have to play in a world so dominated by social media – and how can it play its part in helping us deal with the pandemic? The Moment talked to him about life during COVID, local media and why community matters.
The pandemic has brought so many things to a standstill over the past 18 months. How did it impact on you personally?
I haven't missed a single breakfast show since day one of the pandemic. They classed broadcasters and journalists as key workers, and I remember it being really eerie in the first weeks of lockdown – at that point I was on BBC Radio Cambridgeshire's Breakfast Show – driving along the A1 and A14 from Peterborough to Cambridge. It was so strange, those first few days after that first lockdown, when everyone was told to stay home. It just felt odd. But you know, I've worked every single day, and I now do have a little home studio set up, so if I couldn't get to the studio for any reason, then I could broadcast from home. That said, I prefer being in a studio live, so I have gone in every day – but that option is there now for me.
Did the pandemic change the show itself?
It was a huge change. For those months leading up to it, when we were reporting and talking about what was happening in Wuhan, it just felt like it was happening somewhere else. And so it was absolutely business as usual – fun, information, local content and celebrating the lives of people living locally. But that was always in the background. And I do remember thinking: 'This is pretty serious. And this is coming over here…' I remember going away on a holiday just before, in late February, and we landed back in the UK on1March, just when it all started kicking off here. It changed completely the feelings everybody had – especially people living alone. They tune into their local radio stations for companionship as well as information. So, in those early weeks and months, it was all about facing up to the responsibility that you as a broadcaster had, needing to give really clear information about what was happening. But that's only 50% of it. The other side of it – perhaps the more important part – is being a place for people to come and talk about how they're feeling.
Why is that important?
I've broadcast for years; I remember being on the air during 9/11, when Princess Diana died, when Jill Dando was killed… When huge events like that happen and it impacts people's lives emotionally, I think we have a responsibility as broadcasters to make sure that our tone is right and that if people want to talk about how they're feeling a radio station is one place to do that. I think it was one of my first shows back after my holiday… I'll never forget it. I had this hairdresser on, I think from Whittlesey. Listeners were calling in and we were just talking and this poor lady was on the phone saying how she was on her way to work, she had a full day's appointments, and she said: 'I don't want to go in. I'm scared of catching this virus…' This was a few days before lockdown was announced and everything got shut down. She'd turned the car around and was listening to us talk about it and she just felt compelled to call in, so she'd pulled over and this conversation went on, and she was in tears saying how scared she was over and over, how she had a few underlying health issues herself.
So then I am trying to be there as a companion for her. As important as information or the news is, what local radio can give is a place for people to talk about how they feel. Obviously, there's social media where people do that, but that intimate kind of one-to-one quality is what I really like about radio.
Does it feel like some kind of 'normality' has been established now we're into the second year?
People are getting on with their lives as best they can, if they've been vaccinated or they've had and recovered from the virus. But you've always got to measure the tone and the mood of the day and what people are thinking and feeling, and you kind of go with that. So, for instance, this week on my PCR show, we spoke to Dr. Gary Howsam, and he was just brilliant. He is the clinical chair for the CCG, and part of the team that helps roll out vaccines locally. And he was telling us that a million jabs have now gone out just in Peterborough and Cambridgeshire, and talking about these new hubs that are opening up for anybody to just walk in and get their jabs. Listening to his information, I just thought was so encouraging. And while we're talking about COVID quite a bit, you know, there are still other things to talk about and to celebrate.
Radio is also about music, of course, and I always think about that moment in Italy when people were singing from balconies, expressing a need for music even under the dire circumstances they were suffering. Did you sense that need in your listeners too?
Yes, music means a lot to everybody in different ways and carefully selecting the right songs at the right time is pretty important. I remember being really touched by the singing from balconies. I also remember interviewing the lady whose idea it was for Clap for Carers, and her telling me that she was just blown away by how it was embraced across the whole country. It gave us all something to look forward to on Thursday night at eight o'clock, and while the Italians were singing opera from their balconies, we did the clapping every Thursday night. And you start talking then to your neighbours, because you're out on the doorstep. I was actually on my little balcony, and all along my row we were chatting, just feeling together. I mean, scared, but together.
This was in those early weeks when so much was unknown and the vaccine was just a discussion point, but it gave us a chance to feel like we were together, as a country. It's something I'll never forget. In all the years I've been broadcasting – 25+ years – I've never been through quite so tough a time as that. But you get on with it. You just try and do your bit, providing that information, providing the platform for conversations to talk about how people feel. And the third string, to refer back to the point about music, would be providing solace. Because I think we all got in the habit of watching these briefings, being obsessed by news, being obsessed by information. In the morning, maybe just also going to a place where it's not going to be quite so doomy and gloomy can be a little bit uplifting. And chatting to local people about how they're feeling and what they're up to, can sometimes also be… not escapist, really, but just a bit of a solace from all of the hard news – some smiles and some fun, as well as the difficult talking points. I would say that's really important for breakfast radio. It can be a place to come to feel OK when it's a tough news day.
Social media never stops and you often get people piling on the doom and gloom. Is local radio potentially a bit of an antidote to that?
I personally try to avoid all of the comments and conspiracy theories. I like to listen to epidemiologists and scientists – people who I trust and are qualified to make judgments on things, rather than someone sitting there on their phone or tablet who's heard this or that. It's really important to keep the show away from that aspect of social media. I remember talking to a friend of mine in the first few months of it, and he was a complete COVID denier. He would not wear a mask at any point. He kept saying more people died from flu – he wouldn't have it. It disappointed me that there were a number of people who clearly didn't take it seriously in the early months, when you get critical, factual information showing how serious the pandemic was and how many
lives it was taking and how the hospitals were overflowing. I suspect that social media is a partial cause for people getting that misinformation. But in all my work on the BBC during that time, it was important that we absolutely presented facts and nothing more. I'm not the hard hitting journalist, but my journalistic responsibilities and training absolutely had to kick in. We only ever wanted to present government-backed information that people needed to hear.
You're clearly very passionate about the community aspect of local radio, and your responsibilities towards that local audience…
It's like The Moment magazine – we've got our audiences' lives at our core. And I personally
live and breathe it. This is my home, my city – my children were born in the city hospital and I'm really passionate about flying the flag for where I live. So, it's vital that we're reflecting the thoughts and feelings of everybody here. I remember when I started on PCR FM, I wanted to give children the chance to talk about how they were feeling regarding the pandemic. And I didn't want it to just be a phone-in. So, we came up with the idea of running a podcast competition, the brief being to make a 15-minute podcast called 'My COVID Experience' talking about how COVID had impacted their lives. And it was incredible. We put it around local primary and secondary schools with the help of the City Council. When we started to get entries coming in, I listened to them and I was just blown away by the simple thoughts – thoughts that as adults we maybe don't quite have the ability to communicate because we're too busy watching the case numbers, worrying about our own health, worrying about our families and what we can or can't do. Just simple things that they were thinking about, like how they were really missing their friends, or how it had been brilliant to spend so much time with mummy and daddy. It just really impressed me – and moved me, to be honest – to hear how kids were processing the pandemic. It's not just adults who have opinions and feelings about it. That was July-August last year, and the winners – Castor C of E school and Fourfields in Yaxley – went out on the air. I really enjoyed doing that.
Do you think that the pandemic has actually given community cohesion a boost?
Yes, wanting to help your neighbour – wanting to make sure the person who lives near you is OK, who perhaps can't get out – became huge. For instance, the Coronavirus Heroes Facebook page started with this one, ex-Peterborough resident. She'd moved away and was worried about her mum, so she set this little group up, and it grew into something really big. I hope it continues. I hope this spirit of caring for people who live near you is something that does carry on. Of course, the pandemic shone a bright light on all community efforts, but there were lots of examples of how the pandemic changed things we would normally do and took for granted, and which became so positive. Firstly, for me, there was the firework display that we were part of at the Showground. Normally, up to about 5,000 people head down to the Showground to watch the fireworks and raise money for charities, and most years for the last 15 I've been there hosting it. Last year, people couldn't go and watch in big groups.
So we thought: 'Let's have a drive-in fireworks display…' Of all the things I've ever done on radio, this would be one of my favourite things… We had 1000 cars parked up at the Showground, without the need to get out their car – although you could if you stayed within a metre or two of it. And we played the music to the fireworks on the radio, with shout-outs and requests and upbeat party songs leading to the big countdown. There were kids and families with a lot of them sitting on the bonnets of the cars watching the most breathtaking firework display, radio up… I played the Blue
Danube and got every car to beep in time with it… BEEP-BEEP! BEEP-BEEP! That spirit, that fun was fabulous. And even though the pandemic was at a really bad point, we were able to have the event, and the feedback on it was astonishing. I was getting emails from people saying they were the best fireworks they'd ever been to! Despite the pandemic, despite the grim news that a lot of us had, despite all these months in lockdown, it was something really positive that PCR was able to be
involved in.
And then the second example was the Christmas lights switch on. I'm so fortunate to have been asked to host it lots of times over the last 20+ years, and while no one really thought it would happen in 2020, I was approached by the Council who said they wanted to do a virtual Christmas lights event. So, I recorded this video with the help of the Council and various other people across the city. We got loads of key worker heroes tobe involved in it, recorded some stuff at the Cathedral and various other places around the city. We didn't really know how it would go down, but it had something like 70,000 views as it went out on various streams – Peterborough City Council's live stream and YouTube channels, on PCR and the BBC. So even though nobody went to Cathedral
Square, there was still a brilliant Christmas light switch on virtual video event that, again, was just completely bonkers! But it shows the power of local radio and local media – working with social media – that we were able to give people that experience and show that, despite everything, the Christmas lights were still coming on. It made me feel good to be able to touch the lives of people in that positive way during a really grim time.
Does this mean that local radio's fortunes have been revived?
From a radio perspective, I feel really worried that local commercial radio is dying. So, part of what I want to do on PCR is to try and slow down the demise of local commercial radio. The reason I say it's dying – despite the revival of interest – is because of what's physically happened with radio stations that once thrived in every city across the UK; they've been bought up by massive companies, whose bottom line is profit over anything else. And so, for instance, the transmitter that broadcast Hereward Radio for years now, doesn't have hardly any local content on it. They pump out a national breakfast show. And that, to me, is sad. However, that said, community radio stations and local BBC radio stations have therefore never been so important – but you just don't have a huge amount of choice if you want a local, familiar breakfast show with content and conversations centred around where you live. So that is a worry. And then the second part is the fact that when you put the radio on now, or you open The Moment magazine, you're not going there for news. You've already got your news instantly through social media channels. So, what point of difference can you offer? Well, it's that feeling of community – of feet on the ground in the area in which you live. For me, breakfast radio is all about a feeling and not a format. I think it is perhaps the same looking at all of the articles that you guys cover in The Moment magazine; it's filled with stories and
conversations and interviews with people about how they're feeling. So, when people tune in to my breakfast shows, I want them to do so knowing that they're going to get something more than just a bland mix of the same songs and same format every day.
For instance, this morning I spoke with this amazing woman called Sandy who's the CEO of a charity called Disability Peterborough, to hear about all what they've been through during the pandemic, who they help, how they help, how they're looking for more volunteers. It made me want to go and help right then and there. That's just one example. But every day we aim for stories like that, that can create that feeling of localness and positivity. Only local radio, local media can do that. My hands aren't tied by a national format; I can literally feature anything, whether it's a school podcast competition or conversations with local charities or amazing people. Evoking that emotion is what's really important – how the world is impacting you and me, today, living here.
Kev Lawrence presents the PCR FM breakfast show, weekday mornings 7-10am, and the Saturday breakfast show on BBC Radio Cambridgeshire, 6-10am.
Leave a Reply