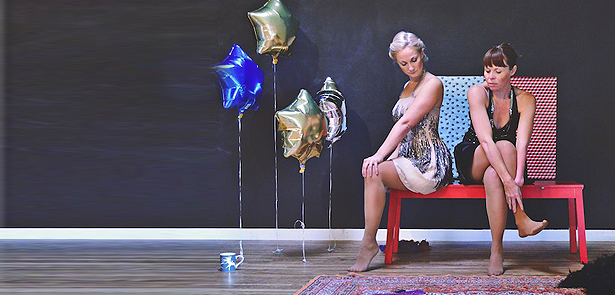 Kate Marsh is a contemporary dancer and thought leader from Peterborough. She has performed and taught nationally and internationally and is currently working with arts organisation Metal on a programme called Change Makers. Here she tells us a little about her career and what she is up to at the moment...
Can you tell us a little bit about what you do?
Well, generally speaking, I work in dance, but at this stage in my career this has a really broad meaning. I make and perform my own work, largely this is with my collaborator Welly O'Brien. I also teach for universities, arts organisations. In my role as a research assistant for Coventry University, I also work in academic contexts such as conference presentations, researching and presenting in a range of settings. In my role at Metal I am excited to be working with 24 really brilliant artists who have all attended artist's LAB's across the Metal sites (Liverpool, Southend and Peterborough) and recently presented their ideas at our event "The Space In-Between" at London's Southbank Centre on September 6.
What inspired you to become a dancer?
Originally, I just loved moving and showing off, my sister and I would put our leotards on and dance around during Top of the Pops. I have a physical disability and as a young person there really were no role models dancing professionally with disabilities, so I didn't think for a moment that it could be a career. I then met two great teachers at Walton school in Peterborough, Pete and Rowena Hayward, they were way ahead of their time in terms of how the performing and visual arts could impact on education. Through them I was exposed to new ideas and I gained lots more confidence. I think they are probably responsible for many ex Walton students progressing to further training and careers in the arts. I then encountered Candoco Dance Company and that was the first time I had seen disability represented on the professional stage. That was a real turning point. In 1999 I joined the company as a dancer and teacher. I am still an associate artist with them to this day!
What are your top three most memorable moments in your career?
There are so many… I have to say completing my PhD last year. I was never academic at school and I didn't find 'formal' education easy, so graduating as a Dr of Philosophy was a big deal for me. I love teaching, so I have many memories of different groups and people, throughout my career. Teaching is such a two-way street and as much as I hope I pass something onto students and participants, I learn such a lot from them too. I feel really proud when I hear about what ex-students are up to. They are starting to have families of their own now, which makes me feel ancient!
I have lots of memories from performing as well, these are really varied and what I remember most about all of them are the audiences, whether that is a stadium full of people at the Paralympic closing ceremony or a tiny audience of ten people. As a performer you are so aware of the audience and their reaction and response. A warm audience is worth everything.
What sort of work have you done and has this changed over the years?
I am lucky to have had a really varied career in dance. I started my career living in London. My first job was at Greenwich Dance as an administrator and coordinator of professional training. It was in this job, that I met so many dancers and choreographers and I had a brilliant boss who taught me how to support artists with integrity and care for their development and practice.
After Greenwich I joined Candoco, as a full-time member of the company my role included performing in the repertory company. We performed work made by invited choreographers, I would also teach as part of the company's education and training programme, which was extremely diverse ranging from professional dancers and primary schools, to workshops and teacher training events. I was lucky to travel, perform and teach in Sri Lanka, USA, Vietnam, Africa, The Philippines, Singapore, Australia, Poland, Romania, Russia, Lithuania, France and Italy.
After five years of performing and touring I wanted to settle down a bit and start a family. This is when I moved back to Peterborough, having left aged 18. After having my first son I taught part time at Peterborough Reginal College and UCP (University Centre Peterborough). I really enjoyed this time. The BTEC and BA performing arts students were great and I am still in touch with many of them now.
I left this role to pursue my PhD in dance which I completed last year, and that led into my roles at Metal and Coventry University.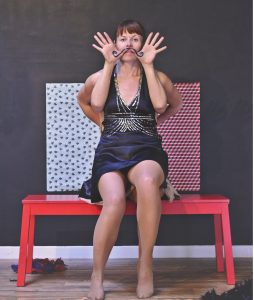 What or who has most inspired you?
I have a funny relationship with the idea of inspiration. I am a total realist so I am not easily inspired. I also think in relation to disabled people inspiration is a tricky term, almost suggesting that people are inspiring just by living their 'normal' lives. I really admire and value kindness and integrity in others. Through Metal I have been lucky to work with such hard-working and conscientious people who are determined to support others, this includes the team at Metal of course, also The Green Backyard, Paper Rhino, Red7 Productions and a host of amazing independent artists. All of these people have really ignited my belief in Peterborough as a progressive and creative city. I am also constantly in awe of many of the independent dance artists with whom I have worked over many years. I am lucky to be alongside them, their ideas and innovative practice.
You're working with Metal on Change Makers. What does this involve?
Change Makers is a programme funded by Arts Council England that supports BAME and/or Disabled artists. Metal and I applied to work together on a programme that looks at spaces in-between disabled and non-disabled. We started in January 2017. It was important for us to focus on the art rather than more 'traditional' ideas of difference and inclusion. After our callout for participants we selected 24 artists from across the UK who are interested in thinking about 'otherness' in their arts practice. They each attended one of three intensive development weeks in Peterborough, Southend on Sea and Liverpool and then each was supported in exploring their ideas further.
Bringing together so many artists has been really exciting. As a group, we have all shifted our ideas and shown new ways of thinking and I am delighted to continue working with them. By the time this interview goes to print we will have just delivered our event at the Southbank on 6 September where the artists will have all shared their research. It includes lots of different ideas and art forms (performances, film screenings, sound pieces, poetry). It's been very exciting drawing it all together to share with a wider audience, but a lot of work!
What does the future hold?
I think this is a great time to be an artist in Peterborough. My experience at Metal has introduced me to lots of new people who are invested in or working in the arts. If I'm honest, before this project a lot of my work was outside Peterborough. There just weren't many opportunities. What I have noticed now is that people are coming together to create opportunities. In May I went to The Undercroft (at Serpentine Green) to see "Fat Blokes" by Metal's artist in residence Scottee. I was so impressed by the whole evening. The show was one of the best things I've seen for a long time and the venue was brilliant. I hope, as a city we can really nurture the committed, intelligent audiences, venues and performers that are making work or bringing their work to Peterborough. For me personally, after Change Makers, I really hope I can keep working with Metal in some way. There are exciting times ahead and I want to be part of that.
What would be your advice for anyone considering a career in dance?
When I speak to younger people training in dance or the arts generally, I think they have encountered a lot of cynicism about pursuing a career the arts. Unfortunately, we live in a time where politically and economically there is a huge emphasis on making money and therefore a fear around employment in the creative sector. It makes me so sad to see creative subjects being squeezed out of education. They are such an essential part of our learning regardless of what we go on to do. Certainly in my case, once I had discovered dance as a teenager at school, the arts were always what I wanted to do and I have been lucky in terms of regular employment. I think it's important to be flexible and to take opportunities when they arise. Also, speak to other artists, producers and choreographers etc to find out how they got into the arts. In my experience most people are happy to help. It is hard work and I rarely keep 'regular' hours, but I can honestly say I am surrounded by the absolute best people and, two decades in, I still love all aspects of the work I do.
Leave a Reply