Jude Kelly, Metal founder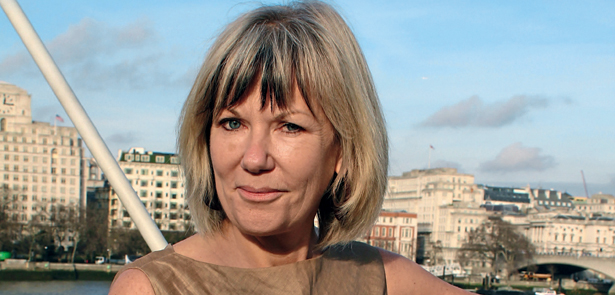 With Peterborough 900 in full swing, the whole city is getting into celebration mode. But for arts organisation Metal – which has now been helping art to happen in Peterborough for five years – there are special reasons for celebrating, with a potential new arts hub at The Mill being created as part of the riverside Fletton Quays development. The Moment editor Toby Venables talks to Metal's founder and national chair Jude Kelly CBE about Metal's founding values, its first five years in Peterborough and what's planned for the future
Starting out in theatre in Liverpool, you've gone on to become involved in a huge range of cultural endeavours, from helping secure the 2012 Olympic Games for London to being Artistic Director of London's Southbank Centre. But how and why did Metal first come about?
I'm the kind of person who goes 'Here's a great idea… Let's get it done.' That doesn't mean it always has to be me doing it, but I do feel art and culture and society need to keep moving forward. We want to be progressing society for good purpose. So that's what I've always tried to do, and you have to keep thinking of new ways of doing that. When I started Metal in 2002 I really believed that we needed to recognise the fact that in all kinds of towns and cities there are extraordinary people with extraordinary potential, and actually partly what we needed to do was realise that – make it a fact for people by connecting people up, by coming up with projects that would make sense for the city or town, and not to make everything about London or the major cities.
And that wasn't really being done, this idea of a catalyst. So I decided 'Let's try and make that happen…' And Metal was born. Obviously it's gone from strength to strength and is in several different places now, and I can't do that myself – nor do I think I should! – so there have to be brilliant people like Mark Richards [Director of Metal in Peterborough], so I can give that slightly less of my focus. I see myself as somebody who's there to start things, and then make sure they survive by having other brilliant people come on board – which they do!
In a way, that setting in motion and stepping back seems to sum up what Metal is about…
Exactly. Part of the intention of Metal is for it to be there as a catalyst. It's not there to be in competition with the people who are trying to do the thing themselves. People are often 100% more talented, capable or imaginative than they've been told they are or think they are – and that can be true of communities as well. We can be told that this is a dull or hopeless place and that is really damaging psychologically.
What Metal is there to do is make people realise that there is always great potential, always great talent in a place like Peterborough. The challenge then is to reveal that, and strengthen and build on it. When that confidence and clarity and unity is there then, in a way, you're left with no more to do and can move on.
So far Metal has bases in Liverpool and Southend as well as Peterborough – not necessarily the most obvious of locations. Why was Peterborough chosen, and what do you say to cynics who still claim Peterborough is dull?
Let me give you an analogy. Suppose a teacher at school said: 'This child is not very interesting, and we're not very interested in the child.' They are damning that child – it's the beginning of the child believing it, and of them stopping to push themselves – but I will bet you there isn't a child on earth that doesn't have ideas and potential. So when people are like that with communities, I get quite angry! I know that if you're a young person growing up in Peterborough that it affects you if people tell you it's dull.
I grew up in Liverpool and it was like 'Well you can't trust people in Liverpool because they're all criminals…' It's a sort of joke, but it isn't always funny when you live in those places. Part of the challenge is to say: 'That's not true.' And then people say 'Well, how are you going to prove it?' Well, because we'll do something – something that changes things. The choice of Peterborough itself – and Southend, in fact – was partly by invitation. Both asked if we would go and help, so we were not the only people thinking like this. Peterborough City Council wanted to reposition Peterborough and get people to think about it differently, so when they asked if we would be interested in doing that, the answer was 'Yes, we would!' And Peterborough is actually a really important place. Historically it is important. It's right in the middle of the country. It's the breadbasket of Britain…
There are so many wonderful things about it, and it's got this incredibly diverse population. It's a place that people really should think of as absolutely fascinating – and they will, if we keep working at it.
Do you think the new university will help with that?
With a university you get an influx of very enthusiastic outsiders. They haven't just drifted there or landed there by default, they've come with a purpose, to make their life interesting, and there's fantastic energy in that. And a university is all about hatching ideas. So, I think that will be great.
But it's like family. You have to decide you're going to love someone unconditionally and then get the best from them, rather than waiting for them to audition all the time to see if they're good enough for you. I think being in Peterborough, people need to invest in the idea that this IS a great place – and what is so interesting is what comes from the variety of voices, which Peterborough certainly has.
Your background is in theatre, but Metal itself embraces all the arts – and a bit more besides – without boundaries. Does that make it hard to explain to people what it's about?
It's interesting… I was always very clear that we didn't want to say that Metal was an 'arts centre'. If you say it's an arts centre then a huge part of the population says: 'Well, that's not for me, then…' Neither education nor the class system lead them to feel that art is for them. So we just present Metal as a place where good ideas are made to happen. Some people may find that vague – but it's better than people being put off! The reason why it covers all the art forms is because creativity might go in lots of different directions – gardening, or crocheting, or pottery.
Artists can be great at taking creative ideas with a community and saying: 'OK, what's a good outcome for this idea?' That's why when we did the Harvest Meal in Peterborough, with all the bread and special plates and singing and everything, it began with everyone just talking about what a celebration could look like. Metal has never really been about making single pieces of art with the artist; it's always about how you strengthen the community, and the identity of a community.
And, presumably, that leads to a cross-pollination of ideas, with people working together who otherwise wouldn't have, doing things they may never have done?
Absolutely – and first of all that means moving outside your comfort zone, and talking to people who are not like you. That's symbolic of the whole idea of how community development happens; you have to reach out, and in the reaching out to people who are not like you – whether you're an artist or anything else – something new and different will happen. That's an absolutely crucial part of what Metal does.
The second thing is, it's not always artists to artists – so, for example, we have had artists who have worked with water companies. Water is something that communities often don't really value – we know we need it, but we don't think about it much. It's just like the air, which is just there and we breathe it. But it isn't infinite, and we do need to preserve it. So, we did a whole set of workshops involving artists and people who worked at the water companies to come up with ideas for pieces of work that would make people think about water differently. Sometimes it's about community challenges, where artists might help the thinking change – and I love all that!
We did a wonderful project with a Japanese artist who then started working with the botanical garden in Liverpool about how to take some of their very specialised work and come up with a project for schools, which would allow young people to think of themselves as potential botanists – not by thinking of themselves as 'scientists', but rather as explorers of flora and fauna. The whole point of collaboration is that people come at it with fresh, new ideas.
Looking back over the past five years of Metal in Peterborough, what have been the high points for you?
I think when we won those medals at the Hampton Court Flower Show for the garden that we commissioned – I was very happy with that! The Harvest Meal was amazing, and undoubtedly a high point – to see all those people sitting in Cathedral Square, all the bread and baking that went into it, the local councillors serving the food… It was just wonderful. But I'm also very pleased that Metal is trusted as a space for disabled artists. That's a big step, I think. And probably the most exciting thing now is the possible development of the Mill.
Even before it opens, the fact of its existence seems a powerful statement of intent…
It is. It's Peterborough deciding to make a commitment; putting part of its riverside to use with the whole development – which I think is great for any town or city, because rivers are brilliant but often are quite neglected – but also having this big, creative space inside which will allow us to link up internationally with other places. And when Peterborough first announced it was going to develop that area, with apartments, hotel, retail and so on, it was the people of the city who said: 'What about culture?' I thought that was a tremendous awareness, which I firmly believe Metal had played its part in creating – the idea that you can't have a great city without culture. So that was hugely encouraging. It presents a huge challenge.
At the moment we're very light on our feet, having just a small space in Chauffeur's Cottage, which means we can put all our efforts into project making. But on the other hand to have a creative space on the scale of the Mill would be brilliant. Peterborough already has great creative spaces of course, such as the Key Theatre, but it's a substantial commitment, and I think Peterborough does need that. It'll be a place that people can be drawn to and bring their ideas. You can't predict what it will be like in two or three years, but I'm sure it'll be brilliant.
So, with the whole city celebrating 900 years this year what can we look forward to from Metal?
There's a range of projects that Metal has been cooking up within the community, with lots of different artists coming in residence. There'll be an expansion of the dance and choreography work, but I think our main focus is going to be demonstrating how the creative space at the Mill will become real.
We're going to be doing a lot of workshops and consultations about what that will eventually look like for people, so they can feel it's part of their community as it's happening. We don't want it to just spring up and for people to feel they have to build a relationship with it afterwards; it has to arrive ready with ideas and projects. And I think one of the things we want to be saying is: 'OK, we're 900 years old now. In another 100 years, what do we want Peterborough to be? Let's get it there!'
To find out more about Metal and its projects, visit www.metal-culture.com
Leave a Reply