Interview: Paul Bristow, Peterborough MP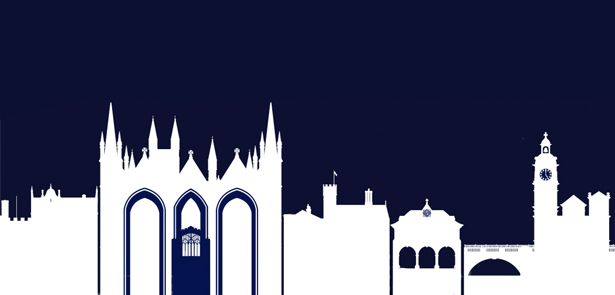 December's General Election ushered in a new MP for the city and a change in political allegiance. Yet barely a few months into the job, Paul Bristow is faced with coordinating the local response to the biggest peacetime challenge facing the country. How is he getting on with the unprecedented workload and what are his ambitions post-coronavirus? The Moment grabbed a socially distanced half hour with Paul to find out
How did you get into politics Paul, was there a defining moment?
I got into politics because of my old history teacher, a guy called Kevin Carter who taught at Sir Harry Smith Community College in Whittlesey. He was an inspiring teacher and very much into politics, which spurred my interest. He was actually a rabid socialist. I joined the Conservative Party when I was 16 as a result of that interest and have been a member ever since.
I wanted to stand in politics because I could see how politics changed lives. I noticed that through my experience of the Peterborough Conservative Association – it's not just sitting there talking about issues, it's also serving the people who elect you. I could see how some councillors – councillors such as John Peach – helped their constituents no matter how they voted. It really inspired me to want to do good for the community and the city in which I live.
You're from Whittlesey but spent much of your early political career elsewhere, standing for example for the seat of Middlesbrough South and East Cleveland in the 2010 general election. What brought you back to Peterborough?
Peterborough is my home and always has been. My parents still live here and it is where I lived until I was 18. I came home three years ago after a particularly tough time in my life, and that happened to coincide with getting back into frontline politics and here I am today.
Your majority in the 2019 election was quite slim at just over 2,500. Has this affected your approach to the job?
Well this is the best job I will ever have! I've got it for at least four years, but hopefully I'll have it for 24! As with anything in my life, I always throw 100% at anything I do. Being an MP for my city is going to be no different to that. Even if I was elected with a 22,000 majority I would still be throwing everything at it. I want to serve my home city as best I can.
Let's get onto the big topic on everyone's minds at present: coronavirus. What are the biggest challenges of Covid-19 in our area and is Peterborough prepared for the long haul?
We've got challenges and advantages in Peterborough. It appears we're slightly behind the rest of the country – to date there haven't been as many cases in Peterborough and in the East of England in general as in other parts of the country, especially London. That has given our NHS more time to prepare.
The other advantage is that while Peterborough is a city, everybody still knows each other. It's a city where people are capable of extraordinary things. Just look at the way everyone is coming together to ensure that those who are socially isolated, those who are vulnerable, including our rough sleeping population, are properly fed and looked after in this difficult time. I've been bowled over by it. A lot of takeaways and restaurants have helped and my friend Ishfaq Hussain has really lead that effort with me in an excellent way. As a city we're good at coming together, and not everywhere is like that.
We have got some disadvantages too. Peterborough has a worldwide population with people until recently flying in and out of the country quite a lot. Some of my constituents are still stuck in Pakistan, for example, which presents us with quite a few challenges. Then there's the fact that English is the second language for a lot of people, so getting across the message around staying home to protect the NHS may be harder.
Are we on top of the situation?
I have been speaking to Caroline Walker, who is head of our NHS Trust, and Gillian Beasley, Chief Executive of the Council, regularly about what we're doing. They are convinced that we are on top of this and are doing everything we possibly can. And that's on both NHS and social care levels.
As well as the devastating human toll, there's the very clear economic cost of the crisis. What will you be doing to help Peterborough bounce back from the inevitable recession that's likely to follow?
Inevitable recession? Well I would hope that thanks to the Government's measures to protect jobs and business we would bounce back pretty quickly from any economic consequences. That's why the money has been pumped in. We have done more than any other country to try and keep jobs and industry going.
But wider than that, my election campaign was based on the idea of levelling up. Lots of people interpreted levelling up as pouring more money into infrastructure, especially in the North and other parts of the country that may not have benefited as much as the South of England has. My job is to make sure Peterborough isn't missing out as part of that levelling up agenda. It's not like Peterborough has been basking in it. We've got lots of economic advantages, but at the same time we do need our fair share.
Do you see the city changing direction as a result of the current crisis? You talked about people coming together and showing the best of themselves. Do you think that will leave a lasting legacy on the city?
It will leave a lasting legacy on the country. This is the biggest challenge faced by this country since the Second World War; it's as simple as that. Lots of people will not have lived through a national challenge like this and it shows you how vulnerable we all are to external influences and that we do have to rely on one another. We are one country, we are one city, and I think that idea of rallying around and supporting your fellow man and your community is something that will leave a lasting legacy on the whole country. The Covid-19 emergency is undoubtedly a crisis – it's not a good thing. But what is a good thing is the way we've all come together.
One aspect of the city that will hopefully drive future growth is the new University of Peterborough. We need to stop losing young talent to London and other bigger cities as they search for career opportunities elsewhere. What we need is opportunities for them right here in Peterborough. Will the new university be able to stem this outflow? 
Well, the university has got to suit Peterborough, which is a working city. Our university has to reflect that, which means focussing on STEM subjects: science, technology, engineering, manufacturing, agritech. If we can do that there's no reason why the university shouldn't be a leader in its field. Why would we want to be second best? Why would we try to do the same thing as everyone else is? Why don't we go out and do something really unique with this university? So that's what I want to see it do.
At the same time we must look at other subjects that may suit our population. For example, I would like to see the university specialise in law, because we've got a large Muslim population and perhaps for cultural reasons families are not always comfortable about sending their daughters away from home to other areas of the country. I don't think anyone likes doing that but it is a particular issue within the Muslim community. So if we offered law or accountancy, for example, there would be a lot of take-up from that community. So let's offer subjects that suit our city.
The project has been beset by various delays and doubts over its viability. Can you assure us that when it opens in 2022 it will be a truly independent university for Peterborough, as promised? Or will it essentially be the satellite campus of an external academic provider superimposing their stamp on the city?
The university will need a partner to begin with if it is to succeed. That means partnering with other academic institutions; that is going to happen, yes. But the plan – not even in the long term, but the short to medium term – is to evolve into a standalone university. Opening a university is a massive undertaking. Just think about the last time this happened. It's a rare thing and a huge thing. That is why to begin with we will need an academic partner. But be under no illusion that if Peterborough is going to push forward with all the ambition I talked about then it needs its own university to stand independently.
Will it award its own degrees then?
In time yes. But the only way that will happen is if we have that specialisation. Why bother handing out the same degrees as everybody else? Let's trail blaze and do something truly special.
Inequality is a big issue in the city. Sure, many areas are well off and the economy in relatively good shape, but there are still very obvious pockets of poverty. What will you be doing about this, to give these areas more opportunity?
The Conservative way to deal with poverty is to create real work and decent jobs. That means people can earn a wage, keep more of their own money and thrive and have opportunities. The Labour way, if we want to get a little political about it, is to rely too heavily on the welfare system and benefits. There will always be a need for that safety net, but the best way to help people thrive is through employment. So I want to bring jobs, big companies and regeneration to Peterborough to provide those crucial jobs. We have a hard-working, skilled population that wants to work. We just need to ensure we have enough decent jobs for everyone to do.
Another area of concern is antisocial behaviour. Are we doing enough to hold people to account and what can be done to combat antisocial behaviour?
I make no apology for wanting a zero-tolerance approach to antisocial behaviour and to low-level crime such as fly-tipping. I very much believe in the broken windows theory: sort out the little things and the big things will sort themselves out. There's nothing tolerant or liberal about putting up with antisocial behaviour; we must stamp it out. I want to see more enforcement.
As Priti Patel says, I don't think it's time for the law-abiding population to be afraid, it's time for the criminals to be afraid. Part of that is that messaging of zero tolerance, but it's also about getting the police officers we need and ensuring we have the appropriate punishments in place. That's the truly caring way to resolve crime and antisocial behaviour.
You mentioned fly-tipping. Much of this seems to be down to criminal gangs operating with professional efficiency. You could argue these sorts of criminals are not going to put off by fines of a few hundred pounds. It's an unacceptable situation but one I know is on your radar. So what can be done to tip the balance and push back?
I agree that sometimes the fines are not enough of a deterrent. That needs to be addressed and a lot of that can be done at national level. We perhaps even need to change the law and I will look to pioneer and push that at Westminster.
But look, as a city we are getting on top of fly-tipping. The new recycling and waste centre has helped to reduce fly-tipping by 25%, which is a huge plus. The way to resolve the rest of the problem is that zero-tolerance approach. People need to get the message that if you fly-tip, we will catch you and we will prosecute you. That's a clear message and I'm constantly pushing the council to take a zero-tolerance approach. And do you know something, I'm very happy that they are being very receptive to what I'm saying. My number one ambition is to stamp out antisocial behaviour and fly-tipping in Peterborough, and to make sure people understand it will no longer be tolerated. Stricter fines and more CCTV will also help to achieve this.
Earlier you touched on the fact some people are stuck overseas. It reflects the fact that Peterborough is a truly international city with communities from around the world. One of these is our Kashmiri Community, members of which have expressed alarm over the situation in Kashmir where India has removed the state's special status, imposing direct rule. I understand you were in talks attempting to mediate on this issue?
Given we have such a large Kashmiri population it would be remiss of me not to make the issue of justice and self-determination in Kashmir a part of my time at parliament. I completely understand how they feel about their friends and family back in Kashmir living in what is, quite honestly, a repressive situation. And it's not just about human rights – a lot of the time it is about murder and torture.
To that end I have become vice-chair of the all-party group on Kashmir. We held a conference on Kashmir with politicians from that part of the world, bringing them to Westminster so MPs could hear their stories. Most importantly I've been consistently lobbying the foreign secretary and have met him to discuss this issue. Kashmir is one of the world's forgotten political crises. If self-determination is good enough for the UK as we decided to leave the UK, then surely it's good enough for the people of Kashmir to make their decision about how they want to be governed.
As well as home to our diverse communities Peterborough is of course headquarters for a number of major companies, many with an international reach. In the light of Brexit, how will you help Peterborough to become even more outward-looking and cement its reputation as a global city?
Well I think Brexit is a great opportunity. It certainly isn't about pulling up the drawbridge! Brexit is an opportunity to think and look globally. As you say we have this international reputation. When people think 'Brexit', I want them to think of Peterborough. If you think about it, we're on the A1, the main road artery going north to south. We are on the East Coast Mainline for rail transport. We are close to the ports on the East Coast. So it makes sense that a lot of businesses have made Peterborough their home. If Britain marches out into the world with a brave new opportunity to become prosperous by looking globally, why shouldn't Peterborough become symbolic of that?
Paul, the approval of Peterborough City Council's most recent budget ushered in a further £24 million of savings, with devastating consequences for frontline services – areas such as support to Citizen's Advice, Age UK, local food banks, and the Healthy Child Programme. You could argue that the mark of a civilised society is how it treats its most vulnerable. What is the Government doing to support local authorities faced with having to make these brutal cuts, particularly in light of current pressures arising from Covid-19?
This year Peterborough should receive a 6% rise in funding from central government. But the city faces some very unique challenges, which come from the formula by which money is allocated to local authorities. Of course there has to be a formula in order to define who gets what, but unfortunately that formula doesn't work for Peterborough. We have a large number of people arriving from around the world, particularly Eastern Europe in recent times. Our population is not reflective of what government formulae suggest it should be. We have got many more people using services, and official records bear that out. This is a real challenge for the council.
In response I have secured meetings with both the local authority and government ministers. I have pushed for more money for Peterborough and as a result the government have given us more, as well as allowing budgets to be used in different ways. But it is a challenge. We need to make sure that in future that formula does work for Peterborough, and that's part of my job as the local MP.
On the subject of money you have some very worthy ambitions for more police officers, better schools, as well as dualling the A47 to ease congestion. The perennial question, though, is where's all the money going to come from?
We're already getting extra police officers, they are already being recruited. My role is to make sure Peterborough gets its fair share of Cambridgeshire's new officers. If I'm being honest, they need to be where there is most crime, and that's going to be Peterborough.
More money is going into our local NHS, and more money into our schools. That money is beginning to appear, it's happening. As for the A47, well again this levelling up agenda is characterised a lot of the time by road, rail and infrastructure and I have been lobbying ministers on this. Parts of the A47 are already going to be dualled, but that's not good enough – we want the whole of it dualled. So I am working collaboratively with MPs from other areas of the A47 to get this done and I'm confident that in time it will happen.
Can we be confident with all the present uncertainty?
I honestly think Peterborough's best days are ahead of us, not behind us. Unfortunately sometimes people talk our city down. Silly insults and name calling won't harm us, but a negative mindset does. The one thing I want to achieve as the city's Member of Parliament, be it four years or 24 years, is to get people to feel differently about their city, about my city. Many positive things are happening each and every day right across Peterborough and I want to do what I can to promote that and make people feel great about our city.
Quick-fire questions
We invited all 60 local councillors to pitch their questions to Paul. Here's a selection.
Q: In these uncertain times there's more need than ever to work together. Cllr Marco Cereste asks: Will you work collaboratively with Councillors for the benefit of Peterborough?
Of course I will! At the end of the day – and I don't want to be overly political – one of the advantages of having a Conservative council is that I can work with my colleagues in the local authority for the benefit of our city. And that also goes for our Police and Crime Commissioner, as well as our Combined Authority Mayor. We can all work collaboratively and not have opposition for opposition's sake. And we are doing that very well.
Q: GP and Cllr Shabina Qayyum is concerned about the current risk her husband faces as a frontline ENT Consultant at Peterborough City Hospital. She asks: Why hasn't all the PPE (personal protection equipment) needed by frontline NHS staff reached them as yet and can you give a date when this will be the case?
This is old news now. I can say a few things on this. First and foremost I want to thank Cllr Qayyum's husband for what he does, and all our NHS staff working during this difficult time. They are putting, quite often, their own health on the line and they deserve our recognition. The same goes for social care staff. What this virus has shown is that we can work together – I've been working with people from the Labour party for the benefit of our city and long may it continue. However, one thing I will say about Dr Qayyum is that if she showed as much energy and focus on trying to work collaboratively as she does in making party political points I think we'd get along much better.
Q: During the current public health crisis it has been necessary for political figures to work from home more. Cllr Irene Walsh admits that this doesn't feel 'natural' given the role of a councillor is to be out and about in the community and meeting in public buildings. However, she asks, do you see a lasting role of technology in replacing at least some of these political activities?
Asking people to socially isolate is tough. We are social beings and a lot of the things we rely on involve shaking hands, meeting people and so on. Once we get through this it won't be because of what the politicians have done, it will be because people have done what was asked of them. I want to see us get back to a situation where people are out and about socialising, and that includes politicians. But where technology has evolved I'm open to it. For example, the all-party Health and Social Care Committee, which I'm a member of, met the other day using Zoom, and that worked relatively well. But I do want to see us back to socialising, back to talking to one another. Ultimately nothing will replace that.
Q: Cllr Chris Ash is concerned about the virus' impact on council budgets. Will Government ensure council services do not suffer?
I'd like to thank Cllr Chris Ash for his years of service. Although we are not of the same political party it is clear he has done tremendous work for his ward and the city as a whole, and I think we will all miss him if he decides to call it a day.
In response to his question. The government has given more money to Peterborough City Council to deal with this Covid-19 emergency. This will help with the very unique challenges such as setting up the volunteer hub, making sure that people who require social care are getting the support they need and all the other things associated with Covid-19. But must also keep the show on the road and support other vital services during this challenging time.
Q: Cllr Kim Aitken highlights the very high costs of instigating court proceedings against illegal traveller encampments. What can you do to help the local authority and police force obtain more powers so they can be moved within 24 hours instead of the current five to seven days?
In the last Conservative Manifesto the home secretary promised new powers to deal with this problem. The home secretary has already laid these out and I am a keen supporter of these new powers because public spaces are for everybody to enjoy, not to be shut off because of illegal encampments, whether of travellers or otherwise. When we are back at Westminster I'll be pushing them enthusiastically.
Leave a Reply