Interview: Chris Dalliston, Dean of Peterborough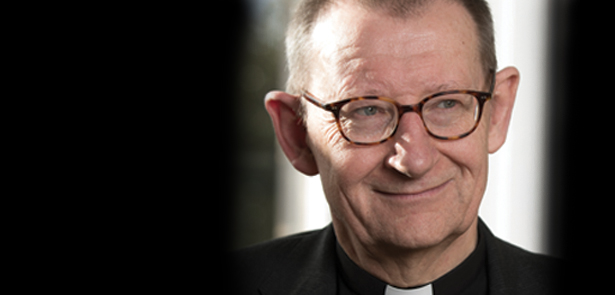 Obviously, this issue, we had to do what everyone is doing – Zooming! So, we Zoomed with Dean of Peterborough Chris Dalliston, to find out how the lockdown has impacted on the life of the cathedral and its community over the past few weeks, which have meant the cathedral building closing its doors for the first time in centuries
Has it been a strange experience having to completely close the cathedral down?
Obviously, it's been unlike anything anybody's ever experienced. There may have been times during the Civil War or prior to that, I think worship was suspended in the early 13th century by the Pope, who'd had a quarrel with the king. But there have been very few instances when  worship been suspended like this over a long period of time. All through the wars and other troubled times people have come to the church and the church has carried on being open. So it's really quite unprecedented. They've always been the one place you could look to to hold the identity of the nation and be places of hope at times like this, so we have been trying do that in a new way.
This lockdown period has included Easter, which in many respects is the most significant moment for Christians to get together – perhaps more so even than Christmas – but it's happened at a time where congregations cannot physically congregate. What has that been like, and how have you coped with it?
Easter is the most intense period in many ways. Christmas has one story told very many times, in lots of different ways and at many different Carol services, but Easter is this unfolding drama, of Jesus arriving in Jerusalem, then the Last Supper and betrayal and trial and crucifixion and then Easter morning and that whole sudden outburst of joy. That's a kind of a rhythm – an emotional rhythm – which is very deep and profound. Every year one enters into that in quite a deep way, and we have been trying to replicate that by having a series of online services. We've posted things online quite a lot, we've had services conducted from our own homes. Some of our homes in the Cathedral Precinct are slightly more architecturally unusual and there were a couple that looked like they were coming from chapels anyway! But nonetheless, it can be hard trying to communicate the message out through a camera lens to an audience which is much less specific, and much less visible than in church.
Have there been positive aspects to that change of approach?
We know we're communicating to our core Cathedral community, but we know it's also being picked up much more widely; people are dropping in on our social media and on our on streamed services in a way that's touching a much wider constituency than the people who would normally end up just coming to church. So, in some ways, this has been a quite creative and instructive way to find out how we might try to respond to the spiritual hunger that clearly exists once we are post-coronavirus – not just through our gathering together, which is profoundly important and which people are missing, but also the possibility of having something additional to that, to reach out to a much wider constituency who either can't get to church – because in normal times some people are still housebound, or unable to travel or whatever – or because they want to tune in anonymously and just explore. So I think we're learning quite a lot as a result of this.
Are there also broader lessons to be learned here, from the whole experience?
I think we're learning about levels of resilience, we're learning about the depth of our compassion, about the strength of our communities. We discovering a lot about our shared humanity, which is both wonderful and sometimes awful. But on the whole we've seen the wonder of it really. We're all children of God and we're all in this together. In the 900 years that the Cathedral has stood there have been many times where there have been plagues, when we had none of that kind of capacity to combat it that we have today. There have been wars, there have been fires and all sorts of trials and tribulations. But the building still stands. And that is a sign I think, of continuity and the promise and assurance of a new beginning – which of course is the real message of Easter. Our understanding as a Christian community is that death will always be followed by resurrection. That's the deep pattern of our Christian faith; its replicated in nature in Spring and it's a truth confirmed down the centuries in the life of our cathedral community.
Do you feel it may have drawn people in who perhaps hadn't been involved for a while, just because of the nature of this whole crisis?
I think there's definitely been a lot of that, people finding comfort and hope. My wife's also a parish priest, and certainly they've found through their online services that people are looking for signs of hope, – pointers to any kind of meaning in all this. Some people may be quite angry about it, but I think a lot of people are actually learning something quite deep about community, and in some ways developing a new degree of intimacy with each other. We can't be physically intimate in the way we normally are, hugging or shaking hands, as we'd normally do at the end of services, so there's a lot more personal inquiry going on. And I think, also, that sense of trying to really ask questions and engage in a way that people haven't done for a while. We're learning a great deal about community – the good things the bad things: the people who are flaunting the rules and the people who are deeply wanting to engage because of the NHS and supporting all those key workers. Also, we're realising just how many key workers there actually are – not just in the NHS, but all the other people we'd forgotten we really relied on, who keep things functioning:  like the people who collect the rubbish or drive our buses. It turns out these people are actually vital – much more vital than all the celebrities who we spend most of our time and money endorsing and admiring! These are the fundamental things that keep life together.
Is it a straightforward thing to shut down a building on the scale of a cathedral? People might think you just sort of lock the front door and leave it like a garden shed, but is it really that simple?
Well, to a degree it is! We have all the doors locked and the place is effectively mothballed. We do have security going in each day just to walk through the building to make sure that everything is safe and secure, but basically it just sits there. It's 900 years of solid building, and can stay there and survive quite comfortably for a little while without any of us fiddling around with it. But it feels very much like we are in exile. When we showed pictures of the interior on virtual services over the Easter weekend, people really appreciated just seeing the inside of the Cathedral again. It feels like a sort of lost land, and we feel homesick for it – not just because of the building itself, but because it's a building that has just so much resonance, memory… It's where we gather, it's where people are welcomed, you know, it's a big hospitable space and a prayerful space. It means something so many people. Even people who don't necessarily worship themselves want it to be open. There's been quite a strong feeling among some people wondering why the clergy couldn't go in and say services. That expresses the need for these buildings to be alive; they're only what they really are when they're lived in and experienced and worshipped in. But we felt it was right that we share in people's exile until such time as we can all return together.
So you haven't been back in at all?
To fetch a book. That's all I've done in weeks. Since Mothering Sunday we've not been in there to do anything except collect the odd item, which feels very strange. I've got the key – I could get in anytime I wanted – but I actually feel it's quite important that we express solidarity with all our people at this time, and that is about letting go of things that we normally take for granted, painful though that is.
The cathedral isn't just about the services, of course, there's lots of community work that takes place too. How has that adapted?
We've set up a pastoral care line so people, if they're in particular pastoral need, can email us, or their friends or family can. We've got networks of people who are phoning and keeping in touch with members of the cathedral community. Most of our staff are also furloughed at the moment, but for example just before speaking to you this morning we had a staff 'virtual coffee morning' on Zoom – just checking in with our people, finding out how they are while they're not working and how they're are doing at home. So we're keeping in touch with them.
Then there are the wider community aspects. We do a lot of work with the homeless normally; Garden House is in the Precinct and that has been open during the crisis. People have also been making soup and baked potatoes and helping support the provision of food for homeless people, many of whom are now all gathered together in a hotel in Peterborough. So we've been contributing to that effort. But I think it's this isolation that's the hardest thing for many people – just being alone, not having their normal contact. So we've been doing a lot of work trying to keep those contacts going, emailing, phoning people up. I think in some ways we've actually had more one-to-one pastoral contact than we sometimes do when everybody's around.  Perhaps it's easy to take people for granted, you know. It's another instance of where we've suddenly realized how important those conversations really are.
Do you get a sense that this whole crisis might change things permanently – perhaps in good ways as well as bad?
It would be good to think that there might be a shift so people don't take each other for granted so much – or other things that we know and care about. Just appreciating our local environment, for example, and realizing you can walk around your own city or your own garden, and take time to observe, to notice things. If we could change the pace of our life a little bit, that wouldn't be a bad thing. I know that there'll be a lot of struggle economically for many people after this is over, and that's a really deep challenge – including for us as a Cathedral. We're all losing income. So there will be difficulties. But hopefully – maybe – we can discover a bit more of a rhythm to life, supporting one another, not taking families and friendships for granted, and to nurture them better. Perhaps there's an opportunity to re-engage spiritually with both our environment and our communities, and learn to value people – especially those people who are doing so much on our behalf.
Nature has benefited, too, with animals and creatures around the place which we hadn't seen before, because it's not so busy there's not so much traffic. The atmosphere is clearer and cleaner. You know, we always said: 'Wouldn't it be lovely to do something about global warming – but we can't possibly because we can't change the way that we fly or travel or anything else…' But all of a sudden we've discovered we can do that. If the preservation of our environment and our eco structures is something that we really want to do, we've shown that there are ways of doing that. Yes, the economy will have to get going again or we will struggle, but financially and economically perhaps we need to at least recognise that some of those choices we made were not the best ones. There is space and time in this lockdown to really ask some of the bigger questions that in the hurry and bustle of our normal lives, we don't get a chance to ask.
Maybe we can recognize that market forces are not an irresistable power that you cannot question. We've shown quite clearly that if you want to, you can do anything you like! Money is just an arbitrary tool, and right now we've decided we're going to spend it on keeping a community going and our people healthy. We can make those kinds of decisions. I'm not making any particular political statement here, but we do need to ask ourselves 'What do we invest in? What do we value? And how do we do that?' Perhaps we need to put these quite profound questions to ourselves as a society and as a nation.
Peterborough Cathedral online support
Peterborough Cathedral has closed its building but its work continues. To find out more visit:
www.peterborough-cathedral.org.uk/coronavirus.aspx
To watch online services led by Cathedral clergy visit
www.peterborough-cathedral.org.uk/watch-again.aspx
Leave a Reply