How CityFibre is keeping Peterborough's full fibre future on track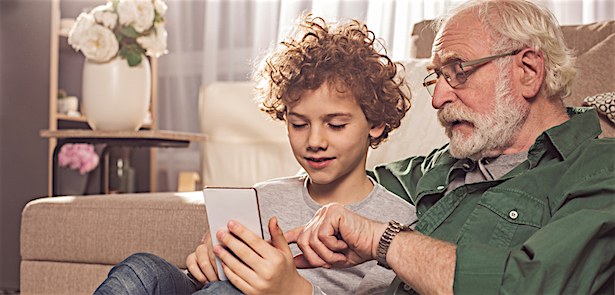 Words: Rebecca Stephens, City Manager for Peterborough, CityFibre
Over these past few months, many of us will have adopted entirely new ways of doing everyday activities, such as attending meetings, completing coursework, joining exercise classes and catching up with friends and family. Likewise, many of us will have realised that all these activities now have one thing in common: a digital screen.
This period has catapulted entire demographics into the digital era – and it's not just access to the health service or keeping in touch with loved ones that's driven this change. We've seen video conferencing services explode, online shopping become a necessity, and even virtual funerals and weddings take place. We've virtualised activities and events in ways never dreamt of prior to COVID-19. We are recognising and appreciating the value of online services like never before.
This 'new normal' demonstrates exactly what we already suspected – digital technology has transformed our lives. Now, in these unprecedented times, we are utterly dependent on its ability to provide us with a gateway to normal life – work, the high street and entertainment, as well as the comforts of friendship and family we all need at times like these.
At CityFibre, our mission to bring full fibre within reach of up to eight million homes has never felt more important. Unlike the copper networks used by most of the country, full fibre is the fastest – and most reliable – option there is. As recent research from EY has shown, broadband and mobile providers' ability to ensure robust connectivity is a top priority for consumers given today's challenges.
Keeping Peterborough up to speed
As the nation's third national infrastructure provider, we were asked by the UK Government to continue to expand the nation's digital capacity during lockdown. Our full fibre networks are about more than just bringing gigabit speed broadband services to homes; we also serve thousands of critical healthcare, education and community sites too, including hospitals, GP surgeries, care homes, community buildings, schools and council offices.
It has, of course, meant a different way of working as our field staff and contractors have been designated key workers, and strict new protocols have been introduced around social distancing. The safety of our teams and residents continues to be paramount as we continue to navigate these new challenges.
What this all means for the people of Peterborough is that their full fibre future remains as close as ever.
CityFibre in Peterborough: the story so far
Peterborough was among the first locations in the UK to begin benefitting from CityFibre's Gigabit City investment programme, and July marks two years since we began work to bring futureproof digital connectivity to nearly every home and business across the city.
Since then, services have gone live for residents across Garton End, New England, Walton, Paston, Dogsthorpe, Newark, Eastfield, Parnwell, Werrington and parts of the Ortons, where work is still currently ongoing. These services are available through our launch Internet Service Provider (ISP) partner, Vodafone.
We have also been involved in a number of community engagement initiatives that address the need for digital inclusivity. This has included the likes of Digital People in Peterborough's STEM Festival and the city's first TEDx event – an independent offshoot of the world-renowned TED talks. In addition, we sponsored the opening of Connect Park, a fantastic new green space in the Millfield area designed to bring people together. We've also lent our support to the Peterborough Celebrates Reading campaign via the National Literacy Trust.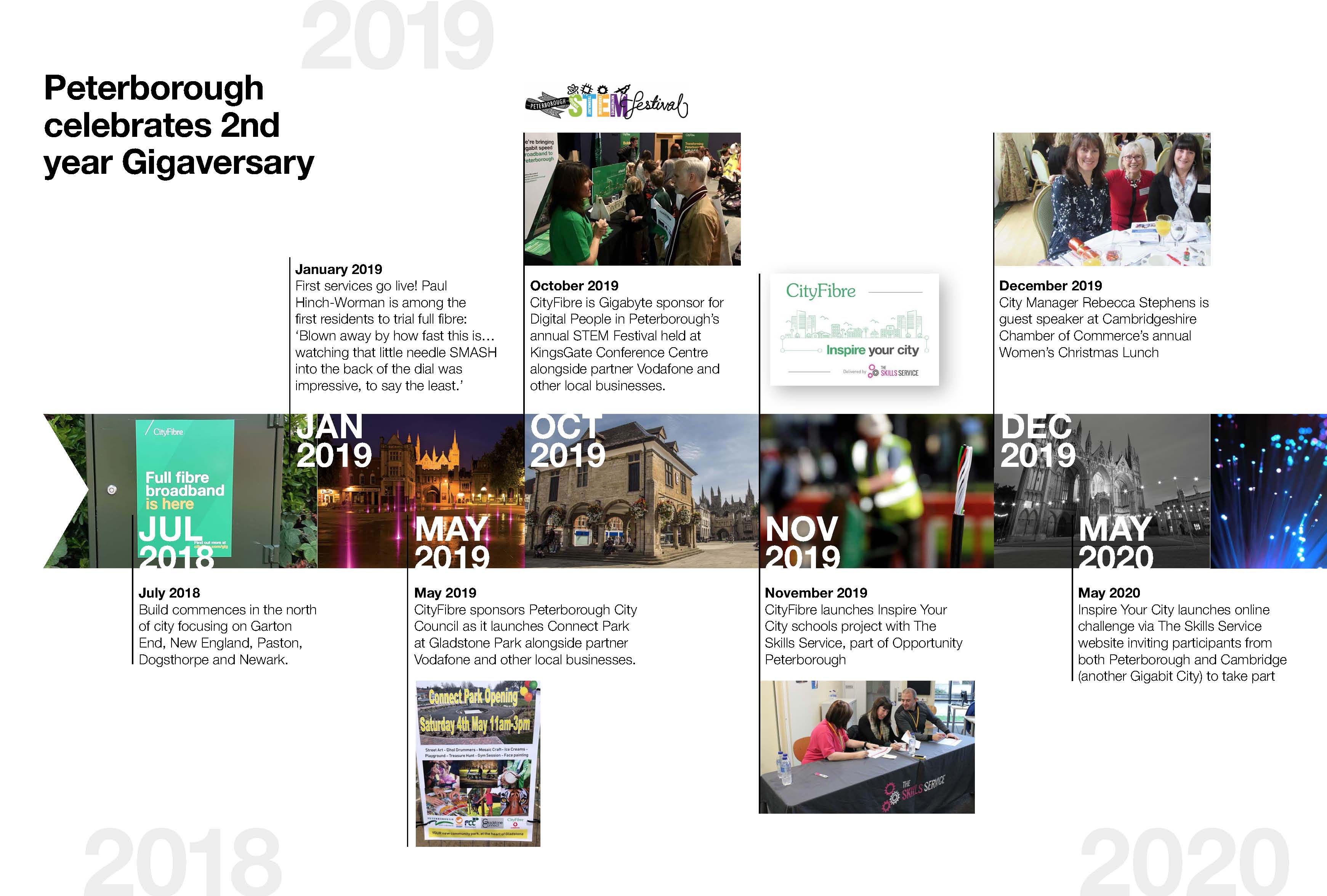 Despite the challenges of COVID-19, we're still making major strides in Peterborough: work has now commenced in Woodston, Hampton Vale, Eastgate, Orton Northgate and Orton Wistow, adding to CityFibre's growing presence across the city.
All this progress spells good news for Peterborough communities (and the nation as a whole) as we collectively set our sights on driving recovery and growth. We know for certain that digital infrastructure will be a key enabler.
CityFibre in Peterborough: what's next?
Even before COVID-19, research we commissioned with Regeneris showed that access to a full fibre network will have a significant impact over the next 15 years.
It shows that up to £45m could be added to the value of local homes, while Smart City initiatives could add as much as £54m locally. Access to full fibre could also unlock £28m in business productivity and innovation, while a further £25m in growth could be driven from new business start-ups, with enhanced connectivity making it easier and less expensive to set up base and run efficiently.
It's critical that Peterborough uses its full fibre network to best advantage to realise the benefits it brings as we all attempt to recover from the shock of the last few months and the economic uncertainty ahead. Our connectivity has never been more important and post-COVID, we will see an increasingly digital landscape. Firms have made major changes to their business models to adapt and survive, increasing their use of digital technologies, overhauling strategies and investing more heavily in digital solutions. Even pre-COVID, according to EY, the UK received almost 30 per cent of all foreign direct investment made into Europe's tech sector – more than France and Germany combined, setting up an increasingly digital post-COVID era
But it won't just be businesses embracing the digital opportunities. We have seen households take a major step forward in areas we knew were possible but there seemed little appetite, like full-time working from home, virtual GP appointments and home schooling – not to mention streaming entertainment in ever increasing quantities. Will we ever fully go back to what it was before? More opportunities are just around the corner, whether smart fridges that tell you when the milk needs replacing to energy efficiency devices controlling light and heat. As homes become more intelligent, the number of connected devices increases and you really start to understand why our digital connectivity must be of the highest standard.
The benefits extend further still. The entire city will be able to make use of our full fibre network to implement Smart City strategies that make a genuine difference. In Peterborough we've already seen the financial, health and safety, and environmental benefits of our Internet of Things pilot where a network of sensors transmit real-time data in a range of scenarios from monitoring humidity and condensation to improve comfort, to addressing wasted heat to drive down energy bills and reduce carbon emissions. There are plenty of other examples from across the globe too, whether its digital tech making parking problems a thing of the past in South Korea's biggest city, smart waste management reducing trucks on New York's roads, or revolutionising the use of public transport in Iceland.
In truth, there is almost no area of our lives which won't be positively impacted by full fibre. It is a crucial time to be rolling out this game-changing technology and we look forward to seeing how people and businesses across Peterborough use the platform we are creating to flourish and prosper.
To find out more about connecting to full fibre broadband in your area, visit www.cityfibre.com/your-street or follow the journey on www.twitter.com/cityfibre
What is full fibre?
For many, the distinction between 'fibre' and 'full fibre' remains blurry. They're actually very different and when some of the UK's biggest providers talk about fibre what you are settling for is fibre cables used for part of the journey, to carry data to your local cabinet in the street. From there, old fashioned copper wire – which is notoriously slow and unreliable – carries the data to and from your premises.
Full fibre is the real deal. With full fibre, there's no unreliable copper wire involved. Instead, fibre connections are used for the entire length of the journey, right into people's homes. It can mean the difference of downloading the latest movie or video game in minutes, rather than hours. No copper wire, no slowdown in speeds and no drop in quality. Simply put, it's exactly what most people think they're buying when they sign up for "fibre".
Full fibre is a game changer for businesses – giving them the ability to handle data heavy tasks with no server strain. It is also future proof, meaning it can support companies as their data consumption and demand for bandwidth grows. The benefits will be felt by employees too, with full fibre across the city helping people work from home and improve their work/life balance.
Inspire Your City
With community engagement at the heart of our approach, we were proud to sponsor the Inspire Your City programme. Delivered in partnership with The Skills Service, part of Opportunity Peterborough, it challenges young people and households across the city to come up with new ways in which residents and businesses can make the most of Peterborough's full fibre network and the increased connectivity it brings.
Initially launched in 10 primary and secondary schools across the city, we moved the challenge online during lockdown and opened it up city-wide to students, families and households across Peterborough.
During the initial phase, we received scores of amazing entries, including from pupils at Thomas Deacon, St John Fisher, Hampton Gardens and the Children's University. The ideas have been fantastic, from a hospital efficiency triage robot to bin lorries that know when to collect residents' waste; glasses that translate different languages, a wearable map, or an automated locker to support the homeless; wifi-enabled umbrellas, robotic pets to combat loneliness and monitor health, driverless ambulances, a plastic-sensing ecobot to clean rivers… and that's just a few of them.
And there's still plenty of time to submit your thoughts and be in with the chance of winning one of nine "smart" prizes before applications close later this summer. There are three categories – ages 7-12, ages 13-18, and families/households.
Registration and entry information is available at www.theskillsservice.co.uk/inspireyourcity. The challenge will run until 28 August 2020 and winners will be notified within three weeks of the closing date.
Entrants can also follow @inspireyourcity and @CityFibre via Twitter for additional tips and content to aid them in their submissions.
Whatever you call it: entrepreneurship, innovation, creativity, imagination, artistry, or invention. Your ideas will inspire us.
Leave a Reply