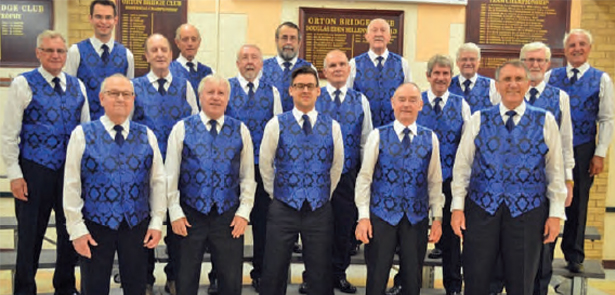 Hereward Harmony is one of the smaller musical choruses that survive in Peterborough's changing city. What makes it unique is that it is the only male chorus in the city to sing four-part close harmony in the Barbershop style. Vice Chairman Terry Irwin reports on the group and its May charity concert
It was the Christmas of 1987 when a group of friends got together for the evening and ended up having a sing-song around the piano. One or two had 'a bit of a bent' for music and started to harmonise their voices. It so happened that David Bache, one of the people present, had a lot of previous musical experience and on the strength of that evening's harmonising suggested they form an 'acapella' singing group. And so, Hereward Harmony was born!
Hereward Harmony is now Peterborough's only male acapella chorus singing in the traditional Barbershop style and consists of around 20 members, comprising bass, baritone, lead and tenor voices, all of which are needed to achieve the close harmony desired. Since 1987 we have been rehearsing on Thursday evenings in Orton Wistow's Community Centre and entertaining audiences in and around the Peterborough area. A percentage of our income each year is donated to a chosen charity.
For the past two years we have given hundreds of pounds to the Macmillan Nurses Charity and performed singouts at Thorpe Hall and for other charitable organisations. However, just over a year ago one of our members collapsed with a severe stroke. He was lucky in that he was sensible enough to have his attack in Bretton, close to the General Hospital, and so received quick attention. Since his stroke he has made good progress, recovering some speech and movement thanks chiefly to his determination, his family's support, his doctor's skills and the help of the charity, the Stroke Association.
This is a charity set up to research into reducing the effects and occurrence of strokes and to support the victims of stroke attacks and their families. It was set up as a result of Roald Dahl's wife having had several serious stroke attacks. John, our member, recently completed a sponsored walk in Ferry Meadows on behalf of the Stroke Association and this has inspired us to organise a Charity Concert to be held at the Fleet on 13 May.
Hereward Harmony are looking to boost our numbers for this and future events, so if you are interested in helping us, helping this charity or are looking for a hobby that gives enjoyment, friendship and healthy lungs, then think about joining us. It need not take a lot of your time and you do not need to be proficient in music.
Get involved!
We meet every Thursday evening from 7.30 to 10pm (including a tea break) at Napier Place Community Centre, Orton Wistow, Peterborough, PE2 6XN.
Our practice evenings are open to visitors so, just turn up, have a cup of tea and listen. Come along and see what you think. ● Or if you want to chat and ask questions first, call Brian McDonnell on 07740 987127 or email Alan Lund at
Leave a Reply