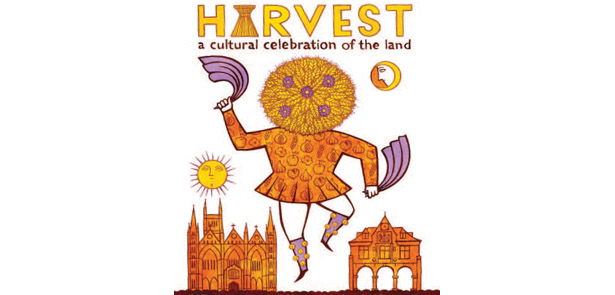 On Saturday 19 and Sunday 20 September,  Cathedral Square in Peterborough will be alive with  the sights, sounds, tastes, smells, songs and dances of  the countryside as arts organisation Metal presents its  Harvest Festival weekend. This free programme for all the  family is a cultural celebration of the land, re-connecting  local people to the city's rural farming heritage and  associated folklore traditions   
As the centrepiece of the event, international artists' Lucy + Jorge Orta will host a meal for 500  invited guests in front of the  Guildhall on Sunday, 20 September. This is the first large-scale outdoor meal they have staged in the UK as part of their international series of food artworks.  Guests have been invited via a host of community ambassadors and a public lottery. The meal will be cooked by Lee Clarke, Head Chef at Clarkes restaurant and made from locally sourced ingredients, including produce donated from local allotments.  Ten UK-based visual and performing artists have also been commissioned to make new work specifically for Peterborough around the harvest theme. These will also be revealed over the Festival weekend, including listening booths, film screenings, pop-up 'souvenir' shops, folklore costumes and performances.
Running alongside this, musicians from across the world will be busking across the city before taking to the stage in  Cathedral Square on the Saturday night  from 7pm for an 'alternative' barn dance.  This open air gig, with music ranging from Celtic to Blue Grass, will culminate in a full-on Gypsy folk frenzy with the fabulous music collective The Turbans. This extraordinary group has grown in a few years from humble beginnings, into a headline name on the international festival circuit. Its members come from countries like Turkey, Bulgaria, Israel, Iran, Italy, Greece and the UK.
Community groups and organisations across the city have been busy for months in preparation for the Harvest Festival.  Many have been working directly with the artists to create costumes for the Harvest Wain procession, growing food for the meal, rehearsing songs and dances or creating decorations. There will also be many opportunities for the public to participate in workshops over the actual weekend, so everyone can get involved.  This weekend is not to be missed. Join thousands of fellow diners and revellers to celebrate the completion of the  farming calendar and welcome in the Harvest Moon!
The Harvest Programme 
Saturday 19 September
■ Cathedral Square and St Johns  Square: 10am – 5pm  Harvest Food and Craft Markets *  Heritage Craft and Artisan Cooking  Demonstrations* Bread Making  Workshops * Artist Performances  and Installations * Film Screening  and Soundworks * Harvest Buskers*  Morris and Molly Dancers * Cultural  Dances from around the world.
■ Harvest Wain Procession:  Starts at Bridge Street, 6.30pm  Colourful procession of music,  dancing and ritual costumes  celebrating the end of the Harvest  and welcoming in the Harvest Moon.
■ Harvest Barn Dance: Cathedral  Square: 7pm – 10pm  Dance under the stars, to a host of  foot – stomping folk rhythms from  around the world. Headlined by festival  favourites The Turbans working the  crowd up into an Eastern folk frenzy!
Sunday 20 September
■ St Johns Square 10.30am – 4.30pm  Harvest Food and Craft Markets *  Artist Performances and Installations  * Film Screening and Soundworks*  Heritage Craft and Artisan Cooking  Demonstrations * The Harvest  Kitchen * Harvest Offerings Display
■ 70×7 The Meal, Act XXXIX by  Lucy + Jorge Orta: Cathedral  Square 1pm – 3pm  An open-air seated Harvest banquet for  500 people. A UK first for artists Lucy +  Jorge Orta, this spectacular event is part  of their international series of community  dinners. Tickets have been distributed  through community ambassadors and a  public lottery. Food will also be available  to sample for all spectators.
For more details about Harvest and how to get involved see www.metalculture.com or follow on  Facebook at MetalPeterborough
Leave a Reply