Half-term Events at The Broadway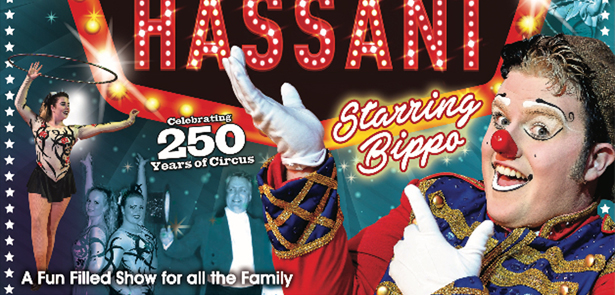 Can you imagine a week where Bob the Builder, Fireman Sam, a clown, a trapeze artist and a bunch of beautiful models all appear under one roof? All this is happening from 26 May until 3 June at The Broadway Theatre!
Milkshake Live
26 May, 12 noon and 3.30pm
The stars from your favourite Channel Five Milkshake Live! are all here under one roof. The Magical Storybook tells a new tale where all your favourites including Bob the Builder, Fireman Sam, Noddy and more. Two Milkshake presenters and all the cast will take audiences on a journey where all your favourite fairy tales come alive with a new twist. Set amongst Milkshake's magical bookcase, this show is an all singing, all dancing character collaboration that will amaze and delight audiences of all ages.
£15.50 Adults, £13,50 U16's, £53.00 Family Ticket, £5.00 Babes in Arms
Circus Hassani featuring Bippo the Clown
29 May-3 June, 3pm and 6pm
Twirling around on the flying trapeze or just giggling at a bunch of clowns, Circus Hassni is a fun-filled immersive spectacular show for all the family. Experience the chills and thrills live on stage in the main auditorium of The Broadway Theatre throughout half-term.
With at least one show a day and varying show times, book a date with a clown and some stunt artists and save yourself from grumpy small faces who won't be proclaiming "I'm bored" after this! The theatre and Circus Hassani are delighted to present Britain's new generation of homegrown artistes. Performing their daredevil feats not only on stage but high above it! Taking centre stage is the star of the show; the clown, with his own brand of mischievous mirth the one and only Bippo.
£12 Adults, U16 and 65+ £10, Family Ticket for Four £36.00
The Moonrose Broadway Spring Fling Catwalk
2 June, 2pm-6pm
Some style inspiration is coming your way this June as Moonrose Studios modelling agency and The Broadway Theatre collaborate for Peterborough's biggest catwalk this year so far.
Local designers have contributed to the decoratively abstract event, as well as jewellery designers and make-up artists. Find out where to buy your favourite items from the catwalk and learn about the local creative talents in the area. The event will also feature a market stall area comprised of stunning handmade items seen on Etsy and popular craft pages on social media. Shop till you drop before the main event. Sunday's will also be open serving delicious hot food on the day, making The Broadway Suite – with it's beautiful balcony – the hotspot hub all Saturday afternoon. The bar will also be open serving a large selection of gins, whisky, wine and soft drinks.
£2 (advance ticket), £3 on the door.
Coming up… Don't miss Mr B (The Gentleman Rhymer) on 8 June, Des O'Connor & Jimmy Tarbuck on 16 June and Dad's Army Radio Hour on 22 June!
To enquire or book for the above shows and events simply call 01733 306071 (Monday-Sunday 9am-5pm) or book directly with Ticketsource (www.ticketsource.co.uk/thebroadway)
Leave a Reply