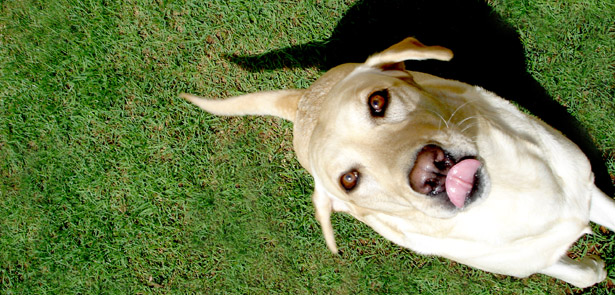 Every hour, another person in the UK goes blind. Around two million people in the UK are living with sight loss. By 2050, there could be nearly four million
Almost 50% of people who are blind or partially sighted feel cut off from people and things around them. Only one in three people who are blind or partially-sighted (of working age) is employed. The ability to get around is vital in order to live a full life, yet thousands of people who are blind and partially sighted never leave home alone. Guide Dogs – a Charity Partner of Perkins Engines Company Limited – empowers people and wants a society in which people enjoy the same freedom of movement as everyone else. We receive no government funding and rely entirely on voluntary and legacy income and on the support of the public to fund our services. We work with blind and partially sighted people and other voluntary organisations to make people aware of these issues. Guide Dogs campaigns passionately to break down barriers – both physical and legal – to enable those who are blind or partially sighted to get around on their own.
Guide Dogs charity services include: ■ The My Guide service, training volunteers to use basic sighted guiding techniques to help people with sight loss get out of their homes and to do things they enjoy; ■ Training in independent living skills such as cooking the dinner, cleaning and washing; ■ Communication skills including using a computer and learning Braille; ■ Helping children make the most of their education and join in with friends. The average working life of a guide dog is five to six years and we've made a lifetime promise to provide every one of our guide dog owners with a guide dog for as long as they need one. There are currently over 4,700 working guide dog partnerships in the UK. Putting a guide dog on the street takes around 10-12 months of puppy walking and over eight months of specialised training. It costs Guide Dogs around £50,000 to support a guide dog from birth to retirement. A guide dog owner may have as many as eight guide dogs in their lifetime, bringing the total cost to £400,000. Since our first guide dog partnerships were formed in 1931, Guide Dogs has trained and partnered more than 30,000 guide dogs – transforming the lives of people with sight loss.
Name a puppy
If you wish to donate a name for a puppy (name subject to approval), you can do this for a gift of £2,500. In return, we'll send you a puppy pack, including a photograph of your puppy and a birth certificate. Increase to £5,000 and you will also receive personalised 'pupdates' report cards and photos throughout their first year, and a framed photograph of your named puppy taken after they enter Training School (aged between 12-16 months). You even get to meet the puppy you've named. Around 11,000 Guide Dogs volunteers provide the skills and energy to do everything from fundraising to boarding our dogs in training. This includes providing a range of mobility and rehabilitation services and our rehabilitation workers provide training for visually impaired people under contract to local authorities. They help us transform thousands of lives every year and are vital to our work.
Case study: Claire
Six years ago, a blood vessel burst in Claire's brain for the third time, the first being when she was 25, and her sight was seriously damaged. She only had a 50/50 chance of surviving a major brain operation and doctors wanted to operate straight away, but she was desperate to enjoy one last Christmas with her family first. Thankfully, Claire survived the operation, but her sight never recovered. This is her story: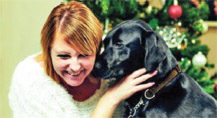 'I awoke from my operation to find my family around me but discovered that my sight had changed forever and would never fully recover. As an active mum and beautician, I struggled to cope at first with previously easy tasks and felt like a burden to my husband Shaun and our three children. I suddenly had to get used to depending on other people and felt trapped. This all changed, however, when guide dog Blaze came into our lives in December 2013 and I haven't looked back. I am now retraining for a new career as a sight-loss counsellor. When I got the phone call just before Christmas saying I'd been matched with Blaze, I burst into tears.
'The difference Blaze has made is absolutely amazing – she's transformed my life so much, giving me the independence I missed and taken the pressure off my family. My defining moment with Blaze was when we were training together in Norwich City Centre with the Guide Dog mobility instructor. It was dark and the streets were crowded with Christmas shoppers; I had no idea what was going on. On my own, there's no way I would have been able to cope but Blaze just lead me safely through the high street and then I knew that I could trust this amazing dog to get me anywhere safely. My Christmas present that year was Blaze and forever will be… she is all I need. It is indescribable the love and trust between us. She is my whole world and that is all I can say, literally my whole world. I wouldn't be without her at all.'
Guide Dogs Week – 3-11 October  
■ Guide Dogs Week – You can help us change more lives and create more partnerships joining in with our Let's Glow activities.
■ Collect – Join one of the many local collections taking place across the UK during Guide Dogs Week dressed in neon.
■ Party – Host a neon Let's Glow Party fundraiser with your friends, family or at school.
■ Neon Friday – National neon day – dress up for £1
Guide Dogs Winter Festival at Peterborough Cathedral – 4 December 2015
Join us to celebrate with a musical evening of entertainment including the Peterborough Highland Pipe Band, Peterborough Sings! Male Youth Choir and Katie Marshall, young soprano, as well as the opportunity to meet some of the newest Guide Dog puppies. ■ For further details and tickets please contact the Peterborough Office (details below).
If you would like to get involved in any way with Guide Dogs then please do get in touch with the Mobility Team here in Peterborough. Our office covers Norfolk, Suffolk and Cambridgeshire.
Guide Dogs
63 Broadway Peterborough PE1 1SY
0845 372 7425

www.guidedogs.org.uk
This page has been supported by Peterborough-based Perkins Engines Company Limited, one of the world's leading suppliers of off-highway diesel and gas engines.
Leave a Reply