Growing green shoots in Peterborough schools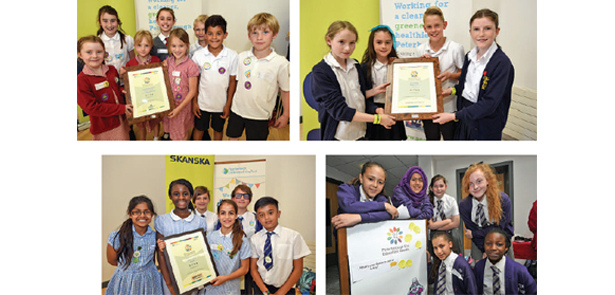 When it comes to creating long-lasting environmental behaviour change, what better place to start than in schools? As we discover, Peterborough's ahead of the pack in supporting eco education...
The independent charity Peterborough Environment City Trust (PECT) aims to create a truly sustainable city and beyond, delivering ground-breaking and innovative projects of local, regional and national significance. PECT works with a multitude of communities, schools, businesses, local authorities and voluntary organisations to deliver projects that make a real difference – but it is the charity's work with environmental education that is really helping to inspire younger generations to create long-lasting behaviour change. Did you know that 97% of schools in Peterborough currently deliver eco education activities – one of the highest levels of uptake in the UK? Plus, did you know that the city is leading the way nationally with its bespoke Peterborough Eco Framework for schools?
The framework allows schools to show both their progress towards becoming Sustainable Schools and their contribution towards creating the UK's Environment Capital. It is embedding knowledge of sustainability issues into the school ethos to inspire the next generation of forward-thinking students. There are 10 themes in the Framework and schools can work on a number of themes simultaneously, but each one is assessed and certificates awarded individually. These themes are: local and sustainable food, health and happiness, land use and wildlife, sustainable water, zero carbon, zero waste, sustainable transport, sustainable materials, equity and local economy, culture and heritage. For each theme there is a target for 2050, objectives to work towards, and a list of local providers who can assist with resources and information.
The aim is for schools to develop a responsible outlook among the pupils based on an appreciation of the impact of their personal values and behaviours. In 2015 the new Peterborough Eco Framework flag for schools, which was inspired by designs from local pupils, was unveiled. This flag will be flown at schools throughout the city to celebrate and mark students' environmental achievements. Certificates will be awarded for each theme, and when a school has achieved five themes they can proudly fly the flag.
'We wanted the pupils to play a significant part in the creation of this flag and so we ran a competition looking for their designs,' explains Environmental Education Coordinator Jill Foster. 'We were delighted that over 100 entries were submitted, then student Eco Teams shortlisted 15 entries, which a professional designer interpreted to create our finalised flag. It was fantastic to unveil a flag design that students had contributed so massively towards.'
PECT helps schools reduce their carbon footprint, acting as a single point of contact for schools and other local environmental education providers to facilitate a coordinated approach to eco education in Peterborough. Information about resources, events, competitions and teacher training is collated and circulated to schools via the termly newsletter Green Schools News. Regular twilight meetings are held on specific themes and also general eco forums to allow schools and organisations to share best practise.
Direct support is provided to individual schools to support them to increase and embed the amount of environmental activities taking place in school. This takes the form of in-school visits and email support. There is also a small library of resources which schools can borrow for free. Finally, the successes of Peterborough Schools are celebrated at the annual Peterborough Eco Education Awards (PEEA), which were first held in 2009. This is an all-day event where more than 20 schools from across the city, and including all phases of education, share their eco projects, take part in fun eco activities and are presented with awards to recognise their achievements.
To find out more about how PECT could support your school please contact Jill Foster on 01733 866440 or email . Visit www.pect.org.uk/schools
Leave a Reply