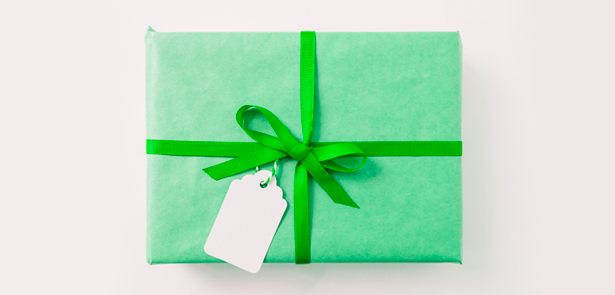 Christmas is undoubtedly the most exciting time of year and it's easy to get swept up in the festive furore. But have you ever paused to consider the impact all that consumption has on the environment? We're not suggesting you become an Ebenezer Scrooge, but by making more considered purchases and recycling everything possible you can make Christmas 2018 a lot greener, saving the environment and your wallet in the process! The path to a green Christmas begins with what you buy. Make a shopping list and stick to it. Research what you buy so you're making purchases of items that are genuinely useful and will stand the test of time. Gifts that last keep on giving; throwaway gimmicks are quickly forgotten. Just about everything associated with Christmas can be recycled: paper, wrapping paper, cardboard, glass bottles, plastic packaging and tins, waste food and more. Rinse dirty items in washing up water then place them loose in your green wheelie bin. And don't forget all the items you use to get ready for Christmas parties and nights out: shampoo bottles, deodorant and shaving gel aerosols, plus card packaging from creams and moisturisers.
Where to put recycling
If you're a super-recycler, well – that's fantastic! Excess Christmas recycling that won't fit into your green bin can be placed into clear, transparent bags for collection at the same time as your green bin. You can also take items to the Household Recycling Centre in Dogsthorpe, which is open every day except Christmas Day, Boxing Day and New Year's Day. Real Christmas trees may also be recycled. Those who subscribe to the brown bin garden waste collection service can put the (cut up) tree in their brown bin on their usual collection day. Those who don't can take them down to the Household sent for shredding and composting. Finally, don't forget all your food waste, which should go in your food waste caddy. Better still, try to reduce the amount of food waste you're generating by turning leftovers into new culinary creations. There are loads of ideas for what to do with those leftover spuds, sprouts and turkey on the Love Food Hate Waste website (www.lovefoodhatewaste.com).
It's a wrap!
Christmas means wrapping paper. A lot of wrapping paper! Choose wrapping paper that's easily recycled. That means paper that's free of foil, glitters and other non-paper embellishments, which can't be recycled. Try the Scrunch Test too: if you scrunch up wrapping paper and it bounces back, it can't be recycled. Last Christmas we used an estimated 289,000 tonnes In the UK, England of card packaging. Luckily most of us recycle card, but we need to keep it going. Did you know we could make a cardboard motorway stretching from Peterborough to Lapland and back 103 times with all the card packaging we use at Christmas! All glitter-free greetings cards can also be recycled. If possible, tear off the glitter section as well as any non-paper items like badges and batteries.
Get SMART!
With the Christmas shopping splurge approaching full swing, it's all too easy to get carried away. The solution: plan ahead, keep calm, buy smarter and keep the environment in mind. It's all about getting SMART: Shortlist, Make a decision, Act, Register, Trade-in. Shortlist: Consider whether products on your list are fit for purpose, so you can buy what's right for you. Make a decision before you go out to purchase. Prioritise products that are not just energy efficient, but last longer or can be cleaned, repaired, upgraded or recycled more easily. Visit the 'Buying Better Products' guide at www.recyclenow.com Act! Stick to your plan to get the bargains you want, rather than impulse buying. Register your appliance when you get home.
Registering is easy at www.registermyappliance. org.uk while registering with the manufacturer may save you money by entitling you to an extended warranty or guarantee period. Trade-in old products you're replacing. Did you know Argos offers a Gadget Trade-in scheme where you can trade-in secondhand tablets and mobiles in return for credit off future purchases? Old equipment can also be sold or donated to charity. Remember, old electricals can also be taken to the household recycling centre to be recycled too.
Got a question?
For details of all local waste and recycling services, including opening times of the Household Recycling Centre, please visit www.peterborough.gov.uk/residents/rubbish-and-recycling
Image: www.freepik.com/free-photo/big-gift-box-with-ribbon_3212407
Leave a Reply