Get a taste for farm life at Sacrewell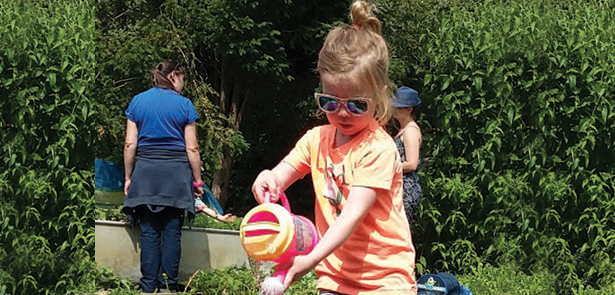 Sacrewell has long been a local institution; open for more than 40 years, generations have flocked to see the animals. However, there has now been a renewed focus and vision on education, with exciting initiatives and developments seen all over the farm this summer, ensuring it remains one of the most visited attractions around Peterborough. General Manager Debbie Queen discusses what's been happening at Sacrewell
As part of The William Scott Abbott Trust education lies at the heart of Sacrewell's ethos. We feel it's incredibly important for children to see how their food goes from farm to fork and we believe hands-on activities are the best way for them to learn this.
From Seedlings to Saplings
Our Seedlings group runs every Wednesday morning in term time and children aged 2 to 4 can learn about food, farming and its connection to nature. There is a weekly theme and activities are created around this; there's digging, planting and chopping the vegetables we've grown. If you'd like to put your toddler on the reserve list, please email jill.judd@ sacrewell.org.uk. Saplings is a new, Sunday morning club for 5 to 7 year olds. It's designed to get children excited about food, farming and the countryside as well as developing life skills like responsibility and resilience. In each session the children will help us to care for our animals, make their own snack and take time to explore and play in the great outdoors. Tickets can be booked through our website.
Farm Camp
As well as our traditional campsite, this summer we welcomed our first schools and groups to our residential Farm Camp. This immersive experience gives groups the chance to get involved with all aspects of farm life, from mucking out ponies, to caring for sheep or grooming goats. As well as the animal activities, campers stay overnight in our bell tents, cook in our woodfired oven and toast marshmallows over the campfire. They even start the day with some Farm Yoga out in the fields which I'd recommend as a great way to begin anyone's morning! Farm Camp is open to any age group and all groups; schools, social groups and corporations are welcome. For more information email nikki.
Getting hands dirty down on the farm
In the school holidays we run our popular Farmer's Apprentice scheme. Older children (aged 5 to 16) can spend a couple of hours working with Jess, our Livestock Manager. They get stuck into the more practical side of animal husbandry around the farmwhilst caring for and learning more about the animals.
Workshops for adults
We're also working hard to extend our adult education provision. We run monthly workshops which range from making hedgerow wines, to candle making and stained glass workshops. For more information, visit our website www.sacrewell.org.uk.
Opportunities for our everyday visitors
We're working hard to make sure all our visitors get good value for money from their admission ticket. Throughout September we're hosting WILD, a month-long exhibition celebrating the natural history of the British Isles, presented by Blue Tokay. Their fantastic displays are perfect for teaching children – and grown-ups – about the wonderful diversity of animals and habitats we have in the British Isles. Harvest Festival will take place on 22nd and 23rd September. Visitors can scrump apples from our orchard and press them into apple juice, bake bread in our mill and toast marshmallows on the firepit, all for the price of general admission. We also unveiled several new outdoor play areas during the summer. Our Sacrewell Trec and giant sandpit, made possible by Barnack Estates UK Ltd, have been welcomed with enthusiasm. We're confident that with all these developments, no matter what experience or background our visitors have, everyone will leave Sacrewell with a new piece of information and a rejuvenated connection to the countryside.
● Keep in touch and up to date with us on social media @Sacrewell on Facebook and Twitter.
Leave a Reply