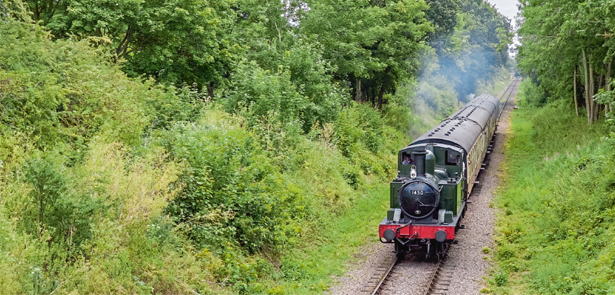 For many of us Nene Park is synonymous with Ferry Meadows, but the park extends far beyond this popular stomping ground. To the west lies the vast Rural Estate of Nene Park – and it's yours to explore, as Assistant Project Officer Beverley Jones explains
The Rural Estate is very different to the more popular parts of Nene Park, such as Ferry Meadows. What can people expect?
The Rural Estate lies to the west of Ferry Meadows and is more rural in character with an agricultural landscape, a variety of livestock, floodplains, riverbanks and some fantastic wildlife. There are lots of routes across the estate which include parts of the Nene and Hereward Way and walks which run alongside the riverbank and Nene Valley Railway. The historic villages of Sutton, Ailsworth and Castor are all accessible from the Rural Estate. From Sutton there's a lovely circular walk that takes you to Nene Valley Railway, Wansford Station, where it's possible to catch the steam train back to Ferry Meadows. The old Station Master's Garden at Ailsworth is also worth visiting. The garden would have been close to the station master's house at the old Castor Station. We are working with volunteers to restore the space to how it would have been – more of an allotment-orchard garden. It should provide a peaceful place to sit and perhaps enjoy the view out over the landscape. Both Ailsworth and Castor have good local facilities such as pubs and a café.
You can also walk to Alwalton village which lies to the west of Ferry Meadows. It's a lovely walk along the riverbank and across the weir to Alwalton village, where there is a church, pub and a village post office-cumteashop for those much-needed refreshments. The area is steeped in Roman history. The walled Roman town of DVROBRIVAE and pottery kilns were situated close to the Old North Road and Ermine Street, and a section of Roman Road which lies between Sutton and Ailsworth is clearly visible and accessible to walk along. Imagine being able to follow in the footstep of the IXth (ninth) Legion!
How can people navigate the Rural Estate? It's quite a big area!
Thanks to LEADER funding, we are installing some directional signage and information boards with route maps, to help visitors find their way around the area. You can access these routes to the Rural Estate from a couple of points in Ferry Meadows. The routes will be marked on maps, signposts and way marker discs placed along the way to help walkers navigate the landscape. We expect all of this to be installed by the end of October. The project is about providing access to a quieter experience and longer walks, while also reassuring people that they are walking on permissive routes. We want to give visitors the confidence to explore that little bit further, into new areas they wouldn't normally visit.
Is there much fishing along the river there?
The backwaters are very popular with anglers, both local and from further afield. Fishing is something you can enjoy in a socially-distanced way, although you will need a day ticket or seasonal membership of the Peterborough and District Angling Association. Due to the current situation these can only be purchased online and all the details are on their website.
Then there's the wider wildlife value of the Rural Estate, which should get a boost from Nene Park Trust's new shared farming project. What is this and will visitors notice anything different?
Most of the land within the Rural Estate has been tenanted and farmed in a traditional way, which has achieved some benefit for wildlife and local people. But the way farming subsidies are paid is changing, with actions that benefit the environment, such as tree planting and flood management, most likely to be rewarded. Nene Park Trust is working with two new pioneering farmers to deliver more naturefriendly, environmentally-sustainable farming, as well as helping the Trust with its wider objectives of education and community engagement. This should ultimately see produce being sold in the Park's restaurants and cafes. We look forward to introducing the farmers to our visitors later in the year, and we are already starting to think of some exciting wildlife enhancements to the land, which will make a visit to our Rural Estate even more rewarding.
Presumably the rural nature of this area makes it less accessible than other areas of the Park, closer to the city?
We have been working hard to improve access, working with the council's Public Rights of Way Officer to replace stiles with gates, for example. The Nene Park volunteer conservation group have tidied up the car park at Splash Lane, Castor and cut back vegetation along footpaths making it more accessible to both walkers and riders. What's been particularly rewarding about this whole project is that we have worked with various local partners and volunteers from the onset, to try and improve the area and make it as accessible and welcoming as possible. Of course, we would encourage people to be considerate as they explore – be mindful of livestock and take all of your litter home. But we want people to feel they can get out there and discover this incredible open, rural landscape. It's a wonderful place to discover, it really is.
Tuning in – Artist in Residence Yvonne Hercules tells us about her work and her hopes for her time at Nene Park.
As a musician and songwriter I write and perform all of my own material. Prior to the residency I independently released an EP and two singles. Themes I typically write about often include nature, though sometimes unintentionally. I also seek inspiration from topical events such as politics or what is happening in society. For the residency I am hoping to create three songs that tie into each other. I will look at themes such as our human relationship to nature, and how this relates to issues surrounding climate change. I'm currently still in talks about how the work will be performed. Due to coronavirus it may be online, but possibly to small groups of people within the Park. Much of my inspiration is being taken directly from the Park and I will be incorporating sounds from the Park within the music itself. The opportunity to receive mentorship from the lead artists is something that really drew me to the residency. Being a songwriter can be quite a solitary experience, so that chance to have a little support is really appreciated. My hope is that the residency will give me more of an insight into my creative practice, and different ways to look at how I approach my songwriting.
Take to the water – Discover the wonders and wildlife of the water with a trip on the new electric boat.
The wait is nearly over! Boat builders Landamores have put the finishing touches to Nene Park's new electric boat and it will be delivered to the Park in mid September. Its name will be revealed soon. With classic lines, almost silent running and an accessible lift, the boat will provide a tranquil journey around Overton Lake and for longer trips on the River Nene. Following a period of trial runs and training for the crew, a limited number of bookable trips will be taken during October, with more trips available during our Autumn Festival week 24 October-1 November. Although, due to Covid, it will be impossible to run a normal service of regular trips, it will give visitors the opportunity to experience the Park from a different perspective. More information on how to book will be released on the Trust's website and social media over the coming weeks.
Roaming data – Coronavirus turns guided walks digital. Follow the new virtual guided walks and discover new corners of Nene Park.
One silver lining of Covid is the incentive to become more inventive. Nene Park Trust's new virtual guided walks are an example of this. With ranger-led guided walks currently on hold because of the virus, it is hoped that the virtual walks will give people the courage to explore the wider Park on their own. Visitors will be able to download a range of route guides from the website, which will provide an overview of the walk and a basic route map. Route markers featuring QR codes are being set up along the walking route. On scanning the QR codes, walkers will be able to access short videos on points of interest and guidance on the next stage of the walk. The first walk takes people on a circular route from Orton Mere. Over the coming months more walks will be added, inviting visitors to explore areas such as Thorpe Meadows and the Rural Estate to the west of Peterborough, which for many remains an undiscovered gem. Education and Activities Manager Anna Thompson adds: 'We are harnessing technology to provide an alternative to a traditional ranger-led guided walk. The beauty of this approach is that it supports social distancing by allowing people to explore the quieter areas of the Park, away from the main visitor hubs, in their own time and at their own pace.'
Leave a Reply