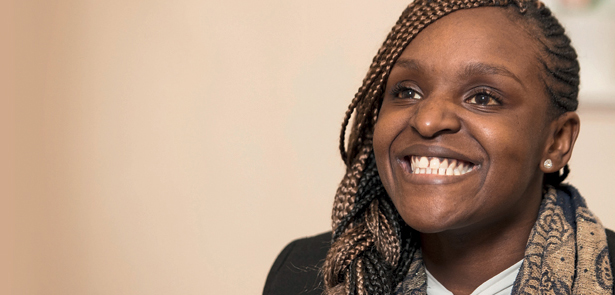 On 8 June 2017, Fiona Onasanya was elected as MP for Peterborough – the first time she had run for Parliament. She has served as a Parliamentary Private Secretary on the Shadow Defence Team, and is now a Labour Whip with a seat on the Opposition Front Bench. And yet, only seven years ago, she was set on a career in law with no intention of getting involved in politics. Moment editor Toby Venables talked to her about her ambitions, the road to Westminster and how it all came as a bit of a surprise...
Your rise in politics has been very rapid, but it nearly didn't happen at all. How and where did you first get involved?
It actually started with a conversation in a pub in Cambridge. This was back in 2011, and I was talking to a friend about the London riots, saying that I couldn't believe the Prime Minister, then David Cameron, was not aware of what was going on in London. And while I was having this conversation this chap comes over and says: 'I hope you don't mind – I heard your conversation and I wondered whether you'd ever considered politics?' The answer was 'No!' but he said: 'I think you'd be really good. Why don't you look into what we do?' I said: 'Who's "we"?' He said: 'Labour'. I said: 'Are you out of your mind? After the war in Iraq, absolutely not!' He said it had changed, so I thought I'd at least look at what they stood for, thinking – with my lawyer's hat on – that I'd tear it apart. But when I actually looked at the manifesto I thought: 'This is a movement for good, it's a movement for all, it's seeking to help those who can't help themselves, and it's a help up, not a hand out – so why would I not be involved?' I didn't agree with everything, but seven out of ten things I could agree with.
So you got actively involved, just like that?
I signed up as a member, went along to the general committee meetings and sat down with the Local Campaign Forum (LCF) to see what they were about. I was the person with their hand up asking: 'Excuse me – what does this mean?' People talk in acronyms lots, like LA (Local Authority) or SEN (Special Educational Needs). I know, coming from a legal background, that you really need to speak in layman's terms so everyone can engage, but politicians tend not to do that. Politics is something that affects a lot of people, but at that time, I felt that because people don't always understand what's being said they disengage. For example, why call something 'savings' when it's really 'cuts'? Savings are what happen when you have more money than you need, and put some aside for a rainy day. If you have less in the first place, that's not a 'saving'. 'Efficiency savings' mean people have not been efficient – so why are those people still in place while you're cutting back the funding? These things baffle me, so I sat there and thought 'What can I do about this?'
How did you progress from there?
The gentleman in the pub was Nader Khalifa, who was the local Labour Party Branch Secretary, and one day he said 'There's a position coming up for a Cambridge City councillor… I think you'd be good. Go along to the selection.' So I put on my suit, prepared a speech, and went to the selection meeting and said: 'I'm Fiona Onasanya, I live in Chesterton, I'm 28 years old and I want to campaign for you!' And they were like: 'You're very nice, but unfortunately…' I was unsuccessful by three votes to two. But I came away from there thinking: 'In life, you win or you learn – you don't lose'. Then in 2012 they were looking for candidates for the County Council election in May 2013. Nader said again 'Why don't you go for it?' I thought that if I didn't get City, I wasn't going to get County, but he persuaded me to give it a try. This time, I went in skinny jeans, Ugg boots, little jacket – just me being me – and said 'I'm Fiona – call me Fi…' And afterwards they called me back in and said: 'We'd like you to be our candidate for King's Hedges ward'.
Was that a big surprise?
I honestly didn't think they'd choose me. But from there we went out canvassing, knocking doors, and I just asked everybody what issues they wanted me to raise with the council so they started to see who I was. I feel the same now as an MP; I need to know how you feel so I can put your concerns across. Fast forward to election night… I was such a novice I didn't realise they read the results out in alphabetical order; I thought it started with the person with the most votes and worked down. The councillor was a Lib Dem, the council was Lib Dem and the MP was a Lib Dem too, so I wasn't really expecting to take the seat, and when they named the incumbent first I assumed I hadn't won and just hoped I hadn't done too badly. Then I slowly realised. My face in the paper was a picture; I'd turned up in a bright pink dress not really expecting anything, and people said I looked so surprised – which I was! Suddenly there was a lot to learn. For the first year I was spokesperson for children, young people and families. Then, in years two and three I was Labour group Whip on the County Council, and in my fourth year was Deputy Leader for the Labour Group.
Your training is in law, so what was happening with that whilst all this was developing?
During this time I qualified as a Solicitor. In 2013 I started working for a Cambridge legal firm, and was trying to attend Full Council meetings during the day. It was like having two full-time jobs. I bought my house in Peterborough in 2014, and was commuting between the two. So I decided that when the elections came up in 2017 that I wasn't going to stand again; I'd support the new candidate, but focus on law. The reason I mention this is to make the point that I didn't go into this as a career politician. I just wanted to help people. People are my passion, and that's why I got into law, because it affects people in just about every part of their lives, whether they're buying a house, getting married, having employment law issues, if someone passes away, law is always part of that. As I'd progressed and specialised, however, it had become less about the people and I realised that it wasn't what I really wanted. But I couldn't live just on a County Council salary, which at the time was about £11k a year – and also I was feeling, now I was living in Peterborough, that I wasn't close enough to the people I was representing in Kings Hedges. So, I decided I was going to find a firm to work with in Peterborough, get involved in local politics at grass roots level again, and work towards standing as MP in 2020. People don't normally get it first time, so I thought that in 2025 I'd really go for it and hopefully get it. That was my plan! So I resigned from the firm I was working for, started working out my 12 weeks notice and accepted a position with a firm in Peterborough.
And then…
Then Theresa May called a general election! Lisa Forbes was the Labour candidate in 2015, but I thought 'You know what? If Lisa doesn't want to go for it, I'll put my hat in the ring…' She didn't, and I was chosen as one of the candidates. So then I had to go back to the law firm and said: 'Guys… About the politics thing… I know I said I was standing down as a County Councillor to focus on law, and I know I've accepted a job with another firm, but I've been selected as a candidate for MP in Peterborough. Can I have some time off..?' And they said 'No', because I was in my notice period. So I looked at what pro-rata holiday I had left, and I had five days. So, I had a month to campaign, but only five days to actually do it in. I took one of those days as the day of the count and one the day after, then I had three days annual leave which I took as half days during the last week of my campaign. The rest of the time I was working full-time, then coming back to Peterborough after work, canvassing and knocking on doors in the evening, getting up next morning and leaving at 6am to get to the office early. But I was supported through that by a team of volunteers and five core people in particular – one of whom has now sadly passed away – who worked incredibly hard on my behalf.
Talk us through election night…
When we had the count, my mum came to my house and we prayed together and I said: 'You know, when I come back over the threshold of this house, I'll be coming back as the MP for Peterborough'. That's just me. It's better to aim high and miss than aim low and achieve. If you aim high, at least you've tried your best. Then that evening, I sat and watched Britain's Got Talent on repeat with my mum, had a Chinese and then headed out to the count. People were freaking out, asking me if I'd seen the exit polls. I told them that worry was a misuse of their imagination, so don't worry – we'd just see what happens. When the results were called it was 22,343 to Stewart Jackson and 22,950 to me. And I was like: 'Oh my goodness…' I stood there, telling myself: 'I'm the MP for Peterborough…' But what did that actually mean? I had no comprehension. I'd never done this before. I don't have children, but I think it's maybe a little like that. Everybody tells you what it's like then when it happens to you it's nothing like what they say!
What is it like arriving at Westminster? Do they provide an office?
No! First day at Westminster, you get given a laptop, an iPad and a security pass. And you get told how dangerous it is to wear your security pass on the outside, because now you are not just an ordinary person. You're a person of 'public interest'. Your face is out there, you're on the news and in the press, so members of the public will know you even though you don't know them. That means if someone wants to hurt you, you may have no idea who they are. And they talk to you about Jo Cox. So, you have to know about security, and about where to stay – because they pay for you to be in a hotel for the first couple of weeks while you find your feet. You don't have an office to begin with. I hot-desked from a Committee Room. Obviously I had taken a seat from another MP, but he's a Conservative, so I wouldn't be in his office. I would have a different office space with different staff. But that office has to be found, and depends what space is left when MPs come back, some of whom may be moving – and those who have been here longer know the ropes and get first dibs on offices they have their eye on. So, I thought, fine – I've got my laptop, I'll find a workspace and see what emails I've got… Your email account is already set up with an 'out of office' response explaining that you may take a while to respond because you're a new MP. My inbox had over 2,000 messages! I had no office. I had no staff. So then you ask: 'How do I get staff?' and they say 'Oh, you have to advertise for them…' So, you're trying to learn about the job and learn about Parliament while putting together job adverts, waiting for applications, going through CVs, interviewing, then waiting them to be passed by Parliament security which takes 6-8 weeks. So, to paint a picture, if we were in June, recess starts in July, and if it takes 6-8 weeks to go through security I wouldn't get anyone until September. But meanwhile I have 2,000 emails! They also give you green sacks full of your mail, and I had over 1,200 pieces of post. This is what people don't see behind the scenes. To begin with people think you're being rude, not getting back to them, but it's not that at all! I was spinning plates whilst riding a unicycle…
These are quite testing times with Brexit happening – what do you see as the challenges ahead?
On 23 June 2016, the question was asked: Leave or Remain? Out of the 72% turnout, Peterborough voted overwhelmingly to leave. I respect that fact. How we leave, however, was never discussed, and that's what impacts upon the city's migrant population. I want the migrant population that we have here to feel welcome. The feedback that I've had is that they don't, because a big decision has been made that affects them and they didn't get to have a say in it. And even though some may be working here in highly respected professions – as doctors, for example – they still don't know what their status will be. In Peterborough City Hospital, many healthcare assistants are Eastern European. If we haven't taken the time to invest in British people doing those jobs and we have those skills coming from overseas, we can't simply say we don't need them, because we do; the fact is we'll have a massive gap in the market if they're not here. I've also spoken with businesses. One very major employer has over 50% migrant workers in its workforce. What will it mean for that company? I want to encourage people to be tolerant and also to realise that these people contribute greatly to our economy. We are a very diverse city, but diversity doesn't need to equal division. Also, many people have been here a long time and have built successful lives. We need to get together and talk about that. I'm second-generation Nigerian myself, so let's hear these people's stories to help others realise that they can do it too. One of the reasons I like what The Moment magazine does is that it can go through any person's door, and it doesn't matter what race they are or what culture they are from, it can still engage with them and communicate those stories.
You're a Labour MP in a city with a Conservative-led council. Is that problematic, or is the reality that you work together and find areas of compromise?
If we look locally we have Councillor John Holdich, Leader of the City Council, who started a campaign called Stand Up for Peterborough where he is telling the government – his own party – that enough is enough and that the cuts are not sustainable. I'm more than happy to stand together with him on that – and it takes a lot to stand up to your own party and say 'What you're doing in this instance is wrong'. It's very brave thing to do, but we do need to invest in order to save. You can't keep cutting back and expect it not to have an impact. I'm actually writing to the Prime Minister on that very point.
How will the development of the new university help the city move forward?
If we have a university with its own degree-awarding powers then we can have courses and degrees that are bespoke for Peterborough. We don't need to try to copy Cambridge; we have our own businesses here that would be willing to invest in degrees in engineering, so we can train young people to a high level and retain them. It needs to be a university that is about Peterborough and for Peterborough. And that encourages more business, and more innovation, and makes businesses want to be here. We're just 50 minutes from London, it's a beautiful green city, and with its own university young people don't need to leave to develop their careers. All of that will have a very positive economic impact – and change the perception of our city.
Is it tough striking a balance between Westminster and the constituency?
When I first came I was just an MP. Then I got promoted to Parliamentary Private Secretary, which meant I had to be in Westminster three days a week. Now I'm in the Whip's Office – I'm actually the Whip for Jeremy Corbyn – and as a Shadow Front Bench Minister, am needed in Westminster Monday to Thursday. I'm very grateful for that, but I just need to find a way to make that work for my constituents. The important thing is that as a Member of Parliament I'm here to represent all the people of Peterborough in Westminster, whoever they are. It doesn't matter if you're Labour, Conservative or Lib Dem – I'm here to represent you irrespective of your political colour.
Does it still seem strange to have gone from that pub conversation to the Opposition Front Bench in such a short time?
I'm here in the House of Commons really awe-struck, seeing people I've only ever seen on TV. The lift opened and Diane Abbott was in it, and she was like 'Do you want to come in?' And I just stood there, thinking 'Oh my goodness…'. It's quite surreal. I sit there in Prime Minister's question time on a Wednesday, thinking 'The Prime Minister of the United Kingdom is sitting just there…' The first time I spoke was on 22 June 2017, when I asked the PM a question, and it really struck me that I could raise issues directly, and she would actually listen, rather than it just being a conversation in a pub. Suddenly I'm in a position where I can actually lobby government and speak on behalf of my constituents. But I'm still me as well. I have a laugh with my staff, who are just so down to earth. I call myself 'MPFi' and say it's an acronym for 'Making People Feel Inspired'. That's really what I want to do.
Leave a Reply