Find Sacrewell Farm's stolen animals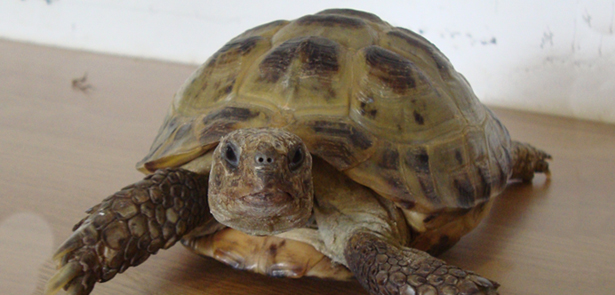 Staff, visitors and children at Sacrewell Farm and Country Centre in Thornhaugh were devastated to discover that pets in their Discovery Centre and Hatchery had been stolen on Sunday, 27 October
Sheldon, a Horsefield tortoise, which had settled in to hibernate for the winter and four one-week-old quail chicks were stolen in broad daylight from the charity farm owned by the William Scott Abbott Trust at about 2.30pm.
The Trust is an educational facility that attracts about 6,000 school children a year and the pets and animals at the farm play an important role in teaching all visitors about the care of animals. The Discovery Centre is part of the Animal Village at the farm where visitors can meet some of our smaller animals close up. The Hatchery was opened as part of the centre a few months ago.
General Manager at Sacrewell Farm, Mike Rooney, said, 'We are shocked and saddened to learn that someone has come into the Farm as a customer and has stolen our animals from us.
'It was a very deliberate act and may have been planned so now we are examining evidence and working closely with the police and the public to get the animals returned to us.'
Sheldon has been a resident at the farm for four years, is about eight years old and is a favourite with staff and visitors. He is an unusual animal to see at the farm, which generally keeps rare breed and native species, but he was donated to the Farm as a pet in 2010. He is thought to be worth about £400.
Mr Rooney added: 'We are worried about the welfare of the animals, especially at this time of the year. It is dangerous for the health of the tortoise to wake him up when he's hibernating. The chicks are also a worry as they had only just hatched out. They are very small and we had them on a special diet and under heat lamps at all times.
'Thefts from farms are on the increase and we are concerned about our other animals. We have stepped up security to ensure that our animals are safe. As a charity we are particularly hard hit and we hope that anyone who visited the Farm on Sunday and saw anyone acting suspiciously in the Discovery Centre will come forward with information.'
Anyone with information about the animals or who saw someone acting suspiciously is asked to contact Cambridgeshire Police on 101 and quote the crime reference number CF0382361013.
Leave a Reply