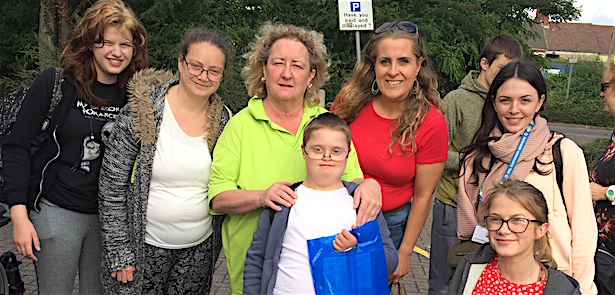 Family Voice is a small local charity supporting over 800 families which seeks to ensure that parent carers have the services that they need, are informed, can contribute, and are empowered to support their child. This year, it was one of several local charities and initiatives to receive money from Peterborough Communities Fund, a new source of funding created as part of the city's Integrated Communities Strategy. The Moment talked to Charity & Forum Development Officer Christine Nicholls about the charity's work.
What is Family Voice?
Family voice is the designated Department for Education parent carer forum for Peterborough, offering support for parents carers of disabled children and young adults. We seek to improve services that affect the lives of children and young people with SEND through parent participation. We also provide information, advice and signposting to a variety of support services.
We are all about improving the lives of the families we support, so we offer families with a low-income budget-friendly holidays in our two caravans. We also run regular day trips at a subsidised cost. We love Chessington and the seaside!
At our community centre in Orton Goldhay we also run workshops and put on events for the local community. Children are invited to come along and enjoy themselves, whilst the parent carers can seek advice from the Family Voice team and professionals.
We celebrate our 10th year this year, and we now have paid staff and premises, so, in addition to me and Louise Ravenscroft, our COO, there's an office manager, a part-time cleaner and a part-time Digital Media and Marketing Assistant, plus a Key Holder, but we're still heavily dependent on Volunteers and Parent Reps.
Can you give an example of how you directly support parents?
Since Family Voice are not case workers we can only signpost and provide support via parent training and information. Nevertheless, one family we provided emotional support for have a son who had been on Disability Living Allowance (DLA) but had turned 16, so moved onto Personal Independence Payment (PIP). They sent the PIP forms in but were told he didn't qualify. Now, that boy is still quite disabled, so the next step for them was to write a letter asking for mandatory reconsideration. We supported the parents through signposting to other services. The family stuck it out and after about six months, PIP came through and was backdated, which has made a massive difference to them. It means they've actually got some money to go and do some activities and take the kids away.
What happens here at the centre?
As you can see here today we run events such as a pizza fun afternoon. Families can come in and for £2 per head the kids have pizza, wedges, beans and jelly and ice cream, and are able to play games or do whatever they want. That can be really important to families who are on low incomes and have the additional cost of raising a child/young person with SEND.
We also provide a base for a Parent Carer Hub that we facilitate in conjunction with Peterborough City Council (PCC). This covers areas relating to SEND Partnership Board, Educational Psychology and ASD teaching services where parents can book an appointment time between 1pm and 4pm and have a 1:1 session with a professional.
Parents are also able to come to us and have a sit and chat knowing the kids are in a safe place, have a coffee and get a bit of respite. Often it's just knowing the support is there and that parent carers have people they can talk to. There's one lady who has a son with sensory needs, a daughter with sensory needs and a husband who's ill, and sometimes she just needs to come in and have a cup of coffee and a chat.
As well as using the centre to provide sessions for parent carers and their families we also provide a base for a variety of other groups; PCC Youth Services, Peterborough and District Deaf Children's Society, Families First, Silvertops, Gambian Community to name a few.
You mentioned day trips – tell us about those…
In school holidays we try to put on activities that allow parents and their children an opportunity to get out in the community and enjoy time as a family in a safe and supportive environment, as well as activities at the centre. We need to fundraise in order to be able to provide these. For our trip to Drayton Manor in October half term we've got £400 raised, and have been lucky to have received a donation from Peterborough Lions, but we still need more money to pay for the coach and entrance for the families. We do also sometimes ask families to pay a small fee towards the cost.
How is the money from Peterborough Communities Fund going to be used?
We're using the funding for more community work in the area, to build up engagement and reduce social isolation. So, we've got a litter-pick once a month, and we're looking at starting a group for older people local to the centre to come in, have something to eat and maybe play a couple of games. We've also got the local Police Community Support Officer (PCSO) coming in on a regular basis. This is a community centre, so it's a safe place to come in to see the PCSO rather than having to go to the police station. There are also two youth clubs running out of here at the moment; one is targeted at local families known to services and one is an open door youth group.
So with the money we're trying to build on what this community centre has to offer. We are wanting people across all age groups – we're not just talking about parent carers, we're talking about anybody out there who's a member of the local community to come in and look at what we're doing and access services. To help shape this we've put leaflets out and have been asking people what they actually want. We hope that by engaging more directly with the local community we can help them to get more involved and take pride in their community and make them feel better and more connected in the process. The funding has given us a chance to do this.
Has much changed in your 10 years?
Family Voice has grown a lot. When we started we had about 50 families on our mailing list, now we have about 800. We have also grown from being completely voluntary and working out of PCVS to having this centre and staffing. During this time we have seen much change and things become more difficult for families and communities. We know from the feedback that we get from parents' there's still a need for more services and support. There is still a lack of services and provision for parent carers out there, we are living in a time where local budgets have been slashed due to the austerity measures by central government and this is having a huge and devastating effect on families. When children receive their diagnosis there are very limited support services available for the parents and this impacts on their mental health and wellbeing.
For a lot of parents this may mean that one parent has to give up work to become a full-time carer for their child/young person with SEND. There is a financial impact, as well as the inherent social impact for that parent. This is obviously even harder if you're a single parent and you have the lack of a support network. I know of one family who split up as a result of the difficulties of raising a disabled daughter. The mother couldn't cope with her daughter's challenging behaviour, but the father could. The dad made the decision to leave with the daughter and the mum stayed in the house with the other two children. The dad said to me 'She just cannot cope with this, so it's the best thing to do…'
You often hear people say: 'You're the parent, you've just got to get on with it' but not many people appreciate just how hard it can be raising a child with special educational needs and/or disabilities. But at Family Voice we've all been parent carers in some way. We've all had children with a level of disability or illness, and we're passionate about putting as much support in place to help parent carers when they need it most.
How can people get involved?
We are currently looking for Corporate Sponsors to help us to fund and develop the work we do. We're asking for businesses who are seeking to support a Charity to please contact us, and understand that support comes in many guises and is not just financial. PJ Care has sponsored our Butlins caravan this year with a donation of £5,000, which will pay site fees for one caravan for a year. This enables us to continue to give families reduced-rate short breaks. We've also given back to PJ Care through publicity and use of the caravan in term-time. If anybody is interested in sponsoring a day trip or Christmas parties, we'd love to hear from them.
We are also looking for businesses who champion volunteer days for their employees, we're happy to meet with them and show them what we do and what help we could do with. We're always looking for more people who are passionate about what we do and want to give back to the community. That could be anything from wrapping Christmas presents to helping out on a day trip – it's all vital work!
Family Voice
Goldhay Community Centre
105 Paynels
Orton Goldhay
Peterborough PE2 5QP
01733 685510
If you would like to support the work financially or otherwise at Family Voice please email
If you would like to volunteer for Family Voice please call 01733 685510 or email
If you are interested in parent representative opportunities please email:
Leave a Reply