Explore Nene Park this summer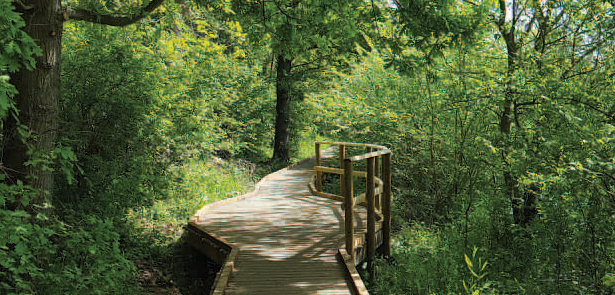 You may think you already know your way round Ferry Meadows and the miles of paths that meander around the lakes and meadows - but there is always something new to discover in the Park. When you need a break from the watersports, picnics or play areas what about trying one of these new walks or trails...
Walk the new boardwalk
This year saw the creation of a new boardwalk along the river Nene in Bluebell Wood, at the north end of Ferry Meadows. This was made possible thanks to National Lottery Heritage funding and the ongoing Nenescape project, which is carrying out various exciting developments along the river Nene. A dedicated team of 22 Nene Park Trust volunteers worked hard to lay the decking boards along the full 750m length of the boardwalk, using a total of 42,000 screws! This boardwalk has now opened up access to this lesser known part of the Park, which is perfect for enjoying a river walk surrounded by wildlife – bluebells in spring time; herons and kingfishers on the river; Woodpeckers and butterflies in the woods. See what else you can spot or hear as you enjoy the riverside views.
Discover Sheepwash walk
Explore this 'hidden' tree avenue found between Milton Ferry Bridge and the start of the new boardwalk. Volunteers uncovered this once overgrown avenue of trees last year as part of the National Lottery funded Moments with Trees project. The trees are approximately 170 years old and were originally planted by the Fitzwilliam Family. The avenue walk has been named Sheep Wash Walk as it is believed that many years ago the farmer and his sheep would have taken this route after a clean in the neighbouring sheep wash.
Pick up a holiday trail
Each school holiday, the Nene Park Trust Education team devises a new holiday trail sheet to get the kids out and about exploring Ferry Meadows. This summer holiday from 25 July onwards, pop into the Visitor Centre and pick up a trail sheet for £1. There will be clues or questions that send you round the lakes looking for answers. Return to the Visitor Centre at the end to claim a prize!
Learn about our native trees
Pick up a booklet from the Visitor Centre to find out more about Nene Park's collection of native trees, all planted around Roman Point in Ferry Meadows. The tree cards in the booklet give you facts about each tree's life expectancy, maximum height, uses, insects that live in it and so on. The tree cards in the booklet can also be cut out and you and your family can play the game Tree Top Trumps to compare the native trees.
● Find out more about these and other areas of wider Nene Park at www.nenepark.org.uk or pop into the Visitor Centre next time you're in the Park and talk to one of the team.
Leave a Reply