East Anglia's Children's Hospices (EACH)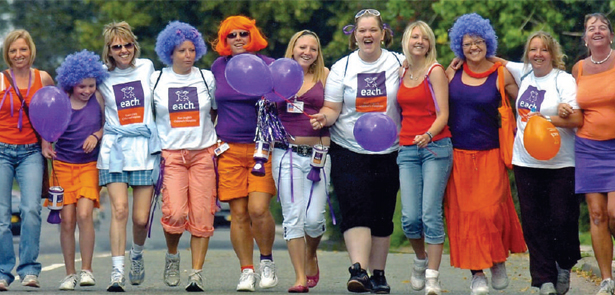 EACH is a Charity Partner of Perkins Engines Company Limited, supporting families and caring for children and young people with life-threatening conditions across Cambridgeshire, Essex, Norfolk and Suffolk. The charity is currently helping more than 200 children, young people and families across Cambridgeshire, with 35 of those living in the Peterborough area
Care and support is tailored for the needs of all family members and delivered where the families wish – in their own home, at hospital, in the community or at one of three hospices in Ipswich, Milton in Cambridgeshire and Quidenham in Norfolk. The charity is honoured and extremely proud to have HRH The Duchess of Cambridge as their Royal Patron. The Duchess's support helps EACH increase the awareness and understanding of the services they offer, and celebrates the great work being done by all children's hospices across the UK. EACH offer a wide range of services including short-break care, emotional and psychological support, symptom management, care at end of life, bereavement support and many activities and therapies.
EACH provides care and support to Subhaan Kamran and his family who live in Peterborough. Thanks to the support of the charity's Symptom Management Team, the family are now able to spend more time at home than in hospital. Two-year old Subhaan lives with his Mum Siddra, Dad Kamran and five year old sister Safaa. The family has been receiving care and support from EACH since October 2014 as Subhaan suffers from a yet undiagnosed neurodegenerative condition, which means he's unable to walk and has complex care needs that require 24 hour care. Siddra, Subhaan's mum, said: 'The support we receive from EACH is invaluable. The charity provides day care so that we can go to appointments and do general jobs such as shopping without worrying about Subhaan's care. The specialist play team also come to our home every couple of weeks, which Subhaan really enjoys. Working with the Symptom Management Team has been the best decision we made.
'Before we met Debbi from the team we were struggling with simple day to day tasks, and were spending most of our time in hospital trying to manage Subhaan's condition. They really support our whole family through the tough times, always completely understand our situation and come up with solutions and different care techniques. Subhaan has been so much more settled, his complex needs are better managed and we spend a lot more time at home rather than in hospital.'
As well as care for Subhaan, the family have also been supported including mum, Siddra. 'They helped by referring me for EACH counselling. I had a very tough winter and the counselling support has been so beneficial. Being able to talk to someone got me through a very difficult time.'
To find out more about EACH, including how they can support your family or how you can help the charity continue their vital work, visit: www.each.org.uk call: (01223) 205180, email or tweet @EACH_cambs
How you can help
EACH rely on voluntary donations for the majority of their income and need to raise almost £6 million to deliver their services every year. That's £16,000 a day, every day of the year. If you want to support EACH there is a range of ways you can get involved:
■ Support the range of EACH events running across Cambridgeshire and beyond. These include a number of Santa runs taking place this festive season – come and join in a fun run, jog or stroll dressed as Santa, and help raise valuable funds for EACH. The 9th Cambridge Santa run will be held on Sunday 13th December, at 10am, starting at The Grafton. Visit www.each.org.uk/fundrasing to find out about the wide range of fundraising events available
■ Help by fundraising – on our own, with friends, family or at your school. Why not hold a coffee morning, give up smoking and save the money you would have spent to donate the charity or have a clear out at home and hold a car boot sale
■ Take up a challenge in aid of EACH. The charity has a range of spaces available on some challenges of a life time including Trek Fest The Peaks, Ride London-Surrey 100 and the 24 Peak Challenge to name a few
■ Support EACH through your company or employer
■ Volunteer for EACH – there are a whole host of volunteering opportunities available, it doesn't have to be a massive commitment
■ Join the EACH Hospice Lottery – visit www.localhospicelottery.org
■ Shop or donate items to an EACH charity shop – there are 17 shops across the region
■ Leave a gift in your Will
■ Visit the EACH website and click on donate – www.each.org.uk 
■ Send a cheque to – East Anglia's Children's Hospices (EACH), 42 High Street, Milton, Cambridge CB24 6DF.
How you can get involved
A hugely valuable team of volunteers are at the heart of the work EACH does. The charity has volunteers helping out across East Anglia undertaking a range of jobs and tasks. The EACH Peterborough Friends Group raise funds and awareness for the charity in Peterborough and the surrounding areas. This local group are looking for volunteers to help with bucket collections, charity stalls and at a variety of fundraising events.
If you'd like to get involved, and to find out more about the opportunities on offer, please contact Lucy Glover, EACH Fundraiser, on 01223 204196 or email
This piece has been supported by Peterborough-based Perkins Engines Company Limited, one of the world's leading suppliers of off-highway diesel and gas engines.
Leave a Reply