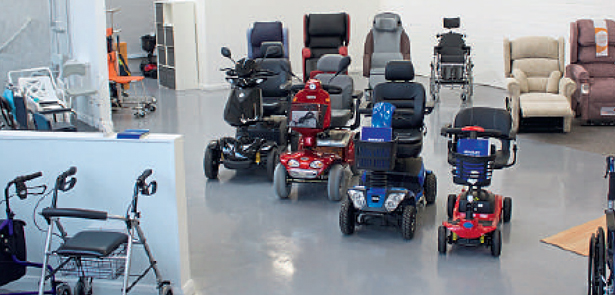 Bentley Nursing Supplies is all about making life easier. And with their newly opened showroom shopping for the right solutions to do so has never been easier
Bentley Nursing Supplies was formed in 1991 to offer mobility aids, nursing equipment and consumables, and continence supplies to the public. It soon became clear there was a need for a reliable supplier to care and nursing homes in the area too, and Bentley quickly established itself as a trusted supplier to these institutions as well, specialising in same-day backup supply of continence consumables. The business continued to grow over the next 20 years, largely through recommendations from care professionals due to Bentley's focus on customer service.
Throughout the years they have continue to work to consistently improve both service and expertise, and their range of products. Further strengthening of the business came in 2012, when Bentleys was purchased by a business professional who invested in the company to take it on the next chapter of growth. The next five years saw a move to a new facility, giving the company greater warehouse space to improve stock holding further, plus a larger retail area. The new showroom enabled bigger items to be displayed to customers – items such as nursing and profiling beds, mobility scooters, rise and recline chairs, and fireside chairs, which were all added to the range. Last year welcomed a new general manager, Fred Nunn, who came with the mission to improve the business further and provide direction for the next phase of Bentley's journey.
Further additions to the team include sales manager Ian Poole, who was recruited from the care industry and comes with more than a decade of experience, helping to build on the company's relationships with care professionals and occupational therapists. This year has seen some significant investments. Bentley's new website, launched in January, provides both a platform for customers to buy and a portal for care professionals to view specifications and download information on specialist projects. Nurture, the company's brand for care professionals was also launched. This range includes unique products such as hoists, slings and mobile care chairs. More products will be added to the range, so long as they meet the strict criteria of being competitively priced, of great quality and having unique benefits that improve the day-to-day lives of patients and carers. October saw Bentley take the latest step in its journey, moving into a purposebuilt, 1,200sqft showroom!
Not only does this triple the showroom space, offering customers more space to browse an even wider selection of products, it means care professionals can receive demos and training on moving and handling equipment, specialist seating and other specialist products. Key to the move was the desire to improve the customer experience, with ample off-street parking and an easily accessible showroom entrance. As the company continues to grow the team at Bentleys is determined not to forget their heritage. Their commitment to go the extra mile, to excellent customer service and to promptly supply your needs is at the forefront of who they are. The team looks forward to welcoming you to the new showroom and supporting you for many years to come.
BENTLEY NURSING SUPPLIES ● Unit 2, Benedict Square, Peterborough PE4 6GD. ● 01733 555838, www.bentleynursing.com
Leave a Reply