Dreaming of a green Christmas?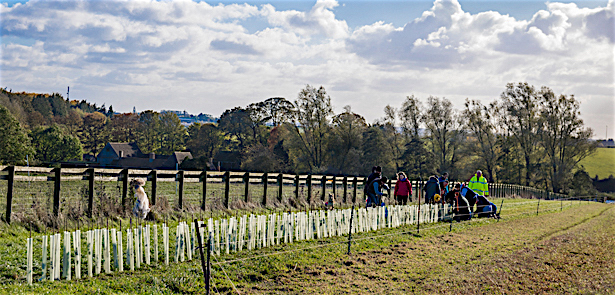 Rather than wishing for the usual presents, how about contributing towards creating a greener, cleaner Peterborough and helping encourage an abundance of trees and wildlife in the city?
The changing of the year is often an occasion in which to reflect and make alterations for a more positive, happy and healthy future.
One charity in Peterborough is aiming to protect and enhance the environment throughout the city and beyond, and is looking for local residents to get involved along the way!
PECT is working towards making the city and surrounding areas greener through a range of different projects, working with communities, schools, and businesses. This includes tackling issues such as fuel poverty, encouraging healthy eating, improving business energy efficiency and much more!
The charity wants to create long-lasting change through creating sustainable places, to enable residents, their families, and future generations to enjoy a better quality of life.
PECT's vision is for a healthy natural environment, communities to be involved in their area, for health and well-being to be improved for all, and that resource use is responsible and doesn't compromise the needs of others, both now and into the future.
Intrigued? Read on to discover more about how to get involved!
From tiny acorns to mighty oaks
Christmas trees may form a particular focus this season, but why not donate towards or help plant your own tree in the city for a long-lasting and memorable festive present?
In 2010 PECT launched Forest for Peterborough, an exciting project to plant over 180,000 trees in and around the city by 2030. The aim is to plant one tree for every person living in the city.
PECT wants to increase tree coverage to create a network of wooded areas, improving our green spaces and the quality of air we breathe.
The tree planting will change the city's landscape, forming a vital network of wildlife corridors and green spaces, threading their way through our built-up areas. Bringing together communities, schools and businesses for the volunteer planting days means that everyone can get involved with and contribute to improving their natural surroundings.
This October, the project reached a massive milestone. Its 100,000th tree was planted within the city's Central Park in October 2017.
PECT's CEO Carly Leonard explains: 'We are so grateful for the support of all the volunteers, individuals and organisations who have dedicated time and enthusiasm towards making this project possible.'
'Together we are working to transform the city's landscape. Trees also play a vital role in mitigating climate change and adapting to extreme weather conditions by providing shade on hot days and absorbing water during periods of heavy rain. To plant the 100,000th tree in the city is a truly fantastic achievement, and one we're incredibly proud to be leading on.'
The project may have just planted its 100,000th tree, but it's still got a way to go towards achieving its ambition of planting one tree for every person living in the city, and vitally needs the support of local volunteers to do so.
If you can help the charity reach its goal then drop in to some tree planting events – starting from this November! National Tree Week runs from 25 November to 3 December 2017. This is the UK's largest annual celebration of trees, and is a great chance for communities to do something positive for their local treescape.
Get involved
Tree Giveaway – 14 & 15 November, 9am-4.30pm
Morrisons, Bellona Drive, Stanground, Peterborough PE2 8GP
18 November, 10.30am-4pm
Grange Farm, Wittering Grange, Peterborough PE8 6NR
25 November, 10.30am-4pm
Nene Valley Community Centre, Candy Street, Peterborough PE2 9RE
2 & 9 December, 10.30am-4pm
Sacrewell Farm, Thornhaugh, Peterborough PE8 6HJ
Tree Giveaway at the Tree Dressing Day – 3 December, 10am-3pm
Olive Branch Community Garden, Dogsthorpe, Peterborough PE1 4PT
16 December, 10.30am-4pm
Nene Valley Community Centre, Candy Street, Peterborough PE2 9RE
You can register your attendance on 07715 372432 or by emailing . Please wear appropriate clothing for outdoor work and sturdy footwear. All equipment will be supplied and no prior skills are required. All ages are welcome!
With thanks to the support of Viridor and Peterborough City Council,
Leave a Reply