#DailyMoment: Friday 27 March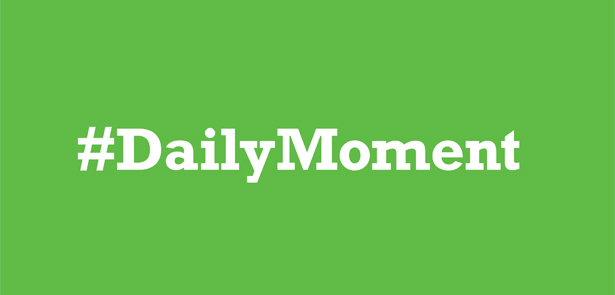 Venues are closed, events cancelled, gatherings banned. That's a challenge for all of us. But there are ways and means of making the lockdown more bearable, and if this strange time is showing us anything, it's the ingenuity (and sheer tenacity) of ordinary people.
For a magazine driven by local events, suddenly unable to put print into readers' hands, these conditions might seem especially problematic. The fact is, though, The Moment isn't just about the events, nor does it depend on print. It's really about connecting people, giving them a voice, getting them together – and with the awesome virtual tools available to us, there was no way we were just going to sit around and mope.
So, welcome to the very first #DailyMoment. Our aim with this, sent out every weekday, is to keep Peterborough's conversations going – more important now than ever – while also delivering current COVID-19 community news and useful resources to help you negotiate the coming weeks. Every issue will also include a couple of great reads, either new or from our archives, which have no relation to coronavirus at all – just good stuff to enjoy and take our minds off things for a while. One of these will form part of a #VirtualFest strand. We may not be able to get out to live music, comedy, theatre, film or literary events, but there's nothing stopping us from enjoying these things from home. We'll be bringing you some of our best original celebrity interviews in all categories – a dizzying array of greats, including Jools Holland, Trevor Noah, John Cleese, Brian Blessed, Jon Culshaw, Rick Wakeman and astronaut Tim Peake. And we'll be adding the The Moment roster by digging into our personal freelance archives. Expect to see classic interviews with Jeff Bridges, Ray Harryhausen, Bill Bailey, Cate Blanchett and many more! First up this issue is Fight Club author Chuck Palahniuk (see below)
The key information towards the end of this newsletter will remain the same in each issue, to ensure it is always clearly available and accessible. But it will be added to as we go – and we'd like to hear from you. If you run a group or have some community news, let us know and we'll include it. And if you've suggestions or requests relating to what we feature, we'd love to hear that too.
Message us via Facebook https://www.facebook.com/themomentmagazine/ or Twitter https://twitter.com/MomentMag
---
#VirtualLitFest
In 2002, Moment editor Toby Venables talked to Fight Club author Chuck Palahniuk at a public reading. Here's the result of that encounter – part of our #VirtualLitFest series.
---
#FromTheArchives
Ever wanted to know how and why Katherine of Aragon came to be buried in Peterborough? In this feature fro our Jan 2013 issue, Richard Gunn, reveals the full story of England's ill-fated queen
---
COVID-19 community news
Peterborough Citizens' Advice Bureau still taking calls
At the time of writing, you can still access Adviceline on 0344 499 4120 or 0300 3300 650 from mobiles.
United Lincolnshire Hospitals NHS Trust – ULHT 
ULHT has announced that it will be providing free car parking for all visitors from tomorrow (Thursday 26 March 2020). Exceptions are one birthing partner and parents who do not show the symptoms of infection can visit their children.
The Trust has already confirmed that staff car parking will be free from Wednesday 1 April 2020 until at least Friday 31 July 2020.
Volunteers wanted!
As of Friday 27th March Foodbanks will be operating Monday-Saturday 11am-1pm at Dogsthorpe Methodist Church, Birchtree Avenue, Peterborough, PE1 4HP. Can you help? Contact:
Lamphouse Theatre on demand
Sign up online to watch a fantastic selection of Lamphouse's previous shows, including the ever popular Suitcase Shakespeare and This Is Peterborough – a one hour romp about the history of our marvellous city!
Ians Fresh Fish Deliveries
Ian's Fresh Fish is still delivering Fresh Grimsby Fish to a range of locations, including the PE postcode, until further notice. He is able to deliver to your door and also accepts contactless card payments, cash or BACs. If you have any questions about the service or would like to put a pre-order in, please call/text: 07515 275 700.
Jumped Up theatre – Body and Soul fitness sessions
Keep fit without risking your health! Free online fitness sessions on Facebook.
The Purple Pumpkin Cake Company
Trouble getting bread – or just fancy a cake? The Stamford bakery are offering online baking lessons on Facebook.
Peterborough Cathedral online support
Peterborough Cathedral has closed its building but clergy and staff continue their work from home. Find out how to contact them here.

Govt guidance for businesses
Information and support for business dealing with COVID-19

Local business updates and info
Regular email news updates for businesses provided by Cambs and Peterborough Combined Authority and the Business Board.
---
Local Facebook support groups
Peterborough Covid-19 Support Network
Covid-19 Peterborough/Cambridgeshire
PE4 Covid-19 Community Support
Yaxley and Farcet Coronavirus (Covid-19)
Fletton/Woodston/Stanground Shared Support for Covid-19
Stamford Area Covid-19 Support
Peterborough Coronavirus Mutual Aid Assistance
Peterborough Food Bank (they desperately need volunteers and donations!)
Shelfwatch Peterborough (for anyone needing anything specific from the shops that they haven't managed to get)
---
Useful resources
Peterborough CAB
Adviceline on 0344 499 4120 or 0300 3300 650 from mobiles.
Youth Inspired Peterborough
Are you struggling to entertain yourself and your little ones during the lockdown? Here's a brilliant list of go-to places for some fun, learning and exercises from the Social Echo. Stay safe everyone!
Peterborough Volunteer Service
Get information and find out how you can help
SEND Support
A letter for families with SEND children/young people from Central Government – Covid 19
Stephen Fry's myth-busting C19 video…
Leave a Reply