Cross Keys Homes: a name you can trust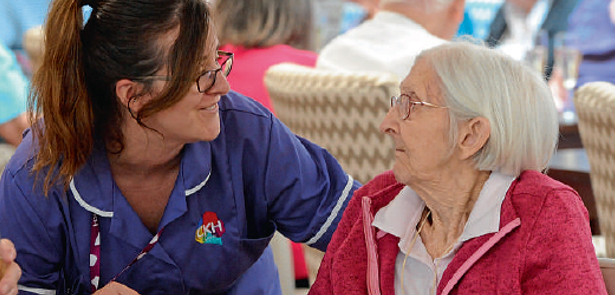 As we get older we often need a little bit of extra help to retain our valued independence and stay living in our own home. We also want our family and friends to know that we are safe and ensure they have peace of mind
At Cross Keys Homes we understand your needs and have developed a package of support that combines the personal approach with the latest in technology, to support you as your needs change. Cross Keys Care's LifeLine is the perfect balance of support and independence. With just one push of a button on your emergency alarm pendant you can call for help, 24 hours a day. Plus, our personal alert wristbands mean that if you have an emergency while you are out and about anyone can easily contact us and we can get help. Combine this with our care service to support you in your own home, or our extra care housing, and you will truly have the person-centred care that you need to live the life you want. Providing you with the very highest quality service is something we pride ourselves on – and this starts from your very first contact with us.
Come in and speak to our highly trained, friendly team at CKH Customer Central on Bridge Street in Peterborough. They will be able to answer all your questions and recommend the best package of LifeLine alarms, sensors and care for your individual needs. You can also see the products before you buy, so you can get a real understanding of what will work for you, plus you can meet our Care team and see how they could help you with your day to day life – either now or in the future. As well as the basic alarm, LifeLine also offers additional telecare products that can give you even more independence and security. For example, we can offer bed sensors that alert us if you have been out of bed for too long, a smoke detector linked to the control centre that will alert us if it is triggered, or a falls sensor, that detects when someone has fallen over – all of which give us the best opportunity to call for help as soon as possible. We'll never pressure you to buy anything, but as an introduction we have a fabulous offer running throughout December and January.
Buy your LifeLine at Customer Central and you'll save £10 on your first years LifeLine alarm rental and monitoring, as well a free personal alert wristband with one year's monitoring. And you can take away your alarm that day, install it yourself with our step by step instructions and be safe and secure the same day.* Combine this support with Cross Keys Care's flexible home care service that is tailored precisely to your needs and the finished package is the confidence and support to live in your own home. Our Care Workers can assist you with all your needs, from getting up in the morning to going to bed at night. As well as personal care, they can take you shopping, to the doctors and even to social events. They can also help with administering medication and preparing meals. But most importantly, they will empower you to do things for yourself.
This great care is also provided at our brand new Lapwing Apartments extra care scheme. Exclusively designed for the over 55s who are looking for a new style of living, Lapwing apartments provides a real community feel, with a restaurant, lounge, orangery, library, communal garden and activities room. Plus the Care team is there to provide support packages that meet individuals' needs. Lapwing Apartments offers the reassurance of a little more support and care to suit each individual's requirements. You can rest assured you'll be receiving the very best service from us, and you'll benefit from our many years of experience across housing and support – we really are a name you can trust. You'll be in safe hands with us – our Care service is regulated by the Care Quality Commission (CQC) and that LifeLine is an accredited member with TSA.
● If you would like to find out more about how Cross Keys Care and LifeLine could work for you, visit us at Customer Central, Bridge Street, Peterborough, opposite the Town Hall, or online at www.crosskeyshomes.co.uk/care
Alternatively you can call 01733 396484 for our care and extra care services, and 01733 396439 for LifeLine.
*We can provide an installation service at an additional cost, within 50 miles of Peterborough.
Leave a Reply