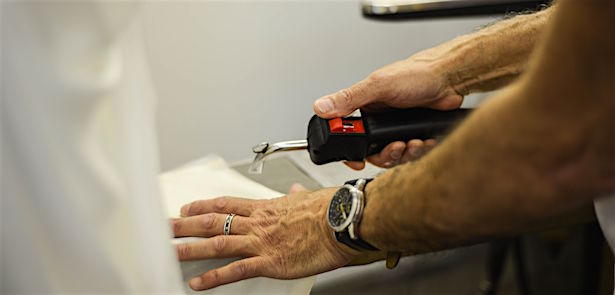 Dry cleaning to fit around your busy schedule? The new drop-off and pick-up service from Peters' Cleaners promises just that
Award-winning local dry cleaners Peters' Cleaners is poised to transform the convenience of its services with its new drop-off and pick up service for both dry cleaning and laundry. The on-demand pod is expected to open in the Serpentine Green Shopping Centre within the next few weeks.
To use the service customers simply sign up online to receive their membership pack consisting of membership cards and instructions. Then, to drop off, it's just a matter of bagging up your laundry and dry cleaning, complete with membership card, scanning the screen by the drop off door, popping in the bag, closing the door – and that's it!
Customers will be able to drop off anything that fits the drawer in the front of the unit, including suits, delicates, shirts, evening wear, plus items for repair. Users receive a confirmation email and enjoy the same pricing as staffed shops, with a standard turnaround of two working days. To collect, users scan their card at the unit and the internal carousel selects and releases their items through the designated door. All repairs and alterations are completed by Peters' Cleaners' in-house team who have more than 40 years' experience of making repairs and alterations to clothing, curtains and wedding dresses.
Owner Vicky Whiter explains why they are opening this innovative new service: 'We were keen to focus on convenience because we understand that people lead increasingly busy lives. A 24/7 drop-off and pick-up service fits in around hectic schedules. It means we're there whenever you are, freeing up your time to get on with the other demands in your life.'
Established for more than 55 years, Peters' Cleaners has the awards to match their pedigree, winning two Mercury Business Awards in 2018 and being nominated for three awards this year, including Best Customer Care, which they won last year.
Their innovation proves that a little lateral thinking can go a long way to making your service more relevant to customers' changing needs. The fully automated service will be the only one in the country, bringing their quality results and trusted service to everyone, even the time-poor!

Visit www.peterscleaners.co.uk for offers, pricing and further information or call 01733 562997
Leave a Reply