Chris Collier awarded MBE for services to the NSPCC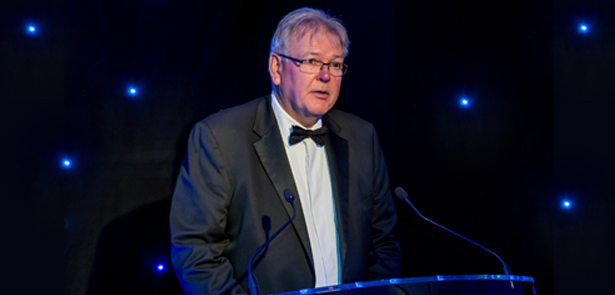 WELL known local accountant Chris Collier has been awarded an MBE in the Queen's Birthday Honours List for his services to the NSPCC in Peterborough
Formerly senior partner at city accountancy firm Rawlinsons before his retirement, Chris has supported the NSPCC for over 20 years. He was a founding member of the charity's Peterborough Business Support Group and has been its chairman for 19 years, helping to raise more than £800,000 to support local vulnerable children and their families.
In 2014 he became an NSPCC Honorary Council Member and received a Loyal Service Award in the same year. As chair of the local business support group Chris has developed an extensive charitable network across Peterborough. The group now has over 15 active serving members representing Peterborough businesses who meet monthly and raise over £50,000 per year through seven key events.
Chris has helped ensure that funds raised locally are ploughed directly back into the community to help provide vital services to children and families in the Peterborough area. The sustainability of the NSPCC Service Centre has been achieved partly due to the efforts of Chris and his group supporters. Chris has also served as `Ambassador' for the Greater Peterborough Investment Agency and as a Judge on the Peterborough Business Awards panel for the past ten years and is now in his second year as chairman.
He spends many hours visiting companies to seek their support. Chris has also personally fundraised for the charity as an individual by running two London Marathons and he annually completes the sponsored 17 mile NSPCC bike ride. In 2014/15 Chris's wife, Carol underwent treatment for breast cancer.
Despite this significant personal battle, Chris continued a full events programme to ensure income to help local families remain unaffected. "Chris exemplifies the meaning of charity; his enthusiasm, passion and dedication radiate to all who meet him, his core purpose to serve local children and their families is evident and inspires others to want to do the same," said Sarah Lambley from the NSPCC.
"I am humbled to receive this honour and whilst I am the recipient, it could not have been achieved without the support of my wife Carol, the members of the NSPCC PBSG, my former partners at Rawlinsons and the encouragement and generosity of the local business community and the many people who have worked tirelessly behind the scenes to help raise funds to make such a difference for local vulnerable children," said Chris.
Leave a Reply