Celebration Leaves at Nene Park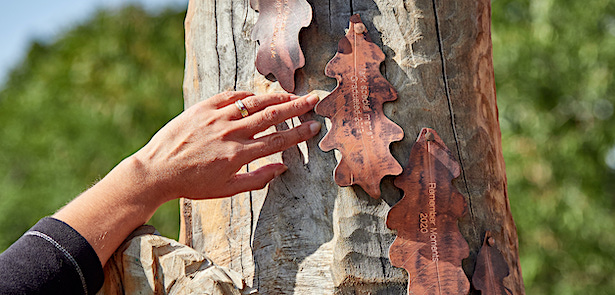 There's a new way to support the environmental, conservation and education work that goes on at Nene Park: Celebration Leaves. Celebration Leaves are a way of holding onto a memory in the Park and sharing it with others, all while supporting the work of the Trust.
Fundraising Officer Lucy Thornton-Reid explains: 'We wanted to create a beautiful addition to the Park that people could get involved with. The leaves are different to our benches because they are a celebration for truly any occasion: a milestone such as a wedding anniversary, a special birthday or even, for example, learning to ride a bike in the Park. They are also perfect for regular visitors to simply mark their love and support of the Park.'
Each copper leaf is beautifully handcrafted by local artist Jeni Cairns before being engraved with a personal message of your choice, whether a name, significant date or perhaps a favourite quote. The leaves are then attached to handsome carved oak sculptures displayed in the Wildlife Garden next to the Visitor Centre.
'The wood for these sculptures comes from Bluebell Wood at Ferry Meadows and they are made by local craftsman Alistair Thompson,' says Lucy. 'The Wildlife Garden is a beautiful, tranquil place to sit and enjoy the messages left on the leaves.'
Whilst being a special way to capture memories made over the years and sharing them with others, Celebration Leaves are also a great way to support the Trust with a donation. 'The money received goes straight back to the Trust,' adds Lucy. 'We want people to feel like they are playing an active role in the Park, that they are helping with its day-to-day running. This year has been a particularly difficult time and we hope visitors will take joy in reading the messages and share in celebrating how special Nene Park is to so many.'
The leaves cost £250 to be displayed for five years or £500 to be displayed for 10 years, after which time you will be given your leaf to keep.
To purchase a Celebration Leaf please pick up an order form from the Visitor Centre in Ferry Meadows, or email the fundraising team at
You can also download a form from the website, where you can find further information on the leaves: www.nenepark.org.uk/celebration-leaves
Leave a Reply