Celebrating Peterborough's music talent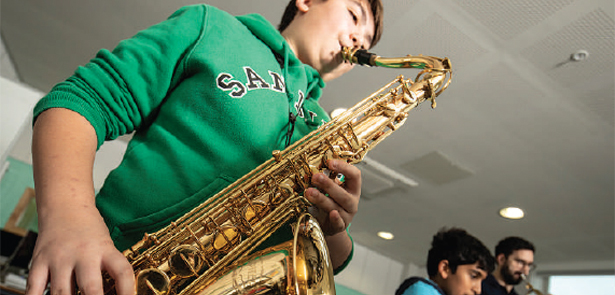 Peterborough Music Hub (PMH) enjoyed a fantastic spring season, supporting numerous music events. Around 2500 students from 36 Peterborough schools took part in a wide variety of events, providing opportunities for young musicians to play and perform whilst developing skills and celebrating achievements
The Whole Class Instrumental Teaching (WCIT) Concert saw the coming together of different schools on different instruments. It was an exciting opportunity to perform to each other alongside performances by local professional musicians. Many students are then supported through free instrument loan and bursaries to continue learning an instrument. Discovery Primary Academy Head said: "It has been thoroughly enjoyed. One student said, "It was one of the best experiences I have ever had." It has really helped the children engage during the term with their sessions." Our Musical Madness SEND Sing-along session featured a live band of local musicians, providing a great opportunity for students from special educational needs settings to join in singing well-known numbers.
They also had the chance to learn dance moves, sing on the microphones and play percussion. The annual Schools Make Music event at The Cresset celebrated music, happened in schools across the city and showcased best examples. The concert included excerpts from in-house productions, choirs, instrumentalists (soloists/ensembles), bands and vocalists as well as the PCYM orchestra, bringing together students of all ages and abilities. Following the success of previous Banding Together projects, this year we partnered with renowned Musical Director, Greg Arrowsmith to deliver an exciting collaborative project, working with students from from a diverse demographic through a creative process exploring cultural experiences of Peterborough and how they have come to live here.
Students engaged in workshops developing musical responses. The final day brought together the schools work as well as working on a collaborative piece. PMH Manager Kirsten Goldthorp said: "It is fantastic to see the young musicians of Peterborough working in a collaborative and creative way. They have risen to the challenge of working with professionals, whilst developing a wealth of skills and confidence." Peterborough Sings! hosted two Magic of the Musicals Singing Days. Each event featured a live orchestra rehearsing and performing with students alongside interactive "meet the band" sessions.
Directed by William Prideaux, these events engaged nearly 1000 primary students and have been well received. Guitar ensemble 'Four Ways' from the Guildhall School of Music and Drama visited Ormiston Bushfield Academy(OBA) and The Peterborough Centre for Young Musicians (PCYM) giving interactive performances/workshops with students. PCYM had its first trip, travelling London to see the English National Opera production of the Magic Flute, Mozart. One student commented "I had a great time. It has opened my eyes to something I don't think I would have experienced otherwise".
Our Instrument Taster Day saw students come along to 'have a go' to help them decide on which instrument to begin their musical journey. The first Signature Music Festival was a resounding success with students competing to gain valuable feedback on their performances. The New Youth Music Showcase saw acts compete to win a studio recording experience courtesy of Breve Music. Judges, Brooke Peverell and Tommy Loose were amazed at the high standards. They crowned Eva Rose the winner, praising her 'mature voice with soul'. Organiser Moira Lester said "The standard was incredible! It was superb, and we're very grateful to Breve Music."
Could your business support young talent?
Breve Music's sponsorship of Signature Music Festival alongside the support of PMH has been vital to the success of the event. The generosity of sponsors and individuals donating money and services to the work of musical organisations in the city ensures longevity and importance as part of the cultural landscape. Thousands of young musicians in Peterborough have taken part in musical activity with large local audiences attending. The promotional opportunities for businesses are considerable. There are a number of organisations in Peterborough working with PMH and dedicated to making an enjoyable music education accessible to young people irrespective of their ability to pay and lifting the barriers arising through language, educational, social or cultural issues.
Leave a Reply