Carve your own pumpkin at your local organic farm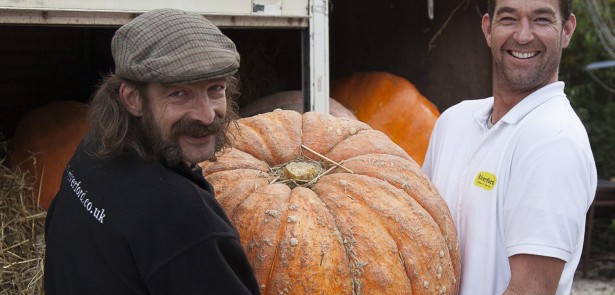 A free Pumpkin Day is being held at Riverford's organic farm at Sacrewell, Peterborough, on Saturday 25th October between 11am and 4pm.
The event is open to all, and as well as picking your pumpkin from the fields you'll be able to carve it ready for Halloween.
There will be tractor rides, giant pumpkins, and the opportunity for a stroll around the farm for some wildlife spotting. Plus, plenty of indoor activities in one of Riverford's barns including cooking demonstrations, live music, face painting, apple pressing, spooky science, and storytelling.
Snacks and light-bites made using fresh, seasonal ingredients from the fields will also be available.
Liz Ede helps to run Riverford's farm at Sacrewell, she said "We look forward to Pumpkin Day each year; it's a great opportunity to welcome everyone to the farm and enjoy picking and carving pumpkins. This years' crop is fantastic and we've got plenty of indoor and outdoor activities taking place so whatever the weather it'll be a fun day."
There is no need to book in advance for Riverford's Pumpkin Day, just turn up on the day. Entry is free and free parking is provided. All the details can be found at www.riverford.co.uk/sacrewell or by calling 01803 762059.
To get to the Riverford farm, head to: Sacrewell Lodge Farm, Thornhaugh, Peterborough, PE8 6HJ. For sat-navs the best postcode to use may be for the garage opposite the entrance: PE8 6LB. The entrance is the same one you would use to visit Sacrewell Farm and Country Centre. Once on the driveway follow the signs for Riverford.
Leave a Reply