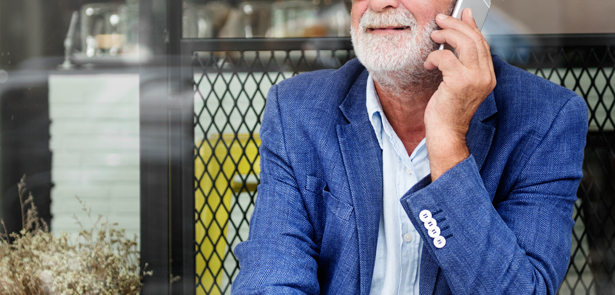 There are plenty of bogus traders and rogue fraudsters looking to make a quick buck, no matter what the consequences. Elderly residents make easy targets, but forewarned is forearmed
Wouldn't it be great if everyone was as honest, decent and upstanding as us! Of course, the world isn't like that and there are all too many fraudsters out there who are only too happy to exploit the vulnerable and elderly. Recent cuts to Trading Standards budgets have only exacerbated the problem. A recent report by charity Age UK highlights that a 50 per cent cut to budgets over the last seven years has undermined the ability of many local authorities to tackle scams among older people, leaving them at greater risk of becoming victims of fraud. The latest crime figures show that people are now five times more likely to be targeted by a fraudster than a burglar, laying bare the shocking scale of the situation.
Victims of scams or rogue traders can experience serious repercussions, including a deep sense of shame, embarrassment, depression, social isolation and even a decline in physical health. Further research by Age UK found that of those older people who believe they have been targeted by scammers around two-fifths didn't bother reporting it to an official channel, only 36 per cent confided in friends and family, while more than a fifth admitted they didn't tell anyone at all because they felt too embarrassed. Yet of those who did lodge an official report, the vast majority reported having a positive experience.
Doorstep tricksters
Bogus tradesmen and doorstep fraudsters are a menace in many cities, including Peterborough. Anyone is vulnerable to cold callers, and pressurising sales techniques or disarming charm make it hard to say no. But it's the elderly who are often seen as the soft targets for these rogue salespeople, or conmen offering to carry out work on their home or garden. One recent case saw seven people sentenced at Cambridge Crown Court for scamming homeowners on the doorstep. Using misleading and aggressive sales tactics, the criminals targeted 'No Cold Calling Zones' and neighbourhoods with a higher proportion of people living with a disability by pressurising them for hours into buying furniture they did not want or need.
The sentences, ranging from nine to 12 months, were the culmination of an 18-month investigation into Life Comfort Products Ltd by Cambridgeshire and Peterborough Trading Standards. Of course, the vast majority of doorstep sellers are perfectly legitimate and it can be a convenient way to buy goods or services. Yet with fraudsters employing clever tactics to con victims into buying things they don't want or that are poor value for money, residents must remain on guard. Typical doorstep fraud takes the form of unfair contracts, overpriced or substandard home maintenance or improvements, phoney consumer surveys and bogus charity collections. Other tricks employed include selling goods or services that are then never delivered or billing for work that wasn't agreed to. False identities and contact information make it hard to track the tricksters, while getting a refund is highly unlikely. Residents should also be wary of opening the door to a potential burglar, who may use a bogus sales pitch as cover while making a visual note of any valuables on display and how easy it is to break in at a later date.
Staying safe
Advice from Action Fraud, the national fraud and cybercrime reporting centre, recommends residents ask for identification before letting anyone they don't know into their home. Check the ID carefully, including the business address and phone number (check landline numbers, rather than mobile numbers, which can be hard to trace). Ask questions, request references from previous customers and ask for examples of their work.
Pressurised sales pitches are rarely used by legitimate doorstep sellers. Never be hurried into making a decision and never sign on the spot. Always shop around by getting at least three quotes so you know that what you end up paying is a fair price. It is also worth seeking personal recommendations for traders from friends, family or neighbours. If you are at all suspicious, try asking to take a photo of the salesperson. Legitimate sellers will have nothing to hide and should be happy with this, while a rogue trader will be less keen! Should you decide to buy, make sure you get an agreement in writing. Be wary of giving away financial details that could be used to steal money from you. Most agreements usually include a cooling-off period of a week, so you can change your mind if you wish. Only make payment for work that is fully completed and that you are happy with. While it's no fun treating everyone you come across with suspicion, a healthy level of caution, coupled with due diligence should keep you from becoming the latest victim of a scam or rogue trader.
SIDESTEP THE SCAMMERS
Follow these five simple steps to avoid falling prey to common scams, including doorstep rogue traders, postal scams, pension and investment fraud, phone scams, email scams and cold callers. ● STOP: Never do anything you don't want to or make any decisions on the spot ● CHECK: Always check their credentials ● ASK: Always ask someone you trust for a second opinion ● MINE: Do not give away personal information
REMAIN WARY
Peter Gell, Head of Regulatory Services at Peterborough City Council, offers the following advice to local residents We take complaints of aggressive cold callers and rogue traders extremely seriously and will always look to take action where appropriate. Elderly residents can be especially vulnerable to rogue traders and we recommend that if somebody knocks on your door and tries to sell you something that you do not make a decision on the spot. If you genuinely need to have some work done or buy a particular product then take your time and get personal recommendations from family, friends or neighbours. If you think you have been a victim of a rogue trader please report this to our Trading Standards team by calling 01733 453412 or emailing
NO THANKS!
Trading Standards offers a free sticker to go on your front door with the message 'We do not buy or sell at the front door'. Traders who then ignore that message are liable to be committing a criminal offence. Call the Consumer Helpline on 03454 040506 for your sticker
More information ● Trading Standards: www.peterborough.gov.uk/business/ trading-standards ● Age UK: www.ageuk.org.uk/ information-advice ● Action Fraud: www.actionfraud. police.uk/a-z_of_fraud
Images: www.freepik.com/free-photo/elderly-man-is-using-mobile-phone_2861408
Leave a Reply