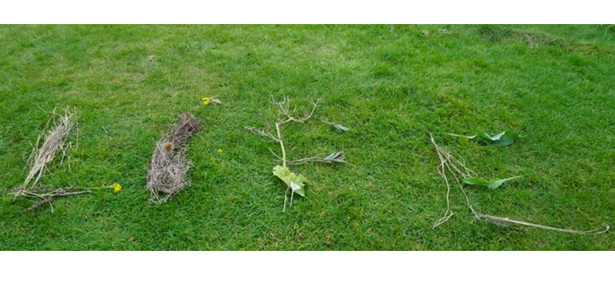 Coronavirus has been a rude awakening. Like many of us, the region's artists faced a sudden loss of income and unprecedented uncertainty. Two fantastic projects – 42Words and Artists in Residence – are bringing artists and visitors to the Park together to share experiences of life under lockdown and to look forward to the brighter times ahead. Louise Thirlwall is Project Officer for Arts & Community at Nene Park
Why 42Words?
The 42Words project was a response to the lockdown and the effects of Covid-19. We wanted to develop a project that involved the community within the Park and across Peterborough, that supported local artists, and that created new artwork for the Park to provide visitors with interesting and quiet moments. We're keen to support artists because many of them are freelance, so a lot of their work will have been cancelled or postponed. Some of those we have been working with and talking to have gone through a tough time during lockdown, as have some of our staff and volunteers. We were keen to provide support. 42Words was a very quick response to that. And the 42? Well, the Park is 42 years old this year, so we wanted 42 artworks to provide focal points around the park and give a nod to this milestone.
How did you commission all of this artwork?
Initially we did a callout to visitors, staff, volunteers and community partners across the city to propose words that were their response to how they've been feeling over the past few months, how they felt about their sense of community and how they felt about the green space in the Park. We then gave this collection of words to the 14 artists we've been working with. They received one word a week for four weeks, and they were commissioned to make a new artwork for each. We also set up 'conversation meetings' with the artists, so they could have a chance to speak to other artists and share their experiences of creating the artworks, and their experiences of lockdown.
How is the art displayed?
We have worked with a wide range of artists: poets, designers, illustrators, visual artists, street artists and digital artists. Their work is shown as posters around the park, put up on trees, posts and fencing. They provide poignant moments, when people can just relax as they read or view the art. Some of these posters are in quite hidden spaces, for example one piece is in Woodston Reach, a really beautiful, tucked away area of Nene Park close to Orton Mere railway station. Then there are those in more obvious spots, such as the ones on display at Ferry Meadows just as you arrive into the main area of the Park. We are also hoping to get the artwork out into the community across Peterborough, displaying them in shops, noticeboards and online.
How does the Artists in Residence project fit into all of this?
There are three Artists in Residence who will be on site for a total of 16 weeks, from July to the end of October. Each artist has been commissioned to produce new works, but they are also given time, space and a production budget to develop their work. We want them to try out new ideas, to engage with the Park, its wildlife and the landscape, but also engage with its visitors in different ways. The outcome of that may be physical, temporary artwork, or perhaps events, activities or performances.
Who are the artists?
This is also a development programme for early career artists. So out of the three artists we have one established, lead artist, who will mentor and support two early career, or associate artists. Our lead artist is Caroline Wending, who during the residency is discovering visitors' stories about the Park and how they interact with nature. Our two associate artists are Madhu Manipatruni, a multidisciplinary artist living in Peterborough, and Yvonne Hercules, a singer-songwriter inspired by folk, blues rock and soul.
Find out more
● Explore all that Nene Park has to offer: www.nenepark.org.uk
● For more on the 42Words project: www.nenepark.org.uk/art-in-the-park-42-words
● Take the steam train on the Nene Valley Railway: www.nvr.org.uk
● Try a spot of fishing. For day tickets and membership: www.nenepark.org.uk/fish
Leave a Reply