Annual Green Festival Returns!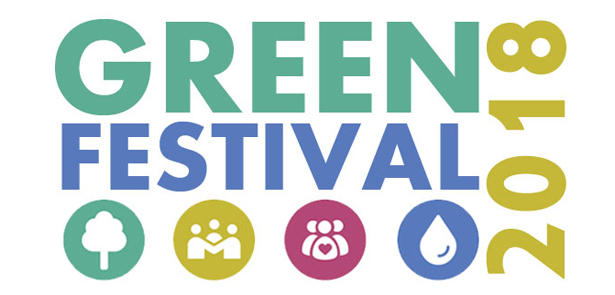 Peterborough's annual Green Festival – one of the longest running and biggest environmental festivals in the whole of the UK – is coming to Nene Park! The charity PECT, who organises the event, is delighted to announce that the festival will be taking place at Ferry Meadows on Saturday 11 August, with activities taking place from 10am. The festival offers plenty of fun for all the family and encourages visitors to discover how to live more sustainably, whilst promoting and celebrating environmental initiatives across the city and beyond.
Bringing together a variety of stalls from organisations such as Buglife, RSPB and Nenescape, plus a wide range of eco-activities for all ages, The Green Festival celebrates everything 'green' in Peterborough. The Festival will include cooking demonstrations, den building, willow weaving workshops, bug hunts, live performances, arts and crafts and much more.
This year, thanks to funding from the Arts Council, the festival will also include exciting art work with an environment theme created by local artists who have been commissioned to produce pieces that highlight sustainability issues in fun, innovative and engaging ways.
PECT, which is celebrating its 25th birthday this year, has been running the Green Festival for a number of years, to help promote sustainable practices to help protect our environment and to leave a legacy for future generations. Through a wide range of projects, the charity encourages positive change to create greener, happier and healthier places.
Stuart Dawks, PECTs General Manager, said: "PECT is incredibly excited to hold the Green Festival at Nene Park this year. The new venue allows us to expand the festival and will be a great opportunity for people to discover the amazing range of local and sustainable things happening in our city and surrounding areas. We'll have lots going on for all the family to get involved in so make sure to mark the date in your diaries!"
If you're looking to fill up the summer holidays with a variety of activities, then there are plenty of opportunities to get involved after the launch of the festival with a range of fringe events held across the city until 19 August including creative workshops delivered by local artists and a cycle-powered cinema!
Adrian Oates, Head of Fundraising at Nene Park Trust, said ''We are very pleased to be hosting the Green Festival here at Nene Park in 2018, and we are looking forward to working with PECT to make it one of the highlights of Ferry Meadows' 40th Anniversary year".
Meet the Artists
Thanks to funding from The Arts Council, 2018's Green Festival will be home to a whole range of artwork designed and created by local artists with the aim of highlighting sustainability and the environment.
The Poly-Technic
PECT will once again be working with local artists 'The Poly-Technic'. The Poly-Technic, established in 2006, is the collaborative arts practice of Steve Pool and Kate Genever. Why Poly-Technic? Poly as in many and Technic as in techniques.
The Poly-Technic will be developing and delivering a new participatory artwork that will take place before, during and after the Green Festival. The title of this artwork is: The Best Things In Life Aren't Things – What Does the future Hold? The work will include outreach workshops that centre on discussion, audio recordings, interactive posters and a sound piece using wireless headsets.
If you are interested in being a part of these creative workshops, please contact for more information. Further information about the artists can be found at www.poly-technic.co.uk.
---
One to One Development Trust
This year, PECT is excited to be working with One to One Development Trust who will be creating a digital installation focussing on the River Nene as part of Nenescape. One to One Development Trust deliver engaging, creative projects with a people-focused approach that uses high-end technology and innovation. Their aim is to inspire, inform and push boundaries in how people engage with heritage, health and well-being and digital storytelling.
Inspired by their 900 Voices multimedia arts project, which brings together people's memories and heritage of the River, One to One Development Trust will be gathering material throughout the summer through film, audio, social and media, group and individual contributions for a very special 'PECT Collection'. This collection will be a celebration of PECT's 25 years of work in the city, and aims to explore the areas of natural environment, and health and well-being linked to the river.
On the launch day of the festival, 11 August, people will be given the opportunity to contribute their own voice on any of the themes being explored around the River Nene.
---
Peterborough's Green Festival Needs You!
Do you want to make a difference to your local environment? Want to make your mark on one of the UK's biggest and longest-running eco event? Then why not volunteer for this year's Green Festival?
PECT is on the look-out for residents who want to get involved with volunteering at the Green Festival and its fringe events, whether it's helping to man the stalls, raising awareness of the charity, litter picking or photography. Call 01733 568408 or email for more information.
Join in the conversation online @SustainableCity #PECTGreenFest
For more information visit www.pect.org.uk/event/peterborough-green-festival/
---
PECT's top tips for living more sustainably
When shopping, remember to take a reusable bag with you.
Say no to plastic straws and stirrers. An estimated 500 million plastic straws are discarded every day in America alone.
Use reusable water bottles rather than buying new each time. Look out for Refill stickers at Refill stations across the city where you can refill your water bottle for free!
Take food to work for lunch rather than buying supermarket lunches every day. Not only will it save you money, but it will also cut down on the use of packaging you are using.
Keep an eye on use-by dates and freeze items to stop them going to waste.
If you have a garden or allotment then plant insect-friendly plants like cornflowers, asters, calendulas and marigolds and consider putting up an insect hotel.
Support bird life in your garden with trees, hedges and shrubs for nesting, providing cover and food. You can also support your feathered friends with bird feeders.
Have a pond if you have space, because just a little one can support so many different wildlife species. See froglife.orgfor guidance.
Plant a tree! PECT's project Forest for Peterborough is planting trees across the city. Pick up a tree at one of our tree giveaways or join one of our volunteer planting days. See pect.org.uk/forest.
Walk or cycle for short journeys rather than jumping in the car. It is a great way of increasing the amount of healthy exercise.
Look for items that have a lower impact on the environment and other social benefits, such as organic, fairly traded and locally produced.
Visit www.pect.org.uk for more tips on how you can lead a more sustainable lifestyle.
Got some top tips of your own? Share them on social media @SustainablePECT and #PECT25. We'd love to hear your thoughts.
Leave a Reply