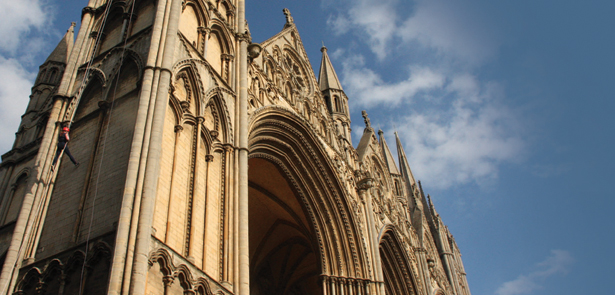 Do you have what it takes to conquer Peterborough's iconic Cathedral in its 900th year?
The north-west tower of this magnificent medieval building stands a breath taking 150ft tall and thrill seekers are being invited to get up close and personal with that amazing architecture by abseiling from top to bottom. The Peterborough based charity Shine is teaming up with the Cathedral to run the fund-raising abseil, which will take place on Friday 18 and Saturday 19 May. The event is open to anyone who is over the age of 16 and in good health. Individuals, companies, sports teams and groups of friends are all encouraged to spur each other on to take up the challenge register for the drop. The abseil is being supervised by the experts from Derby Mountain Rescue, who will ensure that participants are safely equipped and carefully launched into their descent. Each participant will be booked for a specific time slot and spectators can come and watch them from a viewing area below. The is the second time that the Cathedral has run an abseil event, the first time being in July 2016 when over £55,000 was raised for the access projects leading up to 2018. One of the highest fundraisers on that occasion was 82 year old Esme Godden, who raised a whopping £2,800 in sponsorship.
Each participant is asked to raise £250 in sponsorship, which will be divided equally between Shine and Peterborough Cathedral. Shine will use the money to continue their support to thousands of people living with or affected by Spina Bifida and Hydrocephalus across England, Wales and Northern Ireland. The Cathedral costs over £3,800 per day to run, and the funds raised will help towards this total, ensuring that the beautiful building remains open to visitors and worshippers and can continue to be the icon for the city that it has become. Heart FM are getting behind the event so you will be hearing lots about it on the radio, and Park Inn Peterborough have kindly donated accommodation for the 10-strong Derby Mountain Rescue team. They are also offering a special rate to anyone who is travelling for this event and needs accommodation. So now is the time to sign up! Don't delay as places are limited. Registration costs £50 (plus booking fee) and once you have registered you will be allocated a specific time for your abseil and can being telling your friends and gathering sponsorship pledges. There are prizes on offer, including an iPad, for those who achieve the highest fundraising total. With an experience like this on offer to create priceless memories, what better way is there to make sure that you and your family and friends remember 2018, the year that Peterborough Celebrates 900?
● What are you waiting for? Go to www.cathedralabseil.com and you will find all the details there.  
900 READS
Residents of Peterborough are being invited to share the books they love to create a list of 900 great reads for the people of Peterborough. As part of Peterborough Celebrates, Vivacity Peterborough Libraries are asking for help to collect at least 900 book recommendations throughout 2018 to discover Peterborough's favourite books. All ages can join in to recommend their favourite books. These can be adult or children's books of any kind, anything that someone would recommend to others as a great read. Vivacity Libraries will be putting together a display of the most recommended adult and children's books. Visitors to their local library will be able to view the displays and borrow copies of some of Peterborough's most recommended reads. The 100 most recommended children's books will form a special list, which will be used to inspire children and young people in Peterborough to enjoy reading and read more widely. Part of the Peterborough Literacy Campaign from the National Literacy Trust and Peterborough City Council, the 100 children's titles will be promoted across the city with posters and flyers, events and competitions. |
● To join in with Peterborough Reads 900 fill in a slip at any Vivacity Library, email your recommendation to or tweet @Vivacitylibrary using #PboroReads900. We'll also be asking for recommendations throughout the year on our Facebook page @peterboroughlibraries
900 STEPS
Win a family pass to Railworld Wildlife Haven in 900 Steps
Railworld Wildlife Haven, tucked away in the city centre near to the mainline station, is getting involved in Peterborough Celebrates by offering '900 Steps to Haven' during the Easter holidays. From Tuesday 10th to Thursday 12th April they are offering a 900 step route around their gardens and model railway site. The network of little pathways around the landscaped site are ideal for children to explore. The start and end of the route will be marked out, but the challenge is to complete it in 900 steps … no more and no less! You will be able to practice before your final attempt. The first nine people to complete the walk in 900 steps win a Family Pass for the rest of the season. For opening times and details please visit www.railworld.org.uk
City workers take the 900-step Challenge
Peterborough City Council is setting its staff various 900-themed challenges this year as part of the Peterborough Celebrates campaign. In February they were invited to take The 900 Step Challenge. Using an app to record their footsteps, employees set out on a walk into the Precincts and around the Cathedral Visitor Centre. The route then took them into the Cathedral itself, down its whole length and back again, taking in the sights along the way. The route finished in Becket's Tea Room. The Council's Quality Assurance Team was quick to put their footsteps to the test and thoroughly enjoyed the experience. "Our team has a really strong team ethic and we're always looking for ways to be healthy together so the 900 Steps Challenge was a good fit for us. We were really impressed by the warm welcome we received at the Visitor Centre and thought the displays were attractive and informative. The Cathedral itself is a stunning piece of architecture and a rich treasure trove of Peterborian history. We were treated to a warm welcome here too and particularly enjoyed talking to the two ladies who were stationed at the leaflet display who generously shared their first hand experiences of Peterborough through the ages. It was great to see so many school groups enjoying the space too."
Leave a Reply