New beginnings at Peterborough Cathedral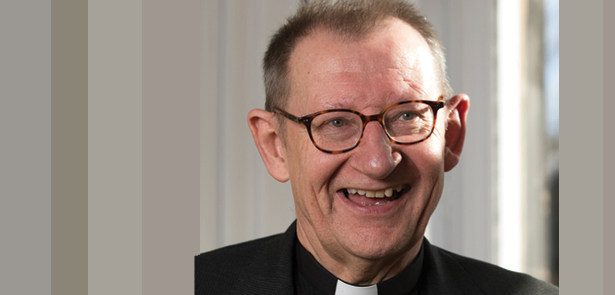 The Very Revd Chris Dalliston was installed as Dean of Peterborough in January 2018, just as Peterborough was launching into a hectic year of celebrations to mark the Cathedral's 900th anniversary. Although he rather modestly describes himself as having 'turned up after all the hard work has been done' this year of celebration looks set to be the beginning of a new chapter for the Cathedral and the city. At the end of his first month, Toby Venables talked to him about the challenges, the opportunities and how Peterborough Cathedral is a key part of the city's future as well as its past
You're not from Peterborough but grew up in the region – how well do you know the place?
I'm East Anglian by background, so Peterborough has been on my radar ever since I was quite young. I think my first visit probably would have been as a teenager on a day trip from Norfolk, though I don't have very clear memories of the Cathedral from those days. Years later a friend of mine came to work here as a Canon and I remember on that occasion being very impressed by the glimpses I had of the building.
Now I've actually arrived I've come to realise just what an extraordinary place it is. It's one of the most remarkable buildings in Europe,– and possibly one of Britain's greatest uncelebrated treasures. I've had people say to me: 'I didn't know Peterborough had a Cathedral…' They think of it just as a New Town – but at the heart of the cityis this building whose 900th year we're now celebrating, with well over 1,000 years as a worshipping community here. This really is one of the extraordinary treasures of Britain.
How important is the Cathedral to the city itself and its sense of identity?
I think the Cathedral and its Precincts give a sense of Peterborough's deep historic roots – that there are people here whose whole lives have been shaped and formed over the centuries. That gives a sense of pride, of community, of identity. It's amazing how many of our shops and businesses have the Cathedral in their branding as the iconic statement about Peterborough. But it all grows from this: the Cathedral is dedicated to St Peter and of course the city gets its name from there.
When we interviewed David Starkey he spoke of the identity of Peterborough and Peterborians necessarily involving a combination of the old and new…
I've only been here a very short while, but once you're inside the Precincts you're in a kind of bubble, and one of the challenges in terms of shaping that wider identity is how you open the doors, give people access into the Cathedral and use it as a kind of opportunity, to draw people together in a shared expression of community life. It is a massive building – you can get 1,000 people in here, and there are times of the year when that happens, such as when schoolchildren come for the Katharine of Aragon Festival, or at Christmas, or when there's a big concert. But part of the development of the mission of the Cathedral is to find more opportunities to bring more people in – to give them the opportunity to visit and enjoy, relish and explore. There are a lot of people who have moved to the city over the years who may never have been through the doors or even into the Precincts, and have barely glimpsed what it could be or what it could mean to them, so I think its beholden to us to be generous in our hospitality.
Not everybody will come to an act of worship, which is at the heart of our life , but they may well come to a concert or exhibition. All those things give people a chance to see this place exists, as a locus of the community, for everybody – where all are welcome no matter what their faith is. One of the things that has always been one of my guiding principles during my ministry in the Church has been a wonderful phrase from Jeremiah: 'Seek the welfare of the city, for in its welfare will you find your own'. It sums up that symbiotic relationship between a community and its worshipping heart. It is also a breathing space in the city centre where people can come and take time out. In the transience of our modern society, when things are so busy and so temporary, here is a place that speaks of stability and permanence, and a continuing story. It has survived storm and tempest and attempts at destruction and continues to stand here as a glorious reminder that there is a deep foundation to this community. It offers people a chance to take stock, reflect, and recognise that the world continues – that there is stability and that all can be well, in the long term.
People perhaps take that stability for granted, but hasn't it also required continuous work and care from the community to keep it going for this long?
The Reformation is such a key moment in our history – and here's Katharine of Aragon, who is a catalyst for that Reformation and the creation of the Church of England, buried in this very Cathedral. If it hadn't been for the entrepreneurial zeal of the Abbot at the time, who saw the way the wind was blowing and negotiated with the king to make good use of the Abbey, and if Henry hadn't turned it into a cathedral, then this could now be a great ruin, like Fountains Abbey. But it's a sign of what is possible, even with all the challenges and turmoil that go on. In a way, whilst there is this sense of stability about the building, it embodies a sense of continuing renewal, resurrection and new beginnings, both as an institution and with regard to the stones themselves. And we continue to work so it can live and flourish.
As an example, we have a leak at the moment! The fantastic, so-called 'New Building' [it dates from the 14th-15th centuries] with its glorious fan vaulting has a very dodgy roof, so over the next 4-5 years we're going to have to find more than a half a million pounds to make sure that roof is renewed and that building continues to be the extraordinarily beautiful space it is. But it's not just a relic or a museum – it's living institution. One of the reasons people come here, I think, is that they sense there is a community associated with it, and a rhythm of prayer which, even if they don't choose to take part in it, animates the building.
You welcome other faiths here – how important is it that you do that?
We're obviously grounded in a deep Christian faith and tradition, but it is here for people of all faiths and none. The Church of England is 'of England' – it means what it says on the tin, it's there for everybody. Just the other day we had a group of Sikhs who came in who were grieving for a lost relative, and we said prayers with and for them. We're not here to exclude, we're here to include. At the moment we live in a society that so easily fragments. You have it on social media, you have the Brexit debate, people taking sides… I think one of the things I hope we might do here is express the possibility of social cohesion that works towards generous inclusion of everybody. That doesn't deny one's own identity, but takes delight in the rich identities that many other people bring. We'd have a very boring, monochrome world if everyone was the same. I have worked in some of the most multicultural parts of England – I was in East London for a while – and you just see how that has deeply enriched our culture. Of course, that can bring some tensions, but one of the great things about being British, is that capacity to celebrate and engage with people and to assimilate new insights and new cultural identities. We are a people who, for the most part, have always been hospitable and generous. And our mission here is to be hospitable, to be generous in our welcome, and to help shape the city in the process.
How can the Cathedral help to achieve that?
I was previously Dean of Newcastle, which has a smaller cathedral and is in some ways a more complex city. Part of the process there was reinventing the cathedral as a player in the community, aligned alongside some of the other cultural institutions. Networking with people across the city and trying to identify opportunities for engagement is critical for me. I love being in the church but I also love getting out in the community and making connections – with businesses as well. We're all together in this. The prosperity of the city is a complex thing, partly financial and economic – and cathedrals need that as well in order to survive – but prosperity also comes from wider wellbeing, and I think culture and spirituality all feed into an understanding of what is to be a prosperous, holistic community. The development of the new university is part of that, aspiring to think bigger, and more creatively. When we talk about opportunities for economic and social development, education is key. In Newcastle we had very close relationships with the two universities and that's something we really want to build here. Some of the things we can do would be to include opportunities for students to come on placements, to be part of courses they study.
You've now been here just over a month – what has been you experience so far?
What I have encountered is an extremely warm community. The people are incredibly welcoming. There's a really lively, warm, engaged feel about the place and when I walk around the place people say 'Hello'. That doesn't happen in London! I'm also very conscious of the challenges there are here. There are a lot of people homeless and sleeping rough. That is becoming a national scandal, and we need to find ways to respond tothat. You encounter it as soon as you step out of the Precincts and in the long term one of the things we need to think about is how we reach out to people in need. It's not just about the prosperous and the wealthy and making them feel better than they currently do, it's about those most vulnerable members of society. A society can be measured on the care it gives to those vulnerable people, and there's a lot to be done. So, this year we want to celebrate the past, of course, but also to celebrate the present and how we are engaging with the community in the future. And that's not going to stop when we get to the end of 2018. I hope that a lot of what we'll be doing this year, in terms of community engagement and celebrating Peterborough 900, will set a template for going forward, so it will be a springboard for increased engagement and sharing of the challenges. What we do this year is really a starting point.
Preparing for Peterborough 1000..?
I may not be around for that! But partly what we're doing is to make sure that there are others here who will be able to celebrate it. I think without vision, places perish. That applies equally to cities, communities, cathedrals. Shaping the future doesn't always work out the way you think it's going to work out – you can have a vision and a plan and all sorts of things can happen to change that – but if you don't have a vision at all – no map – you just get stuck. And already I have a sense that there is that vision here – that there is a real desire to say: 'You know, it's pretty good being in Peterborough…' It's actually an extraordinary place, and I am so delighted to be here.
● To find out more about Peterborough Cathedral, Peterborough 900 and its key events, visit www.peterborough-cathedral.org.uk
Leave a Reply